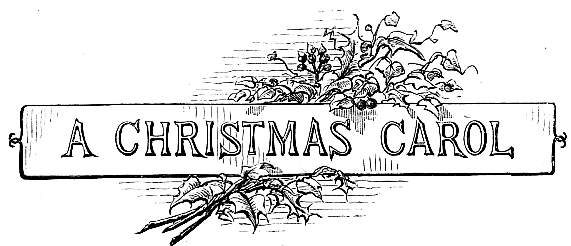 Etyinge's illustrations of
A Christmas Carol — A Ghost Story of Christmas

(1868)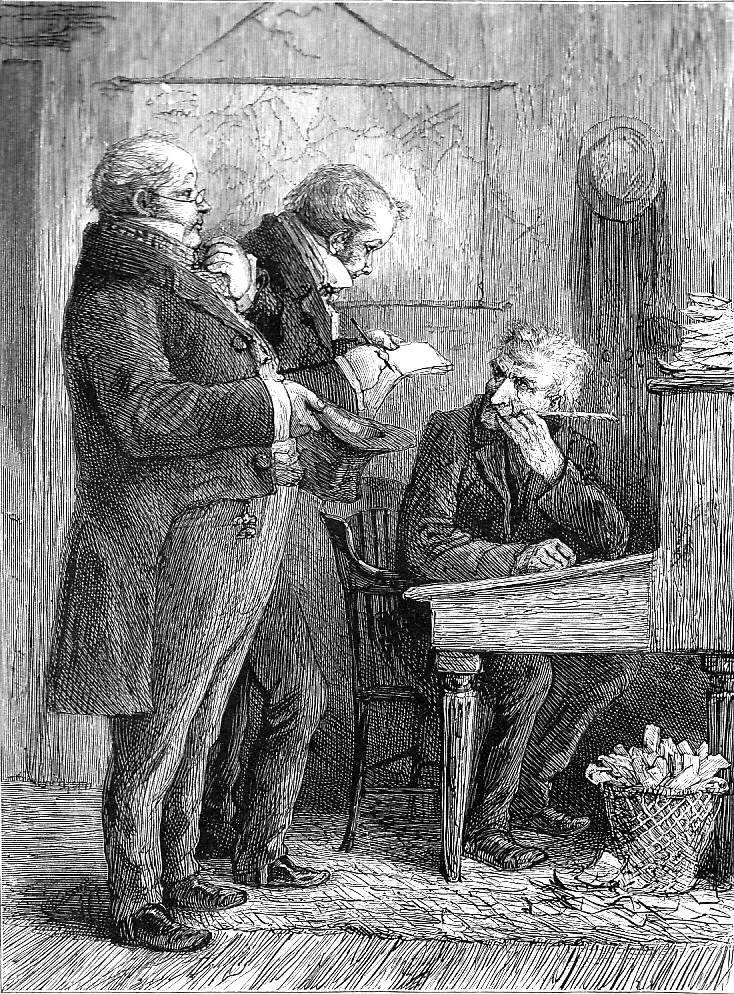 Frontispiece, "Scrooge's Christmas Visitors" [

A Christmas Carol

]

Impressions of the volume that provides these images

Despite a few loose pages, the octavo book in the Rare Book Collection of the E. J. Pratt Library, University of Toronto, is in superb condition, with very little fading or yellowing. The book is elaborately printed, with decorations, head and tail pieces on heavy stock, as are the engravings, by Ticknor-Fields's house engraver from 1866 to 1869, A. V. S. Anthony. The gilt on the ends is still bright, and the volume is titled on the spine and on the embossed red-brown front cover. The end papers are chocolate brown, and not much faded after 140 years. Although it is dated "1869," the Christmas Book was in fact published in December of 1868, as the inscription by the giver indicates. The series, which involves a frontispiece and nineteen 4" by 5" full-page plates and five 3" by 2" vignettes (one for the beginning of each "stave"), contains the first instance in the publication history of Dickens's classic in which Tiny Tim is depicted as sailing through the streets of Camden Town on his father's shoulder ("Tiny Tim's Ride").

Entered according to Act of Congress, in the year 1868, by Ticknor and Fields, in the Clerk's Office of the District Court of the District of Massachusetts. [verso of title-page]

No Christmas story has gained such universal regard as Mr. Dickens's Christmas Carol. The frequency with which the author has lately read that story to delighted audiences in America, as well as in England, while widely extending its popularity, has greatly strengthened a true appreciation of it. Mr. Dickens's American Publishers therefore believe that a new edition, giving adequate pictorial expression to the various characters which the Carol portrays, will address itself to a large circle of the best book-lovers; and they hope that this may prove such an edition. The drawings have been expressly made from new studies, by Mr. Eytinge, whose reputation as an illustrator of Mr. Dickens's ideals has been so well established by the designs that accompany the Diamond Edition. The engraving, by Mr. Anthony [i. e., Andrew Varick Stout Anthony, 1835 — 1906], and the printing, by the University Press, have been done with a skill and delicacy which may be trusted to commend them fully to the public estimation. [p. 3]

Credits and Thanks

Although I did not utilize images from the volume in the E. J. Pratt Fine Arts Library at Victoria College, University of Toronto, I consulted their very fine copy of this illustrated book and would like to thank the library staff — especially Ms. Lisa Sherlock, Head of Reader Services — for their valued assistance.

Illustrations of Dickens's other "Christmas Books" and "The Sketches"

In anticipation of Dickens's long-awaited reading tour, which had been postponed by the American Civil War, the Boston publisher James T. Fields had commissioned from Eytinge ninety-six designs for wood-engravings to grace the pages of the fourteen-volume Diamond Edition of Dickens's works, each volume being of compact dimensions with very fine but sharp type. This edition, moreover, coincided that momentous visit to American shores.

On the verso of the title-page is the statement that James T. Fields, the author's friend and confidant, so valued since it authorized his firm as Dickens's sole epresentatives in the United States:

Gad's Hill Place, Higham by Rochester, Kent, Second April, 1867. By a special arrangement made with me and my English Publishers (partners with me in the copyright of my works), MESSRS. TICKNOR AND FIELDS, of Boston, have become the only authorized representatives in America of the whole series of my books. CHARLES DICKENS.

William Winter in his autobiography recalls that Sol Eytinge, Jr.'s illustrations for Dickens's works "gained the emphatic approval of the novelist" (318), although of course the pair did not actively collaborate on this series, as did John Leech and Dickens for the 1843 illustrations for Chapman and Hall. Nevertheless, as one regards this series of eight individual and group character studies for The Christmas Books (1867) and appreciates them as American prototypes of the new realism of the sixties' manner of book and magazine illustration in Britain, one is tempted to agree with Winter that

The most appropriate pictures that have been made for illustration of the novels of Dickens, — pictures that are truly representative and free from the element of caricature, — are those made by Eytinge. . . . [317-318]
Bibliography
Schlicke, Paul, ed. The Oxford Reader's Companion to Dickens. Oxford and New York: Oxford U. P., 1999.
Dickens, Charles. Christmas Books and Sketches by Boz Illustrative of Every-day Life and Every-day People [Seven Sketches from "Our Parish"]. Illustrated by Sol Eytinge, Jr. The Diamond Edition. Boston: James R. Osgood, 1875 [rpt. of the 1867 Ticknor & Fields volume].
Dickens, Charles. A Christmas Carol — A Ghost Story of Christmas. Illustrated by Sol Eytinge, Jr. Boston: Ticknor and Fields, 1868.
Kitton, Frederic George. Dickens and His Illustrators: Cruikshank, Seymour, Buss, "Phiz," Cattermole, Leech, Doyle, Stanfield, Maclise, Tenniel, Frank Stone, Landseer, Palmer, Topham, Marcus Stone, and Luke Fildes. Amsterdam: S. Emmering, 1972. Re-print of the London 1899 edition.
Winter, William. "Charles Dickens" and "Sol Eytinge." Old Friends: Being Literary Recollections of Other Days. New York: Moffat, Yard, & Co., 1909. Pp. 181-202, 317-319.
---
Last modified 1 May 2017