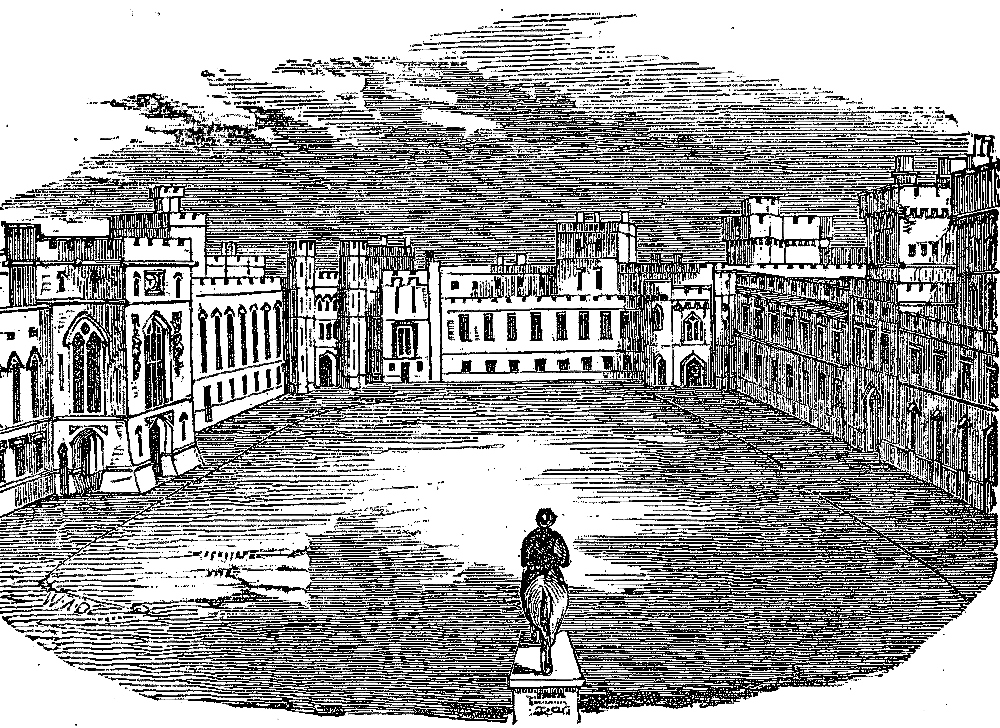 The Upper Quadrangle of the remodelled Windsor Castle, based on a sketch made by​ Sandhurst Military Academy drawing-master W. Alfred Delamotte​ for the tenth instalment of W. Harrison Ainsworth's Windsor Castle. An Historical Romance for the May 1843 number in Ainsworth's Magazine. Book the Third, "The History of the Castle," Chapter V, "The Last Great Epoch in the History of the Castle," top p. 167:​ ​ 7 cm high by 10.1 cm wide, vignetted. [Click on the image to enlarge it.]
Scanned image and text by Philip V. Allingham. [You may use this image without prior permission for any scholarly or educational purpose as long as you (1) credit the person who scanned the image and (2) link your document to this URL in a web document or cite the Victorian Web in a print one.]
Relevant Passages
In 1680 an equestrian statue of Charles the Second, executed by Strada, at the expense of Tobias Rustat, formerly housekeeper at Hampton Court, was placed in the centre of the upper ward. It now stands at the lower end of the same court. The sculptures on the pedestal were designed by Grinling Gibbons; and Horace Walpole pleasantly declared that the statue had no other merit than to attract attention to them. [Chapter IV, "Containing the History of the Castle from the Reign of Charles the Second to that of George the Third — With a few Particulars concerning the Parks and the Forest," p. 161]
Internally the alterations made by the architects have been of corresponding splendour and importance. Around the south and east sides of the court at which you are gazing, a spacious corridor has been constructed, five hundred and fifty feet in length, and connected with the different suites of apartments on these sides of the quadrangle; extensive alterations have been made in the domestic offices; the state apartments have been repaired and rearranged; Saint George's Hall has been enlarged by the addition of the private chapel (the only questionable change), and restored to the Gothic style; and the Waterloo Chamber built to contain George the Fourth's munificent gift to the nation of the splendid collection of portraits now occupying it.​[Chapter V, "The Last Great poch in the History of the Castle,"​p. 167]
Commentary
The alterations which Wyatville effected have generally been to raise the towers. In 1842, the architect was preparing to create a sense of airiness in the quadrangles by eliminating ramshackle​ buildings in the lower ward: "the demolition of the old incongruous buildings lying westward of the bastion near the hundred steps" (p. 168).
The quadrangle is bounded to the west by the Round Tower, to the north by the Royal Apartments, St. George's Hall, and the Chapel Royal,​and to the east and south by the apartments of the Prince of Wales, the Royal Family, and the Great Officers of State.​ Just visible in the foreground is the bronze equestrian statue of King Charles the Second, erected in 1680. The Latin inscription on its marble pedestal reads:
Tobias Rustat humbly gave and dedicated this statue to his most gracious master, Charles II, the best of Kings, in the year of Our Lord MDCLXXX.
The equestrian Statue of King Charles II in the Quadrangle​ stands immediately ​ in front of St. George's Gate, with King John's Tower to the right.​The statue, depicting the Merry Monarch as a Roman emperor, commemorates the​many​changes to the Castle​and its grounds​that he set in motion.​Oliver Cromwell, the Lord Protector under the Commonwealth (1649-1660), had defeated Charles II at​the Battle of Worcester on 3 September 1651, but​a triumphant Charles returned from exile in Holland less than two years after Cromwell's death​(3 September 1658). Charles departed from the Hague on 23 May 1660, and landed at Dover on 25 May. On his thirtieth birthday (29 May 1660), he entered London. To celebrate​the Stuart monarch's reinstatement by​Parliament, it decreed 29 May a public holiday, popularly known as Oak Apple Day. He was crowned at Westminster Abbey on 23 April 1661, and henceforth made Windsor one of his special residence.
His father, King Charles I was buried under the Chapel of St. George following his execution at Whitehall in 1649 by order of ​the Lord Protector. Following the Restoration of Charles II in 1660 the park was substantially enlarged to around 500 acres from acquisitions by Charles and later William of Orange, who by 1700 had planned a vast formal garden to the north of the Castle: the Maastricht Garden, designed by Henry Wise.
Other Views and Related Material on Windsor Castle
References
Ainsworth, William Harrison. Windsor Castle. An Historical Romance. Illustrated by George Cruikshank and Tony Johannot. With designs on wood by W. Alfred Delamotte. London: Routledge, 1880. Based on the Henry Colburn edition of 1844.
Patten, Robert L. Chapter 30, "The 'Hoc' Goes Down." George Cruikshank's Life, Times, and Art, vol. 2: 1835-1878. Rutgers, NJ: Rutgers U. P., 1991; London: The Lutterworth Press, 1996. Pp. 153-186.
Worth, George J. William Harrison Ainsworth. New York: Twayne, 1972.
---
Last modified 9 February 2018