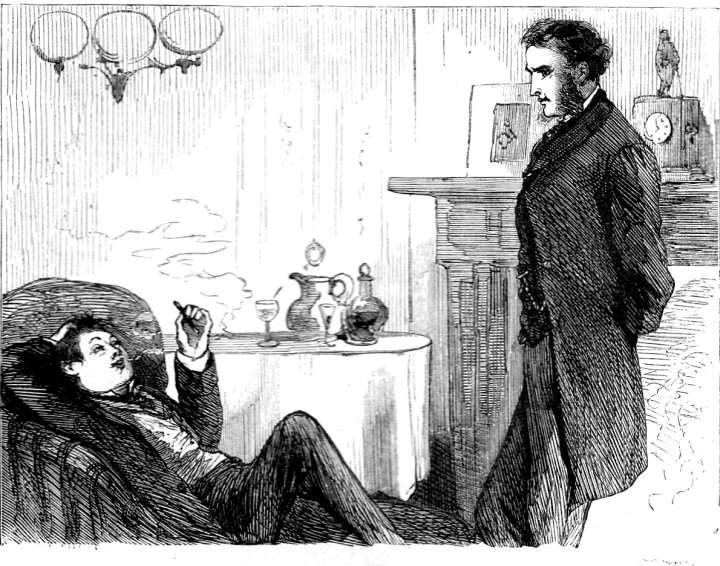 "Mr. Harthouse and Tom," the fifth full-page illustration for the volume by Sol Eytinge, Jr. 7.4 cm high by 9.9 cm wide. The Diamond Edition of Dickens's Barnaby Rudge and Hard Times (Boston: Ticknor and Fields, 1867). Scanned image and text by Philip V. Allingham. [You may use this image without prior permission for any scholarly or educational purpose as long as you (1) credit the person who scanned the image and (2) link your document to this URL in a web document or cite the Victorian Web in a print one.]
"Do you smoke?" asked Mr. James Harthouse, when they came to the hotel.
"I believe you!" said Tom.
He could do no less than ask Tom up; and Tom could do no less than go up. What with a cooling drink adapted to the weather, but not so weak as cool; and what with a rarer tobacco than was to be bought in those parts; Tom was soon in a highly free and easy state at his end of the sofa, and more than ever disposed to admire his new friend at the other end.
Tom blew his smoke aside, after he had been smoking a little while, and took an observation of his friend. "He don't seem to care about his dress," thought Tom, "and yet how capitally he does it. What an easy swell he is!"
Mr. James Harthouse, happening to catch Tom's eye, remarked that he drank nothing, and filled his glass with his own negligent hand.
"Thank'ee," said Tom. "Thank'ee. Well, Mr. Harthouse, I hope you have had about a dose of old Bounderby to-night." Tom said this with one eye shut up again, and looking over his glass, knowingly, at his entertainer.
"A very good fellow indeed!" returned Mr. James Harthouse.
"You think so, don't you?" said Tom. And shut up his eye again.
Mr. James Harthouse smiled; and rising from his end of the sofa, and lounging with his back against the chimney-piece, so that he stood before the empty fire-grate as he smoked, in front of Tom and looking down at him, observed:
"What a comical brother-in-law you are!" [Book 2, Ch. 3, "The Whelp," p. 440]
Ex-military officer (Cornet of Dragoons) James Harthouse, having joined Mr. Gradgrind's "Steam Whistle" or "Hard Fact" party as a representative of the landed aristocracy in this new Conservative alliance, has already appeared at the bank, enquiring after his new political ally, Mr. Bounderby, for whom he has a letter of introduction from the Member for Coketown, Thomas Gradgrind. But having met and been fascinated by the brilliant, beautiful, but troubled Loo Bounderby, Jem Harthouse is intrigued by the beaming smile that she confers upon her truculent brother alone. The following description of Harthouse is, however, not Louisa's but Mrs. Sparsit's cool appraisal of the "thorough gentleman":
The visitor having strolled to the window, and being then engaged in looking carelessly out, was as unmoved by this impressive entry as man could possibly be. He stood whistling to himself with all imaginable coolness, with his hat still on, and a certain air of exhaustion upon him, in part arising from excessive summer, and in part from excessive gentility. For it was to be seen with half an eye that he was a thorough gentleman, made to the model of the time; weary of everything, and putting no more faith in anything than Lucifer.
"I believe, sir," quoth Mrs. Sparsit, "you wished to see me."
"I beg your pardon," he said, turning and removing his hat; "pray excuse me."
"Humph!" thought Mrs. Sparsit, as she made a stately bend. "Five-and-thirty, good-looking, good figure, good teeth, good voice, good breeding, well-dressed, dark hair, bold eyes." All which Mrs. Sparsit observed in her womanly way — like the Sultan who put his head in the pail of water — merely in dipping down and coming up again. [433-434]
French's treatment of the scene in his sequence of twenty plates, "What A Comical Brother-In-Law You Are!" is far more naturalistic (with many details of the hotel room included), Reinhart's "'My Sister Loo?' Said Tom. 'She Never Cared for Old Bounderby'" far more impressionistic than Eytinge's treatment; however, all three could broadly be dubbed "realistic" in relation to the earlier caricature style of Phiz, Cruikshank, and Cattermole. Eytinge's Harthouse is more severe and self-controlled than the parallel, more casual and substantial figures in the other illustrations, and significantly he is neither smoking or drinking in "Mr. Harthouse and Tom" as coolly gathers intelligence that may be of use to him in his forthcoming campaign to win Louisa. Eytinge's mutton-chopped, fashionably dressed Harthouse, aloof and in control, studies his guest carefully, dispassionately from his vantage point of the fireplace (as in French's 1876 woodcut).
Ten years after Eytinge's work on the Diamond Edition of the novel, for the British Household Edition, illustrator Harry French chose precisely the same scene to analyse the relationship between the disaffected Tom and the would-be seducer of his sister. In "What A Comical Brother-In-Law You Are!", French's Tom seems both somewhat older and larger than Eytinge's, and Harthouse is more casually posed in a hotel room more fully realised in French's illustration.
C. S. Reinhart, too, in the American Household Edition of Hard Times (1876), has chosen this precise moment as the subject of one of his sixteen illustrations. In "'My Sister Loo?' Said Tom. 'She Never Cared for Old Bounderby'", the American illustrator offers a more hurried pen-and-ink sketch of the pair, with a less engaged Tom and a more relaxed Harthouse. But, again, the newcomer is clearly studying his guest as he plies him with drink and tobacco, a scene redolent with Tom's bitterness. The comparable scene in the Illustrated Library Edition by Fred Walker, "Mr. Harthouse and Tom Bounderby [sic] in the Garden" underscores Tom's listlessness — and Harthouse's wondering what redeeming quality in that young man brings that charming smile to his sister's lips.
Other artists who illustrated this work:
Bibliography
Bentley, Nicolas, Michael Slater, and Nina Burgis. The Dickens Index. Oxford and New York: Oxford U. P., 1988.
Davis, Paul. Charles Dickens A to Z: The Essential Reference to His Life and Work. New York: Checkmark and Facts On File, 1998.
Dickens, Charles. Barnaby Rudge and Hard Times. Il. Sol Eytinge, Jr. Boston: Ticknor and Fields, 1867.
---
Last modified 27 November 2011