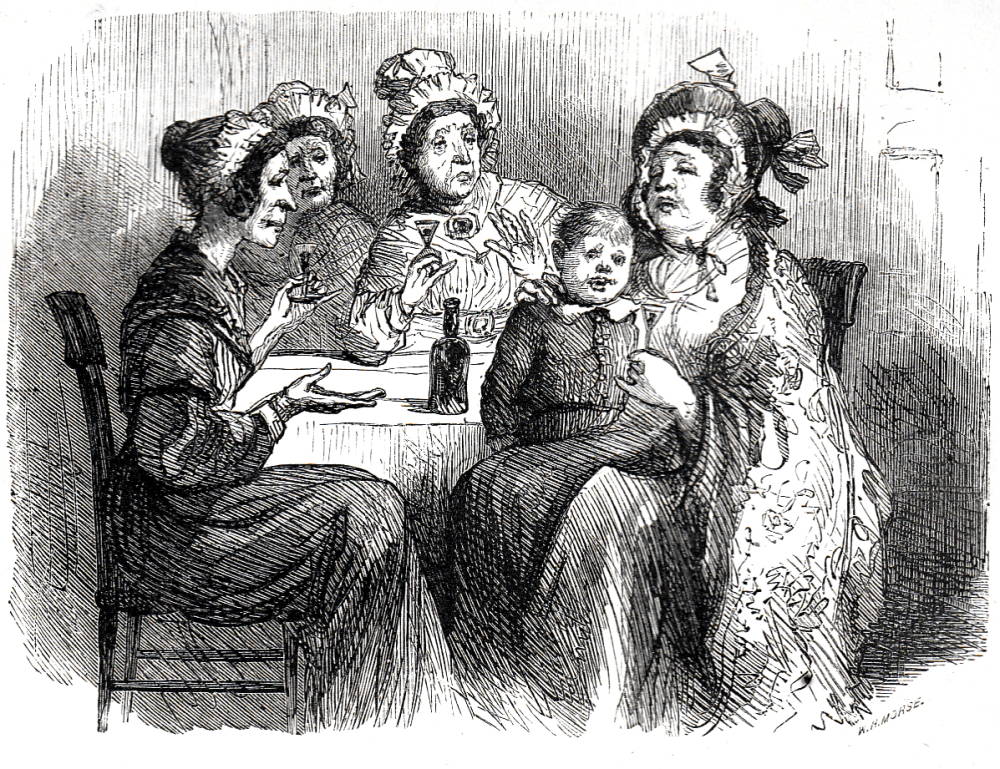 "Mrs. Bardell and Friends," the seventh full-page illustration by Sol Eytinge, Jr. 7.4 cm high by 9.9 cm wide. The Diamond Edition of Dickens's The Posthumous Papers of the Pickwick Club (Boston: Ticknor and Fields, 1867). Scanned image and text by Philip V. Allingham. [You may use this image without prior permission for any scholarly or educational purpose as long as you (1) credit the person who scanned the image and (2) link your document to this URL in a web document or cite the Victorian Web in a print one.]
It was nearly nine o'clock when he reached Goswell Street. A couple of candles were burning in the little front parlour, and a couple of caps were reflected on the window-blind. Mrs. Bardell had got company.
"Mr. Weller knocked at the door, and after a pretty long interval — occupied by the party without, in whistling a tune, and by the party within, in persuading a refractory flat candle to allow itself to be lighted — a pair of small boots pattered over the floor-cloth, and Master Bardell presented himself.
"Well, young townskip," said Sam, "how's mother?"
"She's pretty well," replied Master Bardell, "so am I."
"Well, that's a mercy," said Sam; "tell her I want to speak to her, will you, my hinfant fernomenon?"
Master Bardell, thus adjured, placed the refractory flat candle on the bottom stair, and vanished into the front parlour with his message.
The two caps, reflected on the window-blind, were the respective head-dresses of a couple of Mrs. Bardell's most particular acquaintance, who had just stepped in, to have a quiet cup of tea, and a little warm supper of a couple of sets of pettitoes and some toasted cheese. The cheese was simmering and browning away, most delightfully, in a little Dutch oven before the fire; the pettitoes were getting on deliciously in a little tin saucepan on the hob; and Mrs. Bardell and her two friends were getting on very well, also, in a little quiet conversation about and concerning all their particular friends and acquaintance; when Master Bardell came back from answering the door, and delivered the message intrusted to him by Mr. Samuel Weller.
"Mr. Pickwick's servant!" said Mrs. Bardell, turning pale.
"Bless my soul!" said Mrs. Cluppins.
"Well, I raly would not ha' believed it, unless I had ha' happened to ha' been here!" said Mrs. Sanders.
Mrs. Cluppins was a little, brisk, busy-looking woman; Mrs. Sanders was a big, fat, heavy-faced personage; and the two were the company.
Mrs. Bardell felt it proper to be agitated; and as none of the three exactly knew whether under existing circumstances, any communication, otherwise than through Dodson & Fogg, ought to be held with Mr. Pickwick's servant, they were all rather taken by surprise. In this state of indecision, obviously the first thing to be done, was to thump the boy for finding Mr. Weller at the door. So his mother thumped him, and he cried melodiously.
"Hold your noise — do — you naughty creetur!" said Mrs. Bardell.
"Yes; don't worrit your poor mother," said Mrs. Sanders.
"She's quite enough to worrit her, as it is, without you, Tommy," said Mrs. Cluppins, with sympathising resignation.
"Ah! worse luck, poor lamb!" said Mrs. Sanders. At all which moral reflections, Master Bardell howled the louder.
"Now, what shall I do?" said Mrs. Bardell to Mrs. Cluppins.
"I think you ought to see him," replied Mrs. Cluppins. "But on no account without a witness." [ch. 26, p. 216-217]
In the longer programs of illustration — those by Seymour and Browne (1836-37), Browne in the British Household Edition (1873), and Nast in the American Household Edition, the equivalent scene involves a more nuanced depiction of conflict and irony of situation in "The Trial" by Phiz (ch. 34) for March 1837 (plate), and "Mrs. Bardell encounters Mr. Pickwick in the Prison" by Phiz (ch. 46) for August 1837 (plate), but neither of these presents the widow in the context of her lodgings and support, and in both Phiz is much more interested in the comic and ironic possibilities of depicting an important narrative situation. no illustrator finds the overly plump, middle-aged Mrs. Bardell an attractive or even a pleasant character, but Eytinge does not merely caricature her as Phiz does; rather, Eytinge depicts both her and her supporters as ugly, and somehow warped from the inside as they drown their supposed misfortunes in sherry.
In this respect, Phiz's 1873 woodcut is "revisionist" in that the ladies are much more fashionably dressed, and Mrs. Bardell far more elegantly coiffed in "Mrs. Bardell screamed violently; Tommy roared; Mrs. Cluppins shrunk within herself; and Mrs. Sanders made off without more ado" (See page 327.). On the other hand, Phiz's depiction of her earlier, during the trial scene, "'An admonitory gesture from Perker restrained him, and he listened to the learned gentleman's continuation with a look of indignation,' etc. (See page 236)" is of a beaked-and-red-nosed, obese, middle-aged woman in an excessively feathered hat, although she is not quite so repulsive in 1873 as she was in 1836 in the same scene.
Other artists who illustrated this work
Bibliography
Bentley, Nicolas, Michael Slater, and Nina Burgis. The Dickens Index. Oxford and New York: Oxford U. P., 1988.
Davis, Paul. Charles Dickens A to Z: The Essential Reference to His Life and Work. New York: Facts On File and Checkmark Books, 1998.
Dickens, Charles. Pickwick Papers (1836-37). Il. Hablot Knight Browne. The Charles Dickens Edition. Boston: Ticknor & Fields, 1867.
Dickens, Charles. The Posthumous Papers of the Pickwick Club. Il. Sol Eytinge; engraved by A. V. S. Anthony. Jr. The Diamond Edition. Boston: Ticknor and Fields, 1867.
Dickens, Charles. "Pickwick Papers (1836-37). Il. Hablot Knight Browne. The Household Edition. London: Chapman and Hall, 1873.
Dickens, Charles. "Pickwick Papers (1836-37). Il. Thomas Nast. The Household Edition. New York: Harper and Bros., 1873.
Guiliano, Edward, and Philip Collins, eds. The Annotated Dickens. Vol. 1. New York: Clarkson N. Potter, 1986.
---
Last modified 10 February 2012