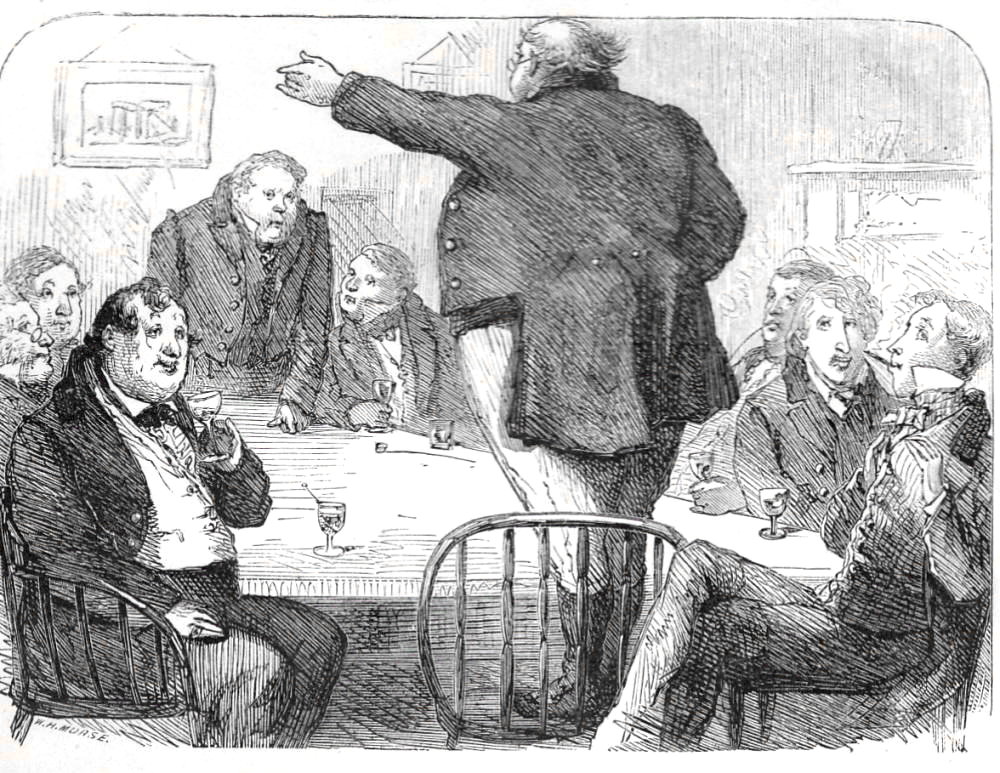 In anticipation of Dickens's long-awaited 1867-68 reading tour, which had been postponed by the American Civil War, the Boston publisher James T. Fields had commissioned from Eytinge ninety-six designs for wood-engravings to grace the pages of the exhaustive Diamond Edition of Dickens's works, each volume being of compact dimensions with very fine but sharp type. This volume, moreover, coincided that momentous visit to American shores.
William Winter in his autobiography recalls that Sol Eytinge, Jr.'s illustrations for Dickens's works "gained the emphatic approval of the novelist" (318), although of course the pair did not actively collaborate on this series, as did Hablot Knight Browne and Dickens had done for so many of the full-scale novels in twenty monthly parts, concluding with the illustrations for the Chapman and Hall A Tale of Two Cities in 1859. The few illustrations completed by the novel's initial graphic artist, Robert Seymour, reveal at their best (e. g., "The Pugnacious Cabman") a sprightliness and appreciation of Dickens's characters, but month by month after his taking over the visual program after Seymour's death Hablot Knight Browne — initially signing himself "Nemo" (Nobody) but afterwards "Phiz" to harmonise with "Boz" — developed much more effective visual analogues for the episodic novel's picaresque characters and situations. Unfortunately, his fifty-seven wood-cut illustrations for the first of the Household Edition volumes published by Chapman and Hall do not come up to that high standard that Phiz established at the very start of his career as a book and periodical illustrator. As one compares this series of sixteen individual and group character studies for The Posthumous Papers of the Pickwick Club (1867) and the original work of Seymour and Phiz (1836-37), one can appreciate what Dickens late in his career as a novelist valued in the visual accompaniment to his work: realistic, three-dimensional, individualised character "portraits" set against appropriate backdrops in the manner of the new realism of the sixties. This particular set of sixteen illustrations for The Posthumous Papers of the Pickwick Club is especially interesting in this regard as young Sol Eytinge, Ticknor Fields's house illustrator, had the opportunity to discuss his conception of the novel's large cast of characters and his schema for the program with the author himself when Dickens visited Boston and New York in 1867-68. Moreover, in this series of sixteen woodcuts one finds characters and situations that Phiz and Seymour, despite the extensiveness of the original nineteen-month program, failed to realise. Thus, one might be tempted to agree with biographer William Winter that
The most appropriate pictures that have been made for illustration of the novels of Dickens, — pictures that are truly representative and free from the element of caricature, — are those made by Eytinge. . . . [317-318]
"The Pickwick Club" [

The Posthumous Papers of the Pickwick Club

]
Bibliography
Schlicke, Paul, ed. The Oxford Reader's Companion to Dickens. Oxford and New York: Oxford U. P., 1999.
Dickens, Charles. The Posthumous Papers of the Pickwick Club. Il. Sol Eytinge, Jr. Engraved by A. V. S. Anthony. The Diamond Edition. Boston: Ticknor and Fields, 1867.
Kitton, Frederic George. Dickens and His Illustrators: Cruikshank, Seymour, Buss, "Phiz," Cattermole, Leech, Doyle, Stanfield, Maclise, Tenniel, Frank Stone, Landseer, Palmer, Topham, Marcus Stone, and Luke Fildes. Amsterdam: S. Emmering, 1972. Re-print of the London 1899 edition.
Winter, William. "Charles Dickens" and "Sol Eytinge." Old Friends: Being Literary Recollections of Other Days. New York: Moffat, Yard, & Co., 1909. Pp. 181-202, 317-319.
---
Last modified 3 March 2012