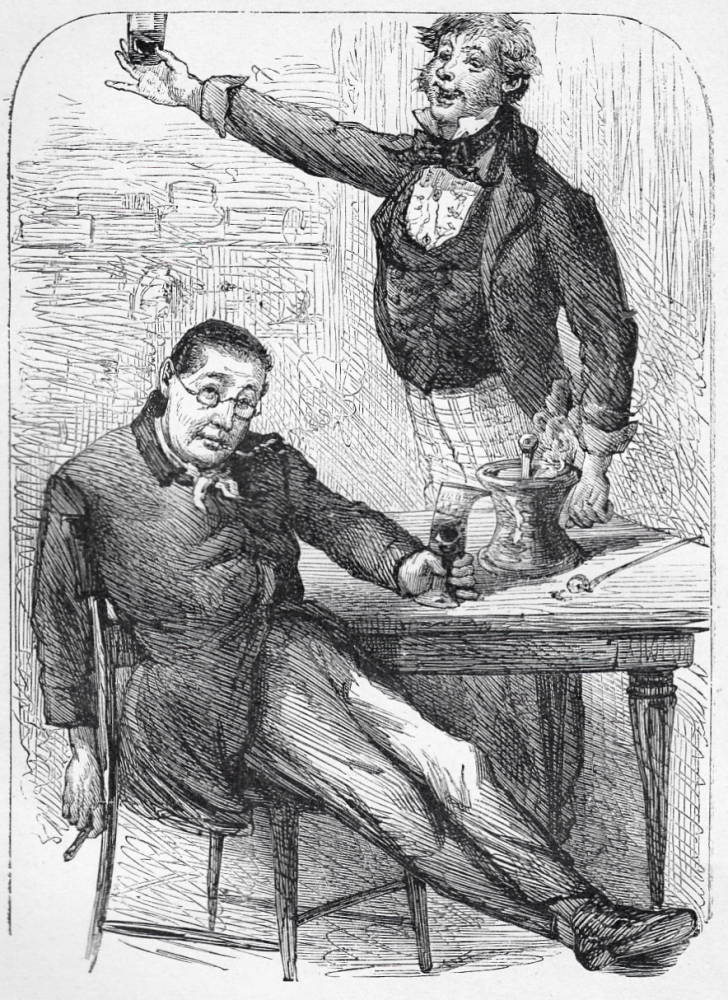 Mr. Bob Sawyer and Mr. Ben Allen
Sol Eytinge
Wood engraving, approximately 10 cm high by 7.5 cm wide (framed)
Illustration for Dickens's The Posthumous Papers of the Pickwick Club in the Ticknor and Fields (Boston, 1867) Diamond Edition, facing p. 317.
In this thirteenth full-page character study for the last novel in the compact American publication, Eytinge focuses on the whimsical pair of medical students, Ben Allen and Bob Sawyer. [continued below]
Scanned image and text by Philip V. Allingham.
[You may use these images without prior permission for any scholarly or educational purpose as long as you (1) credit the photographer and (2) link your document to this URL in a web document or cite the Victorian Web in a print one.]
After Ben Allen and Bob Sawyer leave Guy's Hospital in London, set up a pharmacy in Bristol, having bought the business from a German named Nockemorf, undoubtedly a continuation of Dickens's satire on the medical profession (the Germanic pun constitutes a humorous allusion to the propensity of drug prescriptions' often having unfortunate consequences for the patient). Compare this realistic dual character study to Phiz's May 1837 illustration "Conviviality at Bob Sawyer's" (plate) in which the jovial bachelor plays host, after the consumption of a meat pie from the baker's nearby (undoubtedly purchased on credit) by using a large mortar and pestle (clearly evident in Eytinge's woodcut) to mix "a reeking jorum of rum-punch," which, short of tumblers, he consumes from a chemist's vessel, while his guest, Mr. Winkle, uses the only glass. As in the text, in Eytinge's illustration Ben Allen consumes his portion in "a funnel with a cork in the narrow end."
After dinner, Mr. Bob Sawyer ordered in the largest mortar in the shop, and proceeded to brew a reeking jorum of rum-punch therein, stirring up and amalgamating the materials with a pestle in a very creditable and apothecary-like manner. Mr. Sawyer, being a bachelor, had only one tumbler in the house, which was assigned to Mr. Winkle as a compliment to the visitor, Mr. Ben Allen being accommodated with a funnel with a cork in the narrow end, and Bob Sawyer contented himself with one of those wide-lipped crystal vessels inscribed with a variety of cabalistic characters, in which chemists are wont to measure out their liquid drugs in compounding prescriptions. These preliminaries adjusted, the punch was tasted, and pronounced excellent; and it having been arranged that Bob Sawyer and Ben Allen should be considered at liberty to fill twice to Mr. Winkle's once, they started fair, with great satisfaction and good-fellowship. [Chapter 38, page 317].
Comparing Eytinge's study with Phiz's original, one is immediately struck by two features of the 1867 version: its comparative dearth of background detail, establishing the setting as an apothecary's shop, and the artist's rendering the medical gentlemen as three-dimensional individuals in terms of their physical types, clothing, postures, and attitudes. Whereas only his glasses and his tipping back in his chair set him apart from Bob and Winkle in the 1837 illustration, here Ben's more philosophical visage is complemented by his slumping in his chair as he smokes a cigar. Bob Sawyer, on the other hand — distinguished in costume from his business partner by his "flash" waistcoat, high collar, patterned trousers, and tousled hair — hoists his cabalistic glass to Winkle (not depicted, but assumed to be present here, although clearly enjoying himself in Phiz's 1837 steel engraving). Phiz realises a highly specific moment, with the shop boy peering in through the window; Eytinge renders the owners of thge business in a more substantial, less cartoonish manner than Phiz, but offers the reader none of the telling and delightful contextual details of the type that characterise the work of Dickens's principal illustrator from 1836 through 1859. In his 1873 program of illustration for the Household Edition volume, Phiz elected to translate the 1837 bacchic scene of Bob Sawyer, Ben Allen, and Winkle tippling in the apothecary's back room into a woodcut, to complement a scene depicting the antics of the drunken footmen as Mr. Tuckle, their chief at the "Swarry" in Bath, does a frog hornpipe on the table top as Sam Weller applauds his host's agility. In this later version of "Mr. Bobb Sawyer's boy. . . peeped through the glass door, and thus listened and looked on at the same time" (273, but to be matched against a scene in the previous chapter), Phiz has maintained the details in the background and rendered the three chief figures somewhat more realistically, conveying a sense of the physical comedy but without the grotesque hyperbole of his earlier work. Nevertheless, his figures are not as convincing as Eytinge's in the 1867 Diamond Edition.
Other artists who illustrated this work
Bibliography
Bentley, Nicolas, Michael Slater, and Nina Burgis. The Dickens Index. Oxford and New York: Oxford U. P., 1988.
Davis, Paul. Charles Dickens A to Z: The Essential Reference to His Life and Work. New York: Checkmark and Facts On File, 1998.
Dickens, Charles. The Posthumous Adventures of the Pickwick Club. Il. Sol Eytinge, Jr. Boston: Ticknor and Fields, 1869.
Dickens, Charles. "Pickwick Papers (1836-37). Il. Hablot Knight Browne. The Charles Dickens Edition. Boston: Ticknor & Fields, 1867.
Dickens, Charles. "Pickwick Papers (1836-37). Il. Hablot Knight Browne. The Household Edition. London: Chapman and Hall, 1873.
Dickens, Charles. "Pickwick Papers (1836-37). Il. Thomas Nast. The Household Edition. New York: Harper and Bros., 1873.
Guiliano, Edward, and Philip Collins, eds. The Annotated Dickens. Vol. 1. New York: Clarkson N. Potter, 1986.
Hammerton, J. A. The Dickens Picture-Book. London: Educational Book Co., 1910.
Kitton, Frederic G. Dickens and His Illustrators. 1899. Rpt. Honolulu: U. Press of the Pacific, 2004.
Steig, Michael. Dickens and Phiz. Bloomington & London: Indiana U.P., 1978.
---

Victorian
Web

Illus-
tration

Pickwick
Papers

Sol
Eytinge

Next
Last modified 25 February 2012