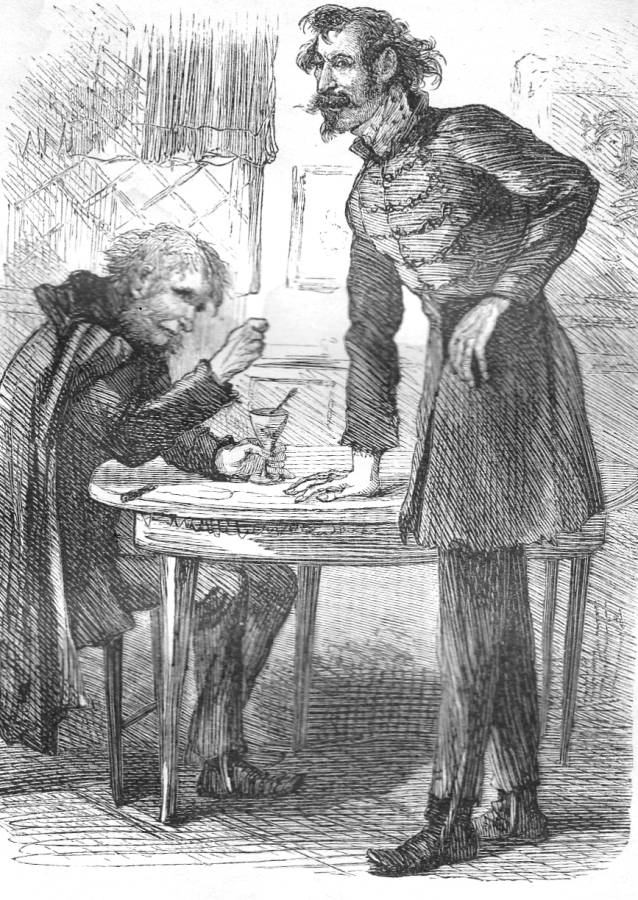 Montague Tigg and Chevy Slyme
Sol Eytinge, Jr.
1867
Fourth illustration for Dickens's The Life and Adventures of Martin Chuzzlewit in the Ticknor and Fields (Boston, 1867) Diamond Edition.
In this fourth full-page dual character study for the novel, Eytinge characterises the parasitical Tigg and his "protégé" in the art of swindling and making loans that the pair will never repay, the Chuzzlewit cousin with the strong sense of entitlement, the euphoniously-named Chevy Slyme.
[Click on image to enlarge it.]
Image scan and text by Philip V. Allingham; formatting by George P. Landow.
You may use this image without prior permission for any scholarly or educational purpose as long as you (1) credit the person who scanned the image and (2) link your document to this URL in a web document or cite the Victorian Web in a print one.
In Phiz's "Pleasant Little Family Party at Pecksniff's" the Chuzzlewit cousin Chevy Slyme is lost in the crowd of hangers-on surrounding the "bad eminence" (in Miltonic terms) of Seth Pecksniff — the smooth-tongued Montague Tigg and his protégé, the morose Chevy Slyme, being the figures immediately to Pecksniff's right.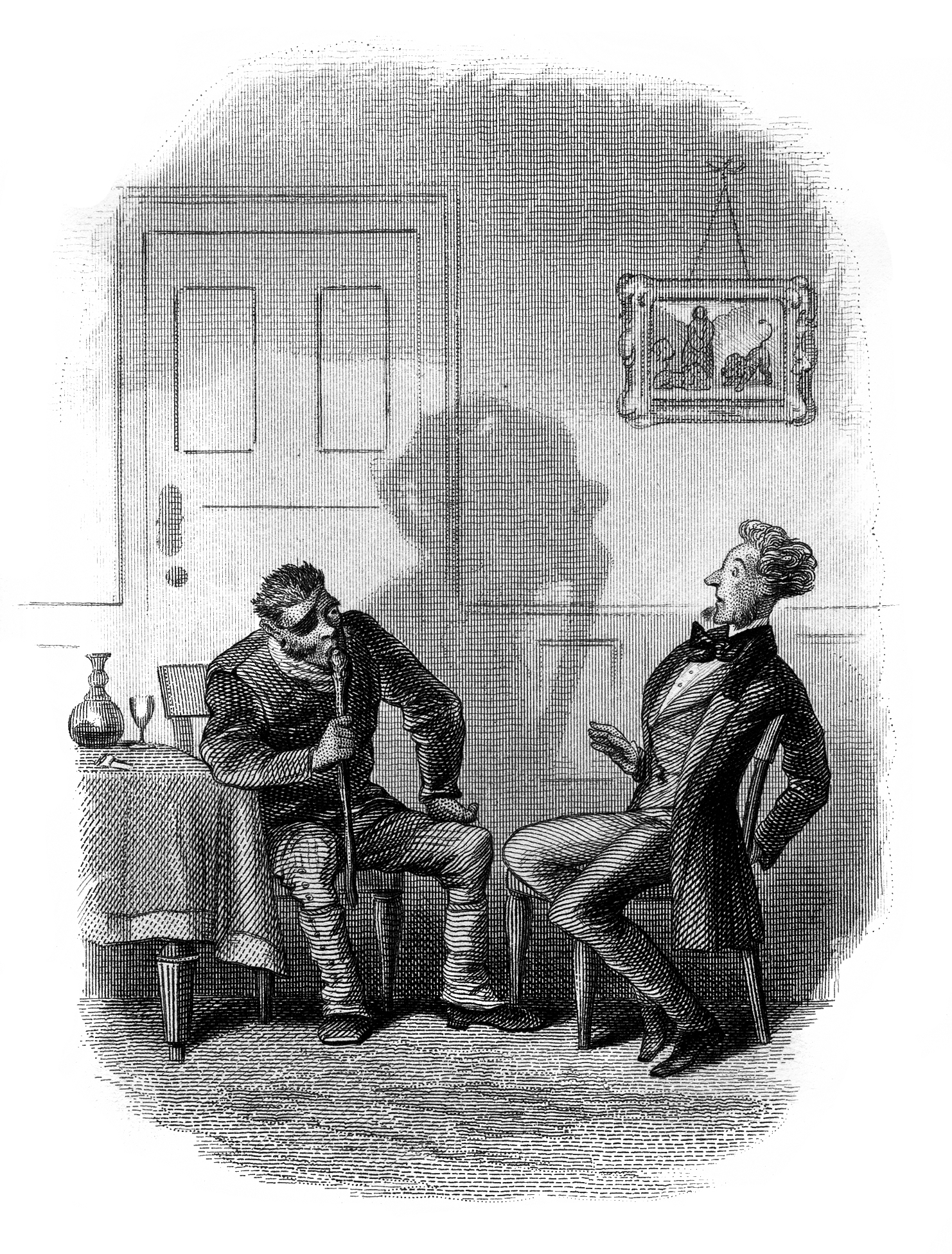 In contrast, Eytinge makes a point of studying the two confidence men in isolation (even though in the text Tom Pinch and young Martin are in fact present) at a table in the Blue Dragon, where Mark Tapley has detained them over the non-payment of their bill. Whereas Phiz introduces them in the social context of the gathering of the Chuzzlewit clan at Pecksniff's, Eytinge finds a more self-revealing moment for the pair of parasites. While Tigg will figure prominently in the plot as a swindler on a large scale, founder of a fraudulent life-assurance company, Slyme disappears until the very end of the novel, where through poison he enables the surly murderer, Jonas Chuzzlewit, to cheat the hangman. Here is the point in the text at which Dickens and Eytinge introduce the small-time chiselers, the sour Chuzzlewit scion and his sweet-tempered, charming rogue of a companion and keeper (whose image Eytinge has clearly adapted from Phiz):
He was brooding over the remains of yesterday's decanter of brandy, and was engaged in the thoughtful occupation of making a chain of rings on the top of the table with the wet foot of his drinking-glass. Wretched and forlorn as he looked, Mr. Slyme had once been in his way, the choicest of swaggerers; putting forth his pretensions boldly, as a man of infinite taste and most undoubted promise. The stock in trade requisite to set up an amateur in this department of business is very slight, and easily got together; a trick of the nose and a curl of the lip sufficient to compound a tolerable sneer, being ample provision for any exigency. But, in an evil hour, this off-shoot of the Chuzzlewit trunk, being lazy, and ill qualified for any regular pursuit and having dissipated such means as he ever possessed, had formally established himself as a professor of Taste for a livelihood; and finding, too late, that something more than his old amount of qualifications was necessary to sustain him in this calling, had quickly fallen to his present level, where he retained nothing of his old self but his boastfulness and his bile, and seemed to have no existence separate or apart from his friend Tigg. And now so abject and so pitiful was he — at once so maudlin, insolent, beggarly, and proud — that even his friend and parasite, standing erect beside him, swelled into a Man by contrast.
"Chiv," said Mr Tigg, clapping him on the back, "my friend Pecksniff not being at home, I have arranged our trifling piece of business with Mr. Pinch and friend. Mr. Pinch and friend, Mr. Chevy Slyme! Chiv, Mr. Pinch and friend!"
"These are agreeable circumstances in which to be introduced to strangers," said Chevy Slyme, turning his bloodshot eyes towards Tom Pinch. "I am the most miserable man in the world, I believe!"
Tom begged he wouldn't mention it; and finding him in this condition, retired, after an awkward pause, followed by Martin. But Mr. Tigg so urgently conjured them, by coughs and signs, to remain in the shadow of the door, that they stopped there.
"I swear," cried Mr. Slyme, giving the table an imbecile blow with his fist, and then feebly leaning his head upon his hand, while some drunken drops oozed from his eyes, "that I am the wretchedest creature on record. Society is in a conspiracy against me. I'm the most literary man alive. I'm full of scholarship. I'm full of genius; I'm full of information; I'm full of novel views on every subject; yet look at my condition! I'm at this moment obliged to two strangers for a tavern bill!" [Chapter 7; Diamond Edition, p. 64]
While the pessimistic, self-loathing Slyme stares into his brandy glass (not, as in the text, the decanter) and sees nothing but self-degradation and lost opportunities, the ever-optimistic Tigg looks up, as if already formulating his life-insurance scheme. His height, erect posture, extravagant Van Dyke, and military-looking surtout all suggest his theatrical, flamboyance and eloquence, and imply his ignominious past as an officer who deserted his native troops when his unit came under attack. Tigg is a survivor who knows how to manipulate and profit from his surly companion's Chuzzlewit connections.
Bibliography
Bentley, Nicolas, Michael Slater, and Nina Burgis. The Dickens Index. Oxford and New York: Oxford U. P., 1988.
Davis, Paul. Charles Dickens A to Z: The Essential Reference to His Life and Work. New York: Checkmark and Facts On File, 1998.
Dickens, Charles. The Life and Adventures of Martin Chuzzlewit. Il. Sol Eytinge, Jr. Engraved by A. V. S. Anthony. The Diamond Edition. Boston: Ticknor and Fields, 1867.
Dickens, Charles. The Life and Adventures of Martin Chuzzlewit (1842-43). Il. Hablot Knight Browne ("Phiz"). London: Chapman and Hall, 1843.
Hammerton, J. A. The Dickens Picture-Book. London: Educational Book Co., 1910.
Kitton, Frederic G. Dickens and His Illustrators. 1899. Rpt. Honolulu: U. Press of the Pacific, 2004.
Lester, Valerie Browne. Phiz: The Man Who Drew Dickens. London: Chatto and Windus, 2004.
Steig, Michael. Dickens and Phiz. Bloomington & London: Indiana U.P., 1978.
---

Victorian
Web

Illus-
tration

Martin
Chuzzlewit

Sol
Eytinge

Next
Last modified 2 May 2012