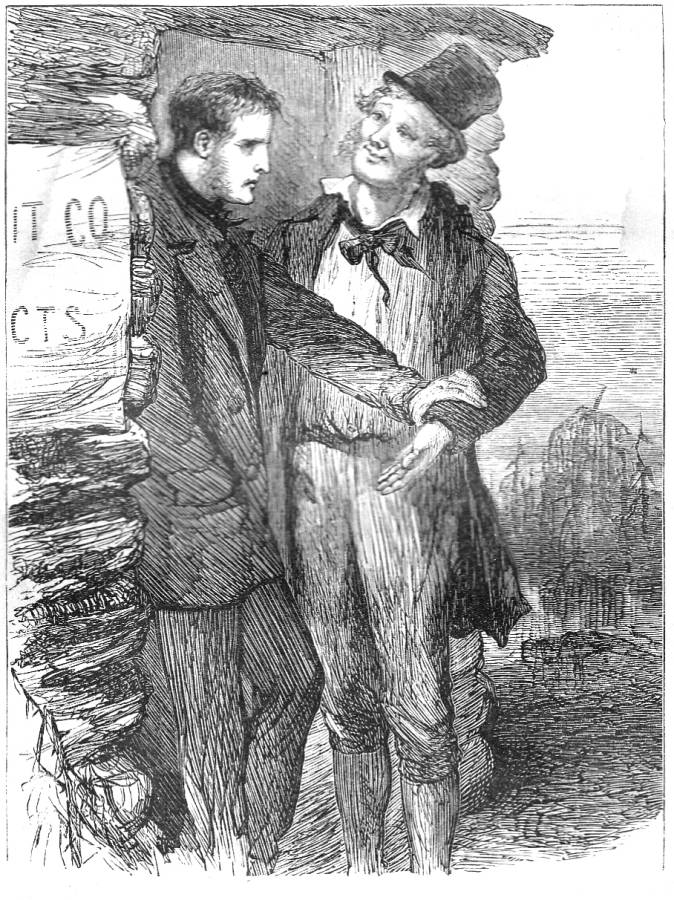 Martin Chuzzlewit and Mark Tapley
Sol Eytinge, Jr.
1867
[Click on image to enlarge it.]
See commentary below
Image scan and text by Philip V. Allingham; formatting by George P. Landow.
You may use this image without prior permission for any scholarly or educational purpose as long as you (1) credit the person who scanned the image and (2) link your document to this URL in a web document or cite the Victorian Web in a print one.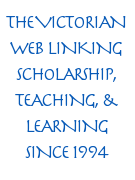 Having made their way by steamboat to the Mississippi Valley settlement of Eden, Mark Tapley and young Martin Chuzzlewit set up an architectural business on the strength of Martin's limited apprenticeship with Seth Pecksniff in the little Wiltshire village. Quickly the naieve Englishmen discover that the hyperbolically named Eden is nothing but a collection of ramshackle log cabins surrounded by a pestilential swamp. When Martin falls deathly ill, likely from malarial swamp fever, Mark tends him. Eytinge has chosen this critical moment in their relationship as the vehicle for his depiction of them, undoubtedly aware of Phiz's depiction of the young settlers and their log cabin in "The Thriving City of Eden as it Appeared in Fact", the second illustration for the September 1843 (ninth monthly) part. However, Eytinge only suggests the physical setting through the partially visible business sign, the letters "IT" and "CO" representing Martin (left) and Mark (right) respectively; the intention of the illustrator is to contrast the characters: the dark-clad, infirm, and severely depressed Martin, who reaches out for Mark's support; and the cheerful but deeply solicitous (and obviously more robust) Mark, who is so different from the ebullient, wise-cracking Cockney holding aloft an axe in Phiz's original illustration for chapter 23. The passage which Phiz had realised earlier, and which Eytinge has reinterpreted with an emphasis on character rather than setting or narrative is this:
Martin was by this time stirring; but he had greatly changed, even in one night. He was very pale and languid; he spoke of pains and weakness in his limbs, and complained that his sight was dim, and his voice feeble. Increasing in his own briskness as the prospect grew more and more dismal, Mark brought away a door from one of the deserted houses, and fitted it to their own habitation; then went back again for a rude bench he had observed, with which he presently returned in triumph; and having put this piece of furniture outside the house, arranged the notable tin pot and other such movables upon it, that it might represent a dresser or a sideboard. Greatly satisfied with this arrangement, he next rolled their cask of flour into the house and set it up on end in one corner, where it served for a side-table. No better dining-table could be required than the chest, which he solemnly devoted to that useful service thenceforth. Their blankets, clothes, and the like, he hung on pegs and nails. And lastly, he brought forth a great placard (which Martin in the exultation of his heart had prepared with his own hands at the National Hotel) bearing the inscription, CHUZZLEWIT & CO., ARCHITECTS AND SURVEYORS, which he displayed upon the most conspicuous part of the premises, with as much gravity as if the thriving city of Eden had a real existence, and they expected to be overwhelmed with business. [Chapter 23; Diamond Edition, p. 221]
Certainly the tribulations of the dubiously named "Eden" have given Mark Tapley plenty of scope for self-denial, testing his determination to remain jolly under the most trying of circumstances rather than settling into the comfortable role of publican with the comely hostess of the Blue Dragon in the little Wiltshire village where he met the egocentric Martin Chuzzlewit. Eytinge effectively dramatises Mark's selfless concern for his business partner by Mark's interrogative gaze mingled with his eternal optimism and determination to win through. Eytinge has distinguished the young men not merely by their dress, but by their facial expressions, postures, and underlying attitudes. The American illustrator also deftly represents the savage environment by the stunted, rotting trees to the right. Stepping out of the highly-realistic log cabin, Martin is pallid and disoriented, barely registering the presence of the friend upon whose arm he endeavours to support himself and regain his balance as he attempts to walk out of the cabin. Mark, too, receives some psychological examination in Eytinge's dual portrait as he steadies Martin and by his solicitous look enquires as to what more he may do to support his friend in illness and despair. Striving to maintain his sense of his civilised, "English" self, Mark still wears a top hat, tie, and clean shirt, whereas Martin's dark pea coat and neckerchief suggest his present psychological state, and suggest his impending encounter with death.
Bibliography
Bentley, Nicolas, Michael Slater, and Nina Burgis. The Dickens Index. Oxford and New York: Oxford U. P., 1988.
Davis, Paul. Charles Dickens A to Z: The Essential Reference to His Life and Work. New York: Checkmark and Facts On File, 1998.
Dickens, Charles. The Life and Adventures of Martin Chuzzlewit. Il. Sol Eytinge, Jr. Engraved by A. V. S. Anthony. The Diamond Edition. Boston: Ticknor and Fields, 1867.
Dickens, Charles. The Life and Adventures of Martin Chuzzlewit (1842-43). Il. Hablot Knight Browne ("Phiz"). London: Chapman and Hall, 1843.
Hammerton, J. A. The Dickens Picture-Book. London: Educational Book Co., 1910.
Kitton, Frederic G. Dickens and His Illustrators. 1899. Rpt. Honolulu: U. Press of the Pacific, 2004.
Lester, Valerie Browne. Phiz: The Man Who Drew Dickens. London: Chatto and Windus, 2004.
Steig, Michael. Dickens and Phiz. Bloomington & London: Indiana U. P., 1978.
---

Victorian
Web

Illus-
tration

Martin
Chuzzlewit

Sol
Eytinge

Next
Last modified 6 May 2012