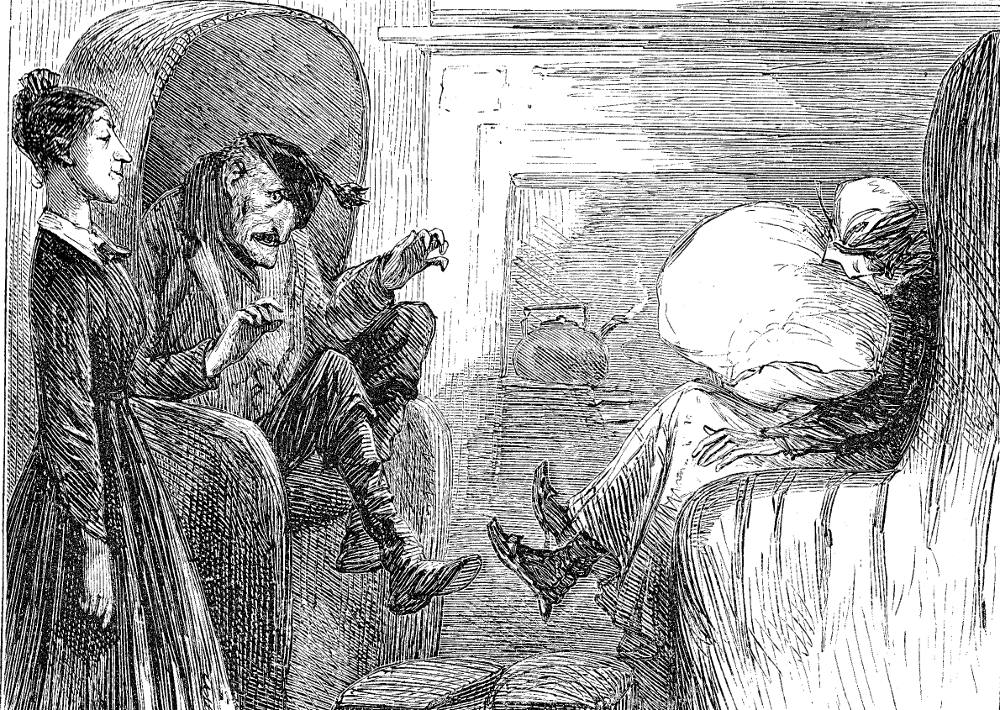 The tenth full-page illustration for Bleak House: The Smallweed Family, by Sol Eytinge, Jr. 7.4 cm high by 10 cm wide (2 ⅞ by 4 inches), framed. The Diamond Edition of Dickens's Works, Volume VI (Boston: Ticknor and Fields, 1867), facing p. 163. [Click on the images to enlarge them.]
Passage Illustrated: An Unnecessary Interpolation for the "Streaky Bacon" Effect
"You, Charley, where are you?" Timidly obedient to the summons, a little girl in a rough apron and a large bonnet, with her hands covered with soap and water and a scrubbing brush in one of them, appears, and curtsys.
"What work are you about now?" says Judy, making an ancient snap at her like a very sharp old beldame.
"I'm a-cleaning the upstairs back room, miss," replies Charley.
"Mind you do it thoroughly, and don't loiter. Shirking won't do for me. Make haste! Go along!" cries Judy with a stamp upon the ground. "You girls are more trouble than you're worth, by half."
On this severe matron, as she returns to her task of scraping the butter and cutting the bread, falls the shadow of her brother, looking in at the window. For whom, knife and loaf in hand, she opens the street-door. [Chapter XXI, "The Smallweed Family," 208; Project Gutenberg etext (see bibliography below)]
Commentary: Another Extraneous Group
At the time of the volume's publication, literary critics in the popular press faulted Bleak House for its extremely loose p[lot construction, and the Smallweed family offer a case in point. Dickens introduces the extended working-class family for the purposes of variety (and character comedy) after he has begun to unravel the mysteries of Esther's parentage and the relationship of Lady Dedlock and the penniless law-writer "Nemo" who has just died of a drug overdose. The introduction of "Small" (Bartholomew or "Chickweed") and his brood seems to an authorial ploy to interrupt the revelations from the main plot, to defer the solution of the mystery, and thereby intensify suspense. Small's connection to the main plot is that he is one of Guppy's closest friends. Whereas Barnard in the Household Edition volume of 1873 dispensed with the entire Smallweed clan and focussed instead upon the subsequent interview between the money-lender and Trooper George, the character comedy and distorted physiognomies appealed to Eytinge's sense of character comedy and the grotesque.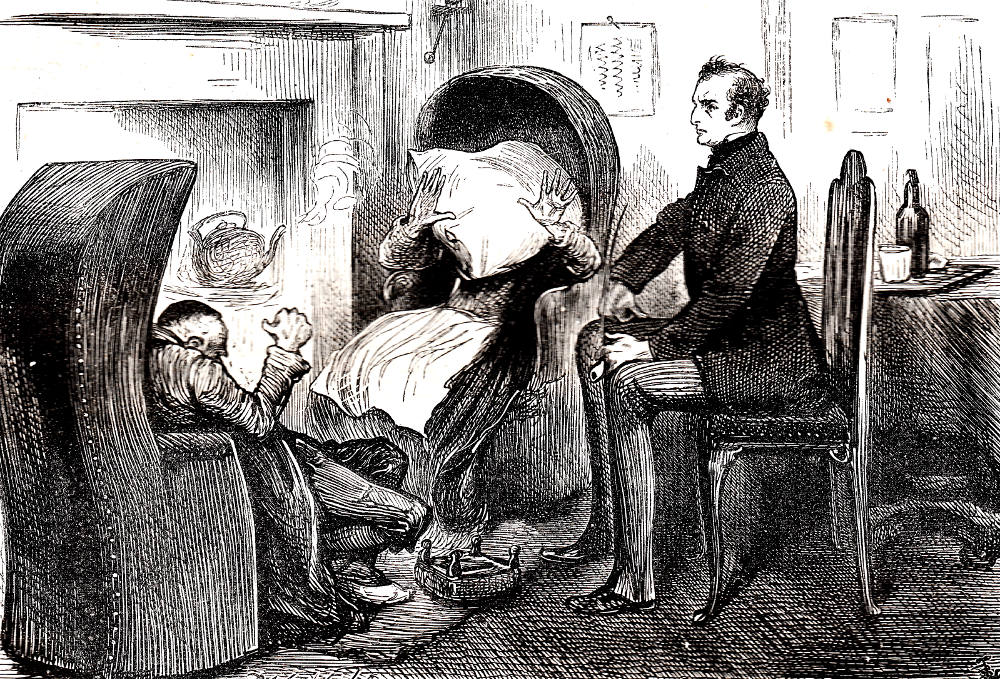 Fred Barnard's Household Edition illustration depicting the money-lender and his mark: Grandfather Smallweed astonishes Mr. George (1873).
Dickens's introducing these petite bourgeois urbanites appears to have little to do with the novel's main plot (the secret of Esther's parentage), but, in the Dickens universe connection, coincidence, and even accidental meetings take on a suggestion of the Divine Hand moving the pieces on the board. Joshua (alias "Grandfer") Smallweed is a small-time money-lender confined to his chair through a combination of age and poor health. as is characteristic of such uni-dimensional families in Dickens, the neanderthal Smallweeds pass their days quarreling and throwing objects such as pillows at one another. However, through these minor characters Dickens will advance the unravelling of Nemo's identity as Captain Hawdon. Joshua uses a debt that Trooper George, proprietor of a shooting gallery in Leicester Square, owes him as leverage to acquire a sample of Captain Hawdon's handwriting for the investigative attorney Tulkinghorn. Unbeknownst to readers at this point is that Joshua Smallweed is in fact Krook's brother-in-law, a relationship that will later enable him to access Krook's papers and attempt to blackmail Sir Leicester Dedlock about his wife's relationship to "Nemo," now definitively identified as Captain Hawdon.
Other​ Illustrations​ of The Smallweeds, 1852-1910
​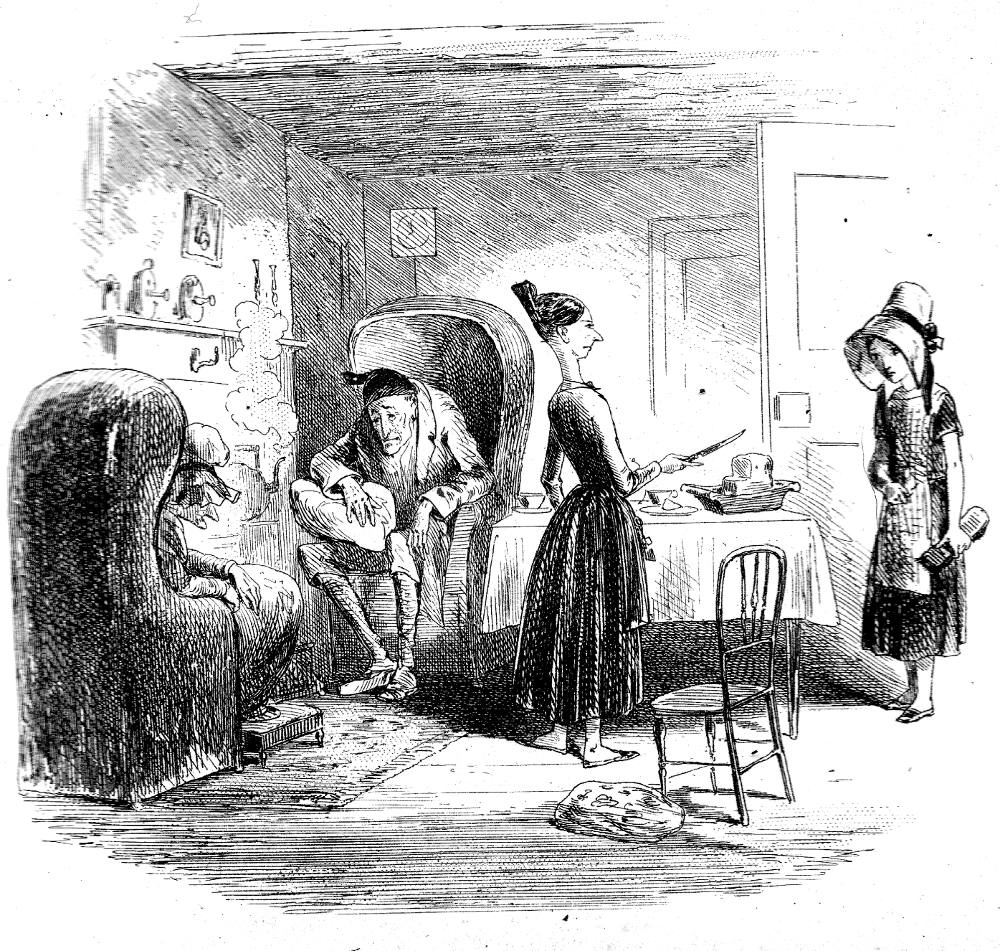 ​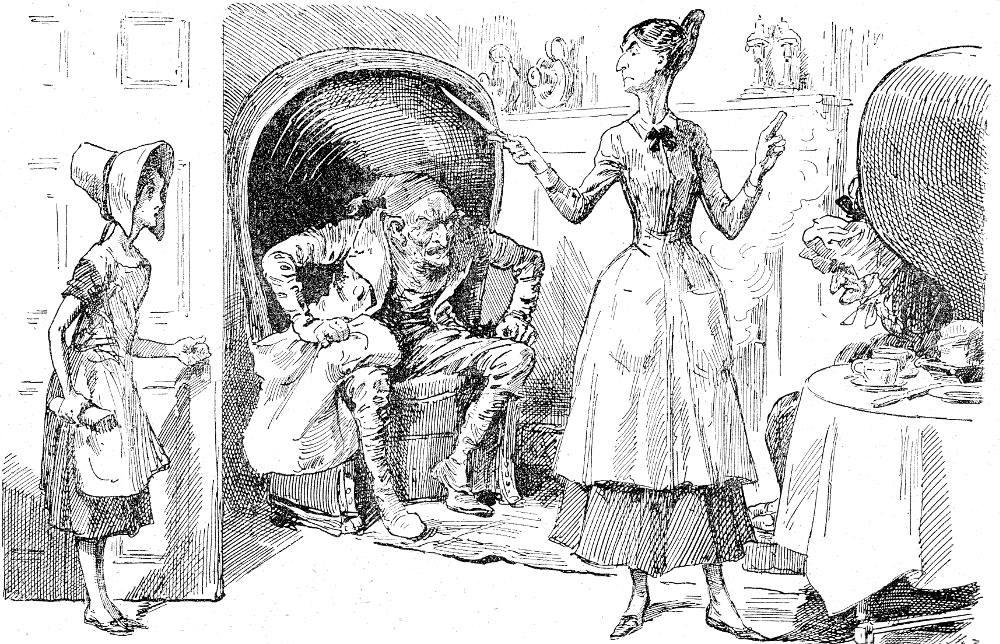 Left: The original Phiz comic relief scene, The Smallweed Family (September 1852). Right: Harry Furniss's similar Charles Dickens Library Edition full-page lithograph of the extended family: The Smallweed Family (1910).
Related material, including front matter and sketches, by other illustrators for
Bleak House

(1852-1910)

Image scan and text by Philip V. Allingham. [You may use this image without prior permission for any scholarly or educational purpose as long as you (1) credit the person who scanned the image, and (2) link your document to this URL in a web document or cite the Victorian Web in a print one.]
Bibliography
Dickens, Charles. Bleak House. Illustrated by Hablot Knight Browne ("Phiz"). London: Bradbury & Evans. Bouverie Street, 1853.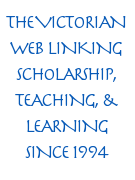 Dickens, Charles. Bleak House. Illustrated by Hablot Knight Browne. London: Bradbury and Evans, 1853.
_______.  Bleak House. Illustrated by F. O. C. Darley and John Gilbert. The Works of Charles Dickens. The Household Edition. New York: Sheldon and Company, 1863. Vols. 1-4.
_______. Bleak House. Illustrated by Sol Eytinge, Jr, and engraved by A. V. S. Anthony. 14 vols. Boston: Ticknor & Fields, 1867. VI.
_______. Bleak House, with 61 illustrations by Fred Barnard. Household Edition, volume IV. London: Chapman and Hall, 1873.
_______. Bleak House. Illustrated by Harry Furniss. The Charles Dickens Library Edition. 18 vols. London: Educational Book, 1910. Vol. XI.
Hammerton, J. A. "Ch. XVIII. Bleak House."  The Dickens Picture-Book. London: Educational Book Co., [1910], 294-338.
Lester, Valerie Browne. Phiz: The Man Who Drew Dickens. London: Chatto and Windus, 2004.
Steig, Michael. Chapter 6. "Bleak House and Little Dorrit: Iconography of Darkness." Dickens and Phiz. Bloomington & London: Indiana U. P., 1978. 131-172.
Vann, J. Don. "Bleak House, twenty parts in nineteen monthly instalments, October 1846—April 1848." Victorian Novels in Serial. New York: The Modern Language Association, 1985. 69-70./
---
Created 5 March 2021