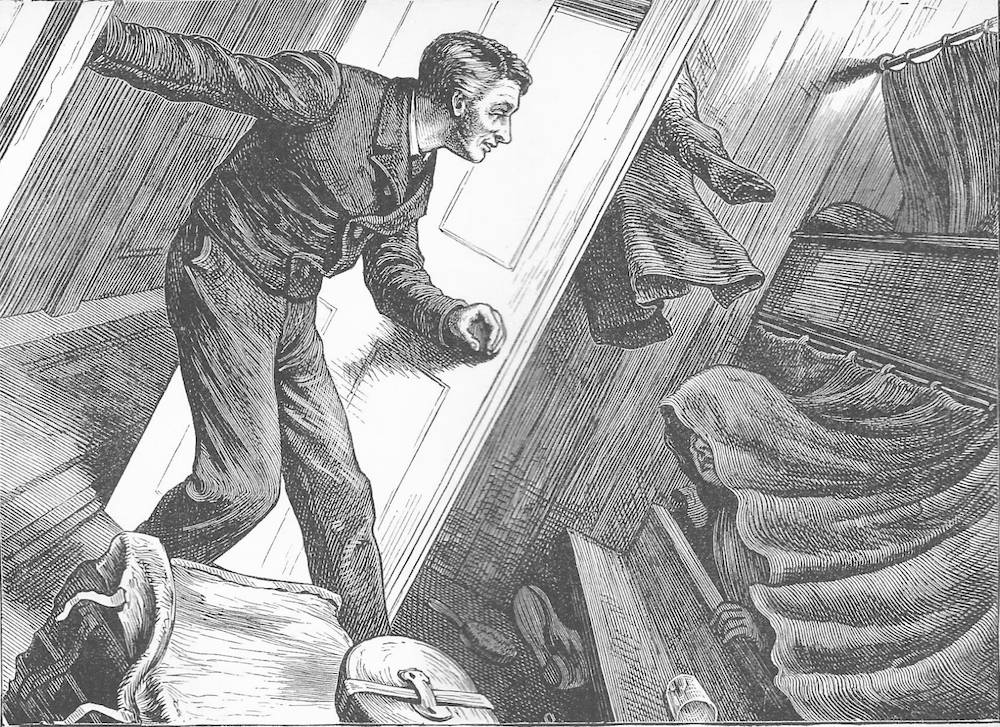 "Rather a heavy sea on, sir, and a head wind" by A. B. Frost (engraved by Edward G. Dalziel), frontispiece for the second section of Charles Dickens's Pictures from Italy and American Notes (1880), Chapter II, "The Passage Out," facing page 185. Wood-engraving, 4 by 5 ½ inches (10 cm high by 14 cm wide), framed. Although holding the door-knob firmly in order to avoid being swept off his feet and into the facing bunks where the Dickenses have been trying to sleep, the ship's steward in his facial expression and posture reflects no perturbation or anxiety.For him, clearly, this is just a slightly rough episode in a normal transAtlantic crossing from Liverpool to Halifax and Boston. The American illustrator, however, implies that the storm has rendered everything within the vessel, the steam-packet Britannnia, topsy-turvy, by titling the scene 45 degrees.
Scanned image, colour correction, sizing, caption, and commentary by Philip V. Allingham. [You may use this image without prior permission for any scholarly or educational purpose, as long as you (1) credit the person who scanned the image, and (2) link your document to this URL in a web document or cite the Victorian Web in a print one.]
Incident on the 'Voyage Out' Realised
It is the third morning. I am awakened out of my sleep by a dismal shriek from my wife, who demands to know whether there's any danger. I rouse myself, and look out of bed. The water-jug is plunging and leaping like a lively dolphin; all the smaller articles are afloat, except my shoes, which are stranded on a carpet-bag, high and dry, like a couple of coal-barges. Suddenly I see them spring into the air, and behold the looking-glass, which is nailed to the wall, sticking fast upon the ceiling. At the same time the door entirely disappears, and a new one is opened in the floor. Then I begin to comprehend that the state-room is standing on its head.
Before it is possible to make any arrangement at all compatible with this novel state of things, the ship rights. Before one can say "Thank Heaven!" she wrongs again. Before one can cry she is wrong, she seems to have started forward, and to be a creature actually running of its own accord, with broken knees and failing legs, through every variety of hole and pitfall, and stumbling constantly. Before one can so much as wonder, she takes a high leap into the air. Before she has well done that, she takes a deep dive into the water. Before she has gained the surface, she throws a summerset. The instant she is on her legs, she rushes backward. And so she goes on staggering, heaving, wrestling, leaping, diving, jumping, pitching, throbbing, rolling, and rocking: and going through all these movements, sometimes by turns, and sometimes altogether: until one feels disposed to roar for mercy.
A steward passes. "Steward!" "Sir?" "What is the matter? what do you call this?" "Rather a heavy sea on, sir, and a head-wind."
A head-wind! Imagine a human face upon the vessel's prow, with fifteen thousand Samsons in one bent upon driving her back, and hitting her exactly between the eyes whenever she attempts to advance an inch. Imagine the ship herself, with every pulse and artery of her huge body swollen and bursting under this maltreatment, sworn to go on or die. Imagine the wind howling, the sea roaring, the rain beating: all in furious array against her. Picture the sky both dark and wild, and the clouds, in fearful sympathy with the waves, making another ocean in the air. Add to all this, the clattering on deck and down below; the tread of hurried feet; the loud hoarse shouts of seamen; the gurgling in and out of water through the scuppers; with, every now and then, the striking of a heavy sea upon the planks above, with the deep, dead, heavy sound of thunder heard within a vault; — and there is the head-wind of that January morning. [Chapter II, "The Passage Out," pp. 195-196]
Related Material
Bibliography
Dickens, Charles. Chapter II, "The Passage Out." American Notes. Illustrated by A. B. Frost; engraved by Edward G. Dalziel. London: Chapman and Hall, 1880.
---
Last modified 10 March 2019