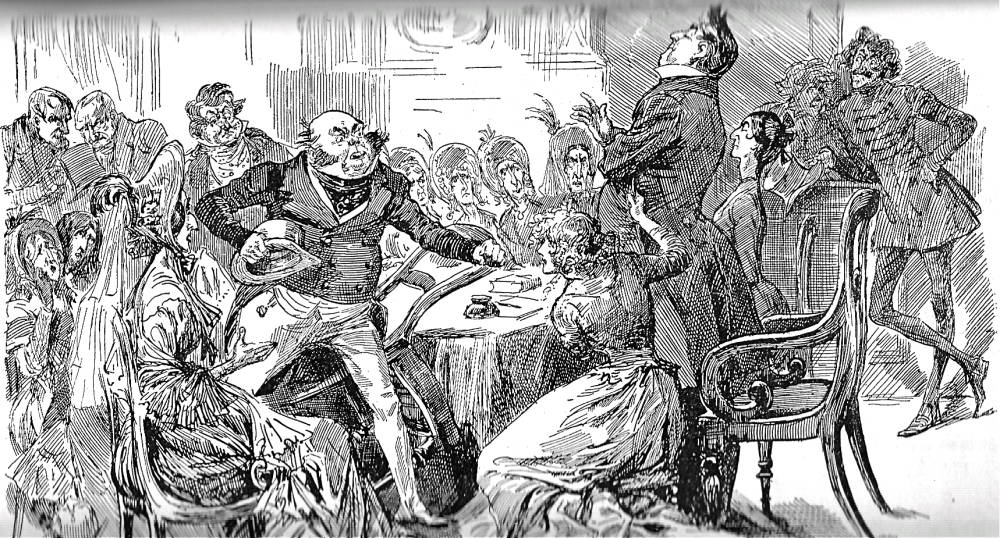 Mr. Spottletoe stands up to Mr. Pecksniff by Harry Furniss. 1910. 9.4 x 14.5 cm. Dickens's The Life and Adventuresof Martin Chuzzlewit, The Charles Dickens Library Edition, facing VII, 64. [Click on the images to enlarge them.]
Commentary: A Markedly Unpleasant Gathering of the Chuzzlewit Clan
According to the caption on 65 for Mr. Spottletoe stands up to Mr. Pecksniff, the passage that Furniss had in mind was highly specific: "'If you are about to pursue the course with which you have begun, Sir,' pursued Mr. Spottletoe in a great heat, and giving a violent rap on the table with his knuckles, 'the sooner you desist, and this assembly separates, the better'" (58). Since Furniss also seems to have had in mind a particular illustration from the original serialisation, one should compare the February 1843 steel-engraving Pleasant little family party at Mr. Pecksniff's (see below) and Furniss's reinterpretation of the scene in Chapter Four, "From Which It Will Appear That If Union Be Strength, and Family Affection Be Pleasant To Contemplate, the Chuzzlewits Were the Strongest and Most Agreeable Family in the World."
Any discussion of the novel's comic scenes should incorporate the complementary work of Dickens's original illustrator, Hablot Knight Browne ('Phiz'), who from his visualisations for The Pickwick Papers onward remained the writer's initial interpreter and gifted co-presenter. Later illustrators, including Fred Barnard in the Household Edition continued to employ the pictorial conventions established by the original illustrations, but re-interpreted them in a more realistic manner, often, however, stripping Phiz's illustrations of the embedded symbols and texts that constitute the caricaturist's editorial commentary upon his material. Furniss, the great impressionist, with his encyclopedic knowledge of Dickens and the visual traditions provided by Phiz, George Cruikshank and the other original illustrators was particularly well-suited to offer updated reinterpretations of many of the most famous scenes from Dickens, including the Phiz illustration for the fourth chapter, Pleasant Little Family Party at Mr. Pecksniff's (February 1843: see below).
Phiz's steel engraving, a brilliant study of Pecksniff's facing down a parlour full of avaricious Chuzzlewit relatives, was not easily equalled, but, using the realistic medium and larger scale of the composite wood-engraving, Harry Furniss utilised the visual conventions of the original Phiz illustrations (Spottletoe as the Angry Man of Victorian comedy and Pecksniff's lantern-jawed face and peculiar hairstyle) which continued into Barnard's Household Edition illustrations. However, Furniss gives the reader a sharper sense of the other relatives who have descended upon the Wiltshire village in pursuit of Old Martin Chuzzlewit's fortune. Phiz's best piece of dramatic invention is capturing Spottletoe's shaking his fist in the angelic face of Pecksniff; far more significant, however, are the emblematic embellishments already noted in for Pecksniff, particularly pointed head, crowned by spiky hair, a shorthand which later illustrators such as Furniss continued to use. If the Furniss illustration has a weak point, other than its crowded effect, it is that it depicts characters who are not so much individuals pursuing particular motives as what Albert Guerard has termed "thematic données" (239), the scavengers who as in Ben Jonson's Volpone have gathered to rend asunder the carcass once the chief beast expires.
As opposed to the Phiz tableau featuring Pecksniff as the calm centre of the eye of the domestic storm, Furniss has infused the scene with the vigour of a stage scene in progress, with Spottletoe caught in the midst striding forward to strike Pecksniff as his younger daughter tries to gain his attention about the impending assault. Through providing many of the relatives with similar facial features Furniss suggests their common motivation, and the feathers in the ladies' hats imply a vulture-like attention to the main chance. The figures that stand out as individuals are Spottletoe (left of centre), Pecksniff (right of centre) and Montague Tigg (right rear). A clever piece of visual commentary on the text is Pecksniff's throne-like dining-chair.
Related Materials: Background, Setting, Characterization
Other Programs of Illustration, 1843-1923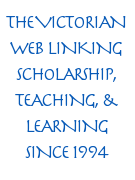 Relevant Serial Edition (1843-44), Diamond Edition (1867), and Household Editions (1863, 1873) Illustrations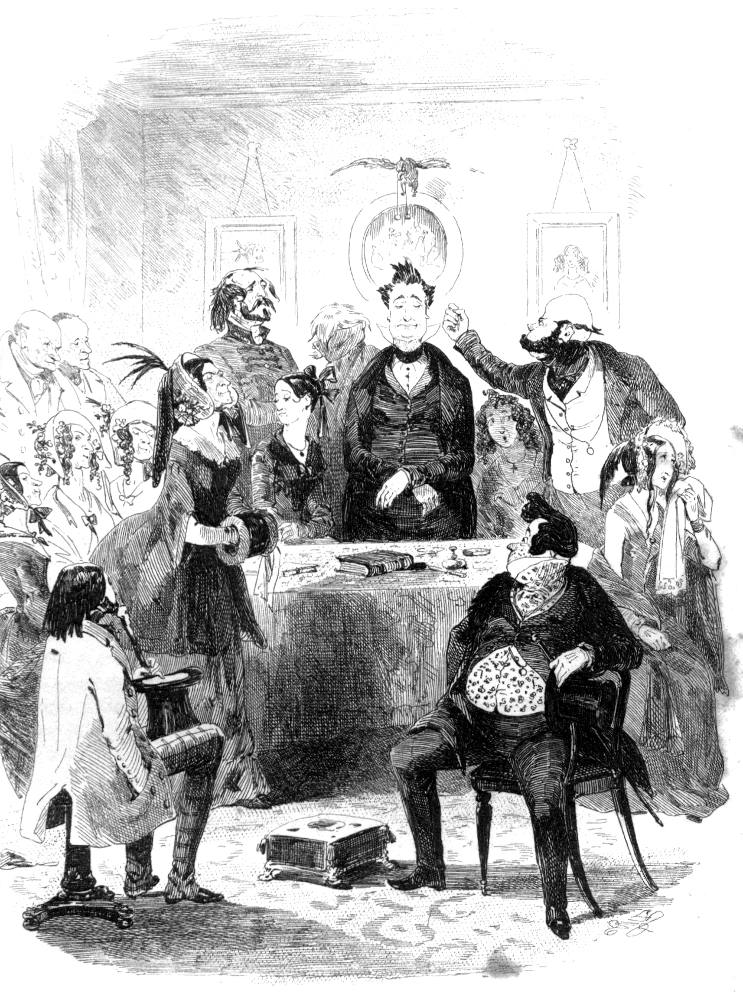 Left: Phiz's Pleasant little family party at Mr. Pecksniff's (February 1843). Right: Sol Eytinge, Jr.'s Mr. Pecksniff and his Daughters (1867).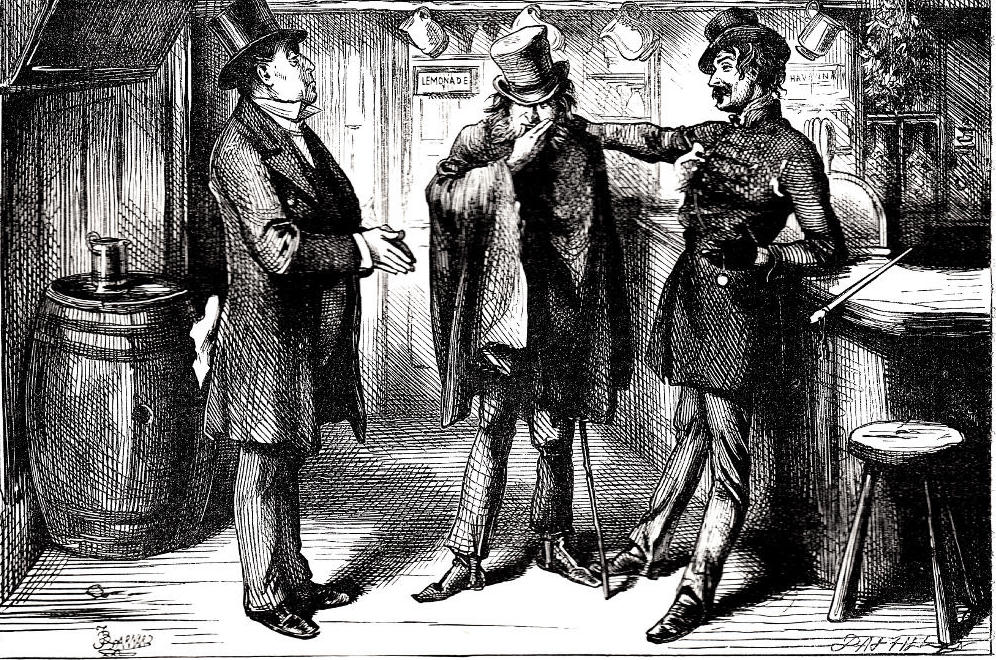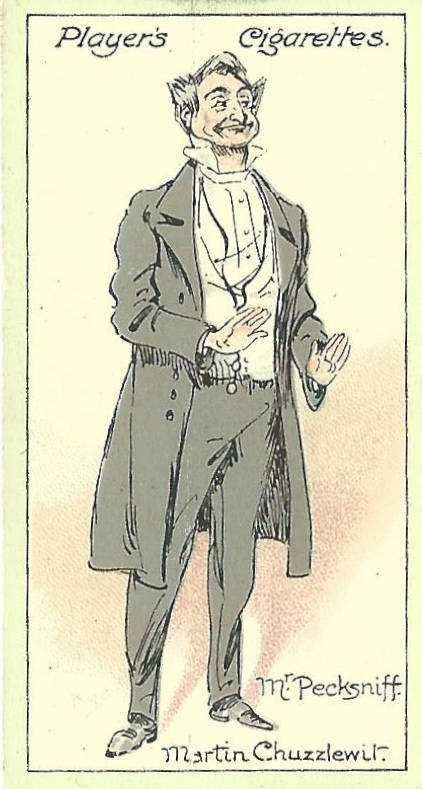 Later Editions. Left: Barnard's Mr. Pecksniff is introduced to a relative by Mr. Tigg (1872). Right: J. Clayton Clarke's (Kyd's) cigarette card image of the celebrated humbug, Mr. Pecksniff (1910).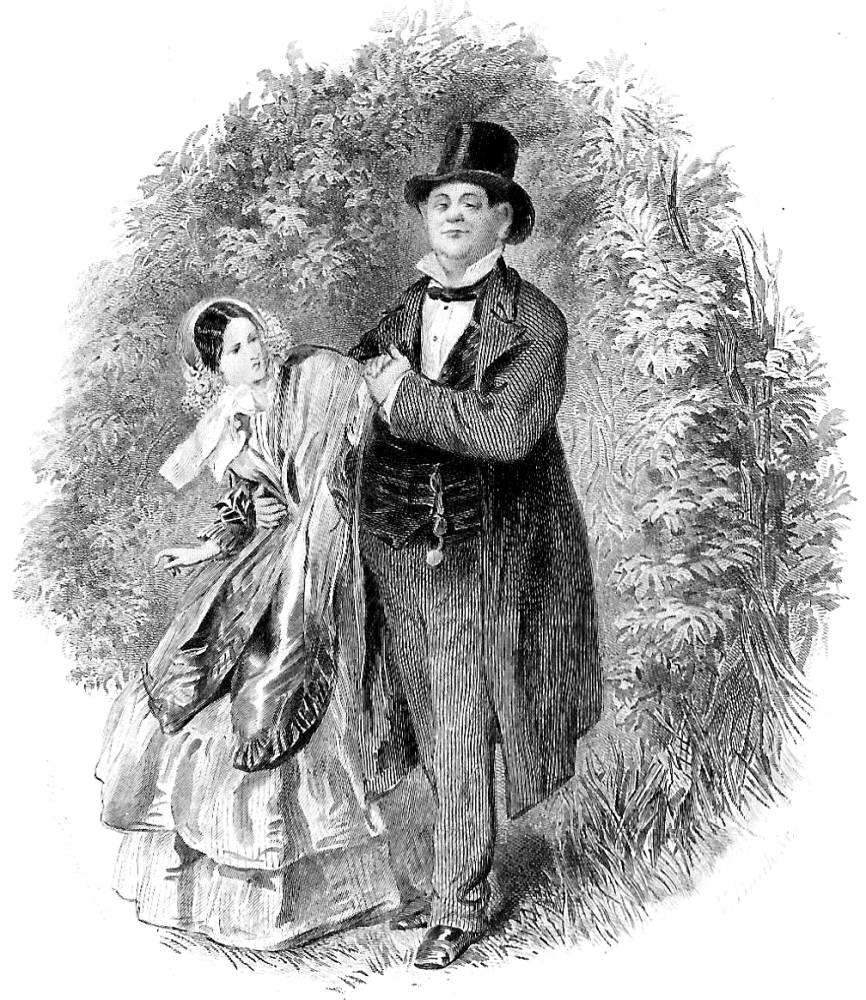 Left: John Gilbert's photogravure frontispiece for volume three in the 1863 Household Edition,​representing the hypocritical architect attempting to court Mary Graham in young Martin's absence, Mr. Pecksniff's Courtship. Right:​Darley's frontispiece for volume one, And was straightway led downstairs, alluding to Pecksniff's being blown about at the opening of the book and suddenly encountering Montague Tigg.
Scanned image and text by Philip V. Allingham. [You may use these images without prior permission for any scholarly or educational purpose as long as you (1) credit the photographer and (2) link your document to this URL in a web document or cite the Victorian Web in a print one.]
Bibliography
Bentley, Nicolas, Michael Slater, and Nina Burgis. The Dickens Index. New York and Oxford: Oxford U. , 1990.
Dickens, Charles. The Life and Adventures of Martin Chuzzlewit. Il. Hablot Knight Browne. London: Chapman and Hall, 1844.
__________. Martin Chuzzlewit. Works of Charles Dickens. Household Edition. 55 vols. Illustrated by F. O. C. Darley and John Gilbert. New York: Sheldon and Co., 1863. Vols. 1 to 4.
__________. The Life and Adventures of Martin Chuzzlewit. Illustrated by Sol Eytinge, Junior. The Diamond Edition. Boston: Ticknor and Fields, 1867.
__________. The Life and Adventures of Martin Chuzzlewit. Illustrated by Fred Barnard. The Household Edition. 22 vols. London: Chapman and Hall, 1872. Vol. 2.
__________. Life and Adventures of Martin Chuzzlewit. Il. Harry Furniss. The Charles Dickens Library Edition. 18 vols. London: Educational Book, 1910. Vol. 7.
Guerard, Albert J. "Martin Chuzzlewit: The Novel as Comic Entertainment." The Triumph of the Novel: Dickens, Dostoevsky, Faulkner. Chicago & London: U. Chicago , 1976, 235-60.
Hammerton, J. A. Ch. 15, "Martin Chuzzlewit."The Dickens Picture-Book: A Record of the Dickens Illustrations with 600 Illustrations and a Frontispiece by Harry Furniss. The Charles Dickens Library Edition. 18 vois. London: Educational Book, 1910. XVII, 266-293.
Steig, Michael. "III. From Caricature to Progress: Master Humphrey's Clock and Martin Chuzzlewit." Dickens and Phiz. Bloomington & London: Indiana U. , 1978, 51-85.
__________. "Martin Chuzzlewit's Progress by Dickens and Phiz." Dickens Studies Annual 2 (1972): 119-49.
Vann, J. Don. Victorian Novels in Serial. New York: Modern Language Association, 1985.
---
Created 28 December 2015

Last modified 23 January 2020