Little Dorrit disgraces her Family by Harry Furniss. 9 x 14.5 cm, vignetted. Dickens's Little Dorrit, The Charles Dickens Library Edition (1910), facing XII, 416. Caption underneath title: Little Dorrit and Mr Nandy came upon Fanny in her new bonnet. "Why, Amy!" cried that young lady. "The idea of coming along the open streets, in the broad light of day, with a Pauper!" And she bounced across to the opposite pavement. — Dorrit, 382. [Click on the images to enlarge them.]
Scanned image and text by Philip V. Allingham. [You may use this image without prior permission for any scholarly or educational purpose as long as you (1) credit the person who scanned the image and (2) link your document to this URL.]
Passage Illustrated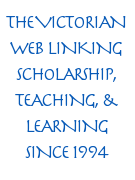 They walked at a slow pace, and Little Dorrit took him by the Iron Bridge and sat him down there for a rest, and they looked over at the water and talked about the shipping, and the old man mentioned what he would do if he had a ship full of gold coming home to him (his plan was to take a noble lodging for the Plornishes and himself at a Tea Gardens, and live there all the rest of their lives, attended on by the waiter), and it was a special birthday of the old man. They were within five minutes of their destination, when, at the corner of her own street, they came upon Fanny in her new bonnet bound for the same port.
"Why, good gracious me, Amy!" cried that young lady starting. "You never mean it!"
"Mean what, Fanny dear?"
"Well! I could have believed a great deal of you," returned the young lady with burning indignation, "but I don't think even I could have believed this, of even you!"
"Fanny!" cried Little Dorrit, wounded and astonished.
"Oh! Don't Fanny me, you mean little thing, don't! The idea of coming along the open streets, in the broad light of day, with a Pauper!" (firing off the last word as if it were a ball from an air-gun).
"O Fanny!
I tell you not to Fanny me, for I'll not submit to it! I never knew such a thing. The way in which you are resolved and determined to disgrace us, on all occasions, is really infamous. You bad little thing!"
Does it disgrace anybody," said Little Dorrit, very gently, to take care of this poor old man?" [Book the First, "Poverty," Chapter 31, "Spirit," 382-383: the wording of the picture's original caption has been emphasized]
Commentary
Little Dorrit disgraces her Family (see page 382) is Harry Furniss's fin-de-siécle re-interpretation of the James Mahoney composite Household Edition woodblock engraving in which the pretentious, class-conscious Fanny Dorrit accuses her sister, Amy, of having "lowered" herself by having been seen in public with a mere "Pauper," Old Nandy, Mrs. Plornish's aged father. The lithograph occurs facing page 416, but the passage illustrated occurs fully thirty-four pages earlier, compelling the reader to return from Chapter 34 ("A Shoal of Barnacles") to the scene with Mrs. Plornish's father — "a poor little reedy piping old gentleman, like a worn-out bird" (379), a failed music-binder who has voluntarily retreated to the Union Workhouse.
Furniss captures the hypocrisy of the younger Dorrit sister, whose character is reflected in the indignant glance of a tradesman immediately behind Old Nandy (centre). Furniss reinterprets in a highly animated fashion not one of the original Phiz serial steel-engravings, but James Mahoney's Household Edition composite woodblock engraving They were within five minutes of their destination (see below). Furniss's focussing on the contrasting behaviours of the siblings effectively exemplifies the irony of the chapter title.
Although the decade of the story's action is usually given as the 1830s, since the scene in Marseilles with which the story begins is set "thirty years ago" (i. e., 1826), Furniss imbeds a sign advertising Jenny Lind's forthcoming concert at Exeter Hall in London, implying that this scene in Little Dorrit occurs when the Swedish opera-singer Jenny Lind made her long-delayed English debut in May of 1847, before the cream of Victorian society, and went on to sing before Queen Victoria herself. Everywhere Miss Lind went, crowds of people pressed inward, hoping to catch a glimpse of the famous 27-year-old operatic vocalist. The crowds in the London street in Furniss's illustration convey a sense of the vital energy of the world beyond the gates and walls of the Marshalsea. In the foreground, the snobbish Fanny hypocritically chastizes her sister for being seen in the company of an occupant of a workhouse when her own father has long been incarcerated for debt in the Marshalsea.
The other imbedded clue as to the date of the scene is the presence of a London "Peeler" or "Bobby" in the background, just behind Little Dorrit. Sir Robert Peel's founding of the metropolitan police force in September 1829 is consistent (or nearly so) with Dickens's dating of the novel's action. Of the other artistic interpretations of Old Nandy, surely those of Phiz and Sol Eytinge, Junior, offer a more accurate assessment of the cheerful senior than Furniss's portrait of a sour curmudgeon.
Related Materials: Background, Setting, Theme, and Characterization
Other Illustrations, 1855-1923
Relevant Illustrations in the original, Diamond, and Household Editions, 1856-1873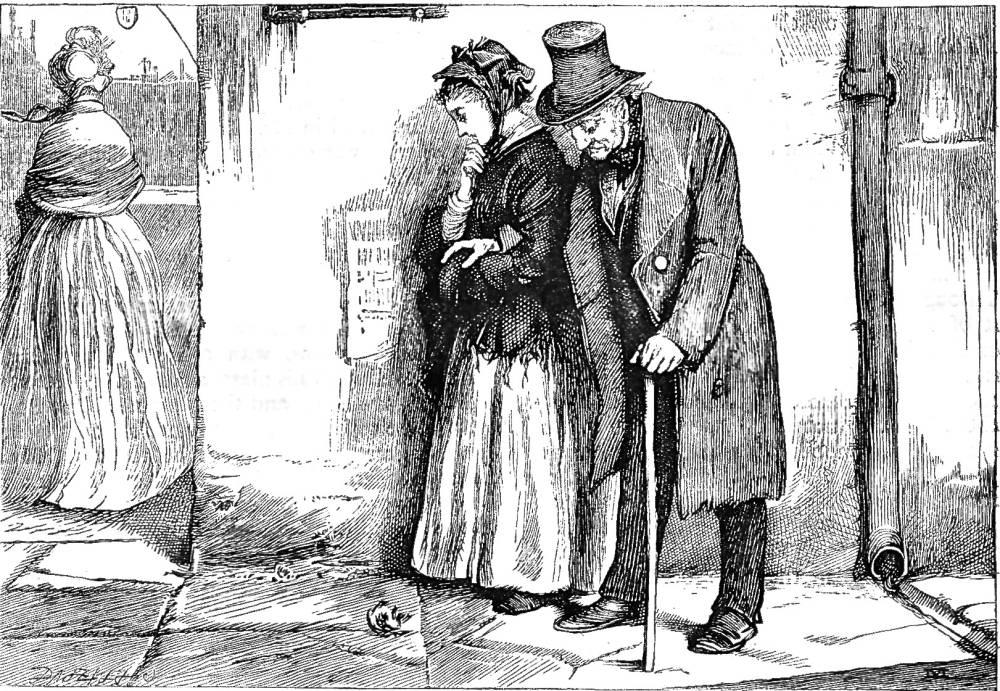 Left: Mahoney's Household Edition illustration for the same chapter, depicting Amy and Old Nandy, set on the pavement in the Borough, a few blocks from the Marshalsea, off the High Street, They were within five minutes of their destination. (1873). Right: Eytinge's study of the jolly Plornishes of Bleeding Heart Yard, Mr. and Mrs. Plornish and John Edward Nandy.
Above: Phiz's original illustration of the Dorrits' dinner in the Marshalsea, The Pensioner Entertainment (August 1856).
Bibliography
Bentley, Nicolas, Michael Slater, and Nina Burgis. The Dickens Index. New York and Oxford: Oxford U. , 1990.
Davis, Paul. Charles Dickens A to Z: The Essential Reference to His Life and Work. New York: Facts On File, 1998.
Dickens, Charles. Little Dorrit. Illustrated by Hablot Knight Browne ("Phiz"). The Authentic Edition. London: Chapman and Hall, 1901 [rpt. 30 May 1857 volume].
_____. Little Dorrit. Frontispieces by Felix Octavius Carr Darley and Sir John Gilbert. The Household Edition. 55 vols. New York: Sheldon & Co., 1863. 4 vols.
_____. Little Dorrit. Illustrated by Sol Eytinge, Jr. The Diamond Edition. Boston: Ticknor & Fields, 1867. 14 vols.
_____. Little Dorrit. Illustrated by James Mahoney. The Household Edition. 22 vols. London: Chapman and Hall, 1873. Vol. 5.
_____. Little Dorrit. Illustrated by Harry Furniss. The Charles Dickens Library Edition. 18 vols. London: Educational Book, 1910. Vol. 12.
Hammerton, J. A. "Chapter 19: Little Dorrit." The Dickens Picture-Book. The Charles Dickens Library Edition. Illustrated by Harry Furniss. 18 vols. London: Educational Book Co., 1910. Vol. 17, 398-427.
Kitton, Frederic George. Dickens and His Illustrators: Cruikshank, Seymour, Buss, "Phiz," Cattermole, Leech, Doyle, Stanfield, Maclise, Tenniel, Frank Stone, Landseer, Palmer, Topham, Marcus Stone, and Luke Fildes. Amsterdam: S. Emmering, 1972. [Rpt. of the London 1899 edition]
Lester, Valerie Browne. Phiz: The Man Who Drew Dickens. London: Chatto and Windus, 2004.
"Little Dorrit — Fifty-eight Illustrations by James Mahoney." Scenes and Characters from the Works of Charles Dickens, Being Eight Hundred and Sixty-six Drawings by Fred Barnard, Gordon Thomson, Hablot Knight Browne (Phiz), J. McL. Ralston, J. Mahoney, H. French, Charles Green, E. G. Dalziel, A. B. Frost, F. A. Fraser, and Sir Luke Fildes. London: Chapman and Hall, 1907.
Muir, Percy. Victorian Illustrated Books. London: B. T. Batsford, 1971.
Schlicke, Paul, ed. The Oxford Reader's Companion to Dickens. Oxford and New York: Oxford U. , 1999.
Steig, Michael. "VI. Bleak House and Little Dorrit." Dickens and Phiz. Bloomington & London: Indiana U. , 1978, 131-298.
Vann, J. Don. Victorian Novels in Serial. New York: The Modern Language Association, 1985.
---
Created 10 May 2016

Last modified 25 January 2020