The Pensioner Entertainment (facing p. 322) — Phiz's eighteenth serial steel-engraving for Dickens's Little Dorrit, the twenty-first in the Authentic Edition, 1901. Book One, Chapter 31 (originally Part 9: August 1856). 9.9 cm high x 14.6 cm wide. This group composition, with friends and family grouped around a dining-table, is almost a commonplace in Phiz's work since such scenes presented him with the opportunity to interrate a number of characters — here, the Dorrits, Maggy, Old Nandy (Mrs. Plornish's father), and Arthur Clennam. [Click on the image to enlarge it.]
Scanned image and text by Philip V. Allingham. [You may use this image without prior permission for any scholarly or educational purpose as long as you (1) credit the person who scanned the image and (2) link your document to this URL.]
Passage Illustrated
"Well, sir, this is Mrs. Plornish's father."
"Indeed? I am glad to see him."
"You would be more glad if you knew his many good qualities, Mr. Clennam."
"I hope I shall come to know them through knowing him," said Arthur, secretly pitying the bowed and submissive figure.
"It is a holiday with him, and he comes to see his old friends, who are always glad to see him," observed the Father of the Marshalsea. Then he added behind his hand, ("Union, poor old fellow. Out for the day.")
By this time Maggy, quietly assisted by her Little Mother, had spread the board, and the repast was ready. It being hot weather and the prison very close, the window was as wide open as it could be pushed. "If Maggy will spread that newspaper on the window-sill, my dear,' remarked the Father complacently and in a half whisper to Little Dorrit, 'my old pensioner can have his tea there, while we are having ours."
So, with a gulf between him and the good company of about a foot in width, standard measure, Mrs Plornish's father was handsomely regaled. Clennam had never seen anything like his magnanimous protection by that other Father, he of the Marshalsea; and was lost in the contemplation of its many wonders.
The most striking of these was perhaps the relishing manner in which he remarked on the pensioner's infirmities and failings, as if he were a gracious Keeper making a running commentary on the decline of the harmless animal he exhibited.
"Not ready for more ham yet, Nandy? Why, how slow you are! (His last teeth," he explained to the company, "are going, poor old boy.")
At another time, he said, "No shrimps, Nandy?" and on his not instantly replying, observed, ("His hearing is becoming very defective. He'll be deaf directly.")
At another time he asked him, "Do you walk much, Nandy, about the yard within the walls of that place of yours?"
"No, sir; no. I haven't any great liking for that."
"No, to be sure," he assented. "Very natural." Then he privately informed the circle ("Legs going.")
Once he asked the pensioner, in that general clemency which asked him anything to keep him afloat, how old his younger grandchild was?
"John Edward," said the pensioner, slowly laying down his knife and fork to consider. "How old, sir? Let me think now."
The Father of the Marshalsea tapped his forehead ("Memory weak.") — Book the First, "Poverty," Chapter 31, "Spirit," p. 322.
Commentary
William Dorrit almost holds court with his retainers and the object his charity and patronage, Old Nandy, Mrs. Plornish's father (seated in the window, right). Phiz and Dickens thus pillory the class system, rendering it laughable by exposing the class-conscious William Dorrit's false sense of superiority with the aged music-binder who, like William, fell into debt years before, but chose to commit himself to the Union Workhouse rather than be arrested for debt. Phiz's realisation of Old Nandy conveys well his perpetually cheerful nature, as opposed to William Dorrit's puffery and discontent:
Mrs. Plornish's father, — a poor little reedy piping old gentleman, like a worn-out bird; who had been in what he called the music- binding business, and met with great misfortunes, and who had seldom been able to make his way, or to see it or to pay it, or to do anything at all with it but find it no thoroughfare, — had retired of his own accord to the Workhouse which was appointed by law to be the Good Samaritan of his district (without the twopence, which was bad political economy), on the settlement of that execution which had carried Mr Plornish to the Marshalsea College. Previous to his son-in-law's difficulties coming to that head, Old Nandy (he was always so called in his legal Retreat, but he was Old Mr Nandy among the Bleeding Hearts) had sat in a corner of the Plornish fireside, and taken his bite and sup out of the Plornish cupboard. He still hoped to resume that domestic position when Fortune should smile upon his son-in-law; in the meantime, while she preserved an immovable countenance, he was, and resolved to remain, one of these little old men in a grove of little old men with a community of flavour.
But no poverty in him, and no coat on him that never was the mode, and no Old Men's Ward for his dwelling-place, could quench his daughter's admiration. — Book the First, "Poverty," Chapter 31, "Spirit," p. 314.
The other figures in the group study (organized in a three-two-one configuration that draws the eye of the viewer towards the little man in the window seat, right) should by now be familiar enough to the reader as the story reaches its mid-point: in profile, Fanny Dorrit, proud and stiff-backed, drinking tea from a small china cup and saucer (left); the mentally-challenged but good natured Maggy, holding aloft a toasting fork; the serious-minded, mutton-chopped young bachelor Arthur Clennam (centre, back to the viewer); to the right, Little Dorrit, dutifully attending to her father's needs; The magisterial Father of the Marshalsea, patronizing as ever; and in the cramped seat before the barred window, the balding, wizened little Mr. Nandy, with a newspaper spread as his tea-table. The Marshalsea chamber as furnished by the Dorrits has the middle-class touches of a regular parlour, including a high-backed, padded chair for the Pater Familias, a linen tablecloth, a carpet, a sideboard (rear), and several paintings. Thus does Phiz, probably at Dickens's direction, render a minor incident and a secondary character memorable while reinforcing the reader's notions about the principals.
Related Illustrations, 1867-1910: The Diamond, Household, and Charles Dickens Library Editions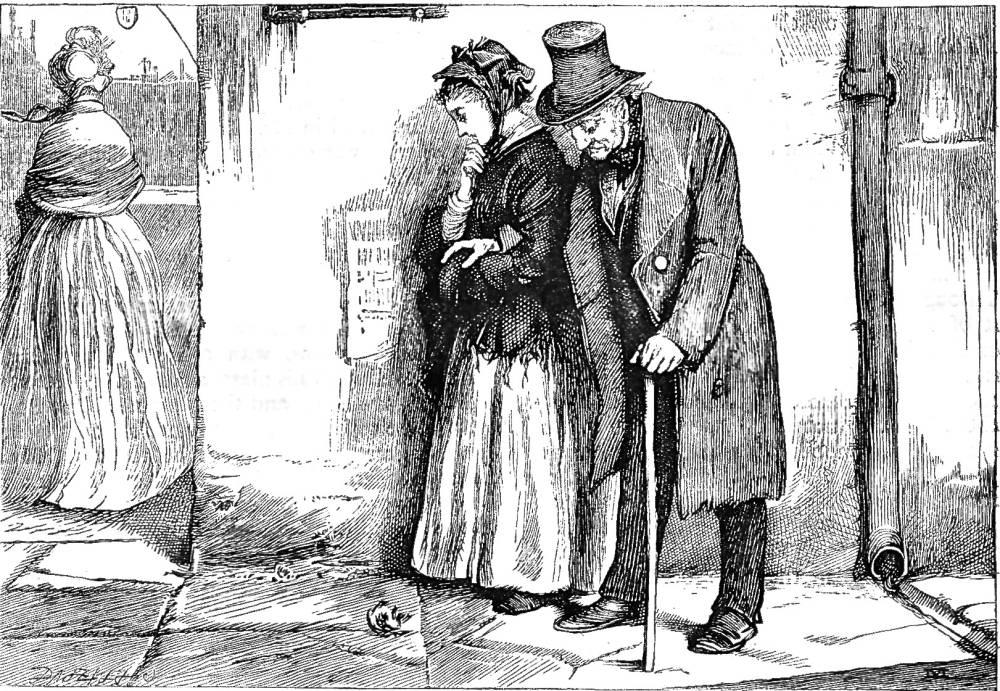 Left: Mahoney's Household Edition illustration for the same chapter, showing Little Dorrit as she accompanies the old pauper, Nandy, from Bleeding Heart Yard to the Marshalsea, They were within five minutes of their destination (1873) Right: Sol Eytinge, Junior's study of the jolly Plornishes of Bleeding Heart Yard, Mr. and Mrs. Plornish and John Edward Nandy. [Click on images to enlarge them.]
Above: Harry Furniss's interpretation of the Fanny Dorrit's accusing her sister, Amy, of having "lowered" herself by having been seen in public with a "Pauper"Little Dorrit disgraces her family (1910). [Click on the image to enlarge it.]
Bibliography
Bentley, Nicolas, Michael Slater, and Nina Burgis. The Dickens Index. New York and Oxford: Oxford U. P., 1990.
Cohen, Jane Rabb. Charles Dickens and His Original Illustrators. Columbus: Ohio State U. P., 1980.
Davis, Paul. Charles Dickens A to Z: The Essential Reference to His Life and Work. New York: Checkmark and Facts On File, 1999.
Dickens, Charles. Little Dorrit. Illustrated by Hablot Knight Browne ("Phiz"). The Authentic Edition. London: Chapman and Hall, 1901 [rpt. of the 1868 volume, based on the 30 May 1857 volume].
Dickens, Charles. Little Dorrit. Frontispieces by Felix Octavius Carr Darley and Sir John Gilbert. The Household Edition. 55 vols. New York: Sheldon & Co., 1863. 4 vols.
Dickens, Charles. Little Dorrit. Illustrated by Sol Eytinge, Jr. The Diamond Edition. Boston: Ticknor & Fields, 1867. 14 vols.
Dickens, Charles. Little Dorrit. Illustrated by James Mahoney. The Household Edition. 22 vols. London: Chapman and Hall, 1873. Vol. 5.
Dickens, Charles. Little Dorrit. Illustrated by Harry Furniss. The Charles Dickens Library Edition. 18 vols. London: Educational Book, 1910. Vol. 12.
Hammerton, J. A. "Chapter 19: Little Dorrit." The Dickens Picture-Book. The Charles Dickens Library Edition. Illustrated by Harry Furniss. 18 vols. London: Educational Book Co., 1910. Vol. 17. Pp. 398-427.
Kitton, Frederic George. Dickens and His Illustrators: Cruikshank, Seymour, Buss, "Phiz," Cattermole, Leech, Doyle, Stanfield, Maclise, Tenniel, Frank Stone, Landseer, Palmer, Topham, Marcus Stone, and Luke Fildes. Amsterdam: S. Emmering, 1972. Re-print of the London 1899 edition.
Lester, Valerie Browne. Phiz: The Man Who Drew Dickens. London: Chatto and Windus, 2004.
Schlicke, Paul, ed. The Oxford Reader's Companion to Dickens. Oxford and New York: Oxford U. P., 1999.
Steig, Michael. Dickens and Phiz. Bloomington: Indiana University Press, 1978.
Vann, J. Don. Victorian Novels in Serial. New York: The Modern Language Association, 1985.
---
Last modified 10 May 2016