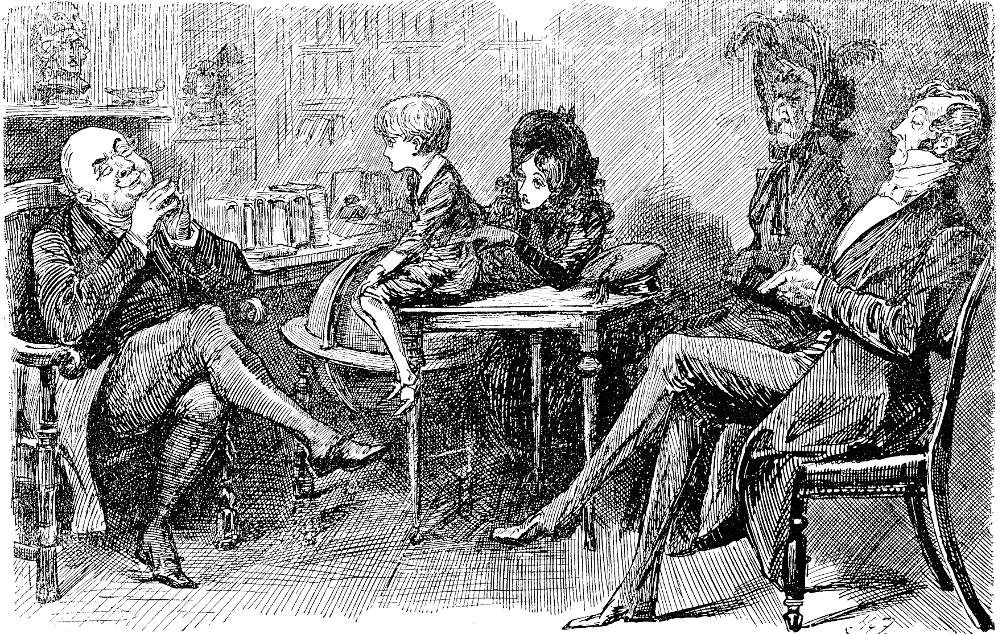 Paul introduced to Dr. Blimber by Harry Furniss in The Charles Dickens Library Edition (1910) — from Chapter 11, "Paul's Introduction to a New Scene" (9.4 x 14.4 cm; 3 ⅝ x 5 ¾ inches, framed) occupies its own page, facing XII, 161. Caption: The child sat on the table looking at him, with a curious expression of suppressed emotion on his face. [Click on the images to enlarge them.]
Passage Illustrated: Captain Cuttle uncovers the theme of the novel
"Ha!" said Doctor Blimber. "Shall we make a man of him?"
"Do you hear, Paul?" added Mr Dombey; Paul being silent.
"Shall we make a man of him?" repeated the Doctor.
"I had rather be a child," replied Paul.
"Indeed!" said the Doctor. "Why?"
The child sat on the table looking at him, with a curious expression of suppressed emotion in his face, and beating one hand proudly on his knee as if he had the rising tears beneath it, and crushed them. But his other hand strayed a little way the while, a little farther — farther from him yet — until it lighted on the neck of Florence. "This is why," it seemed to say, and then the steady look was broken up and gone; the working lip was loosened; and the tears came streaming forth. [Chapter 11, "Paul's Introduction to a New Scene," 150-51]
Illustrations of Dr. Blimber in Other Editions (1877)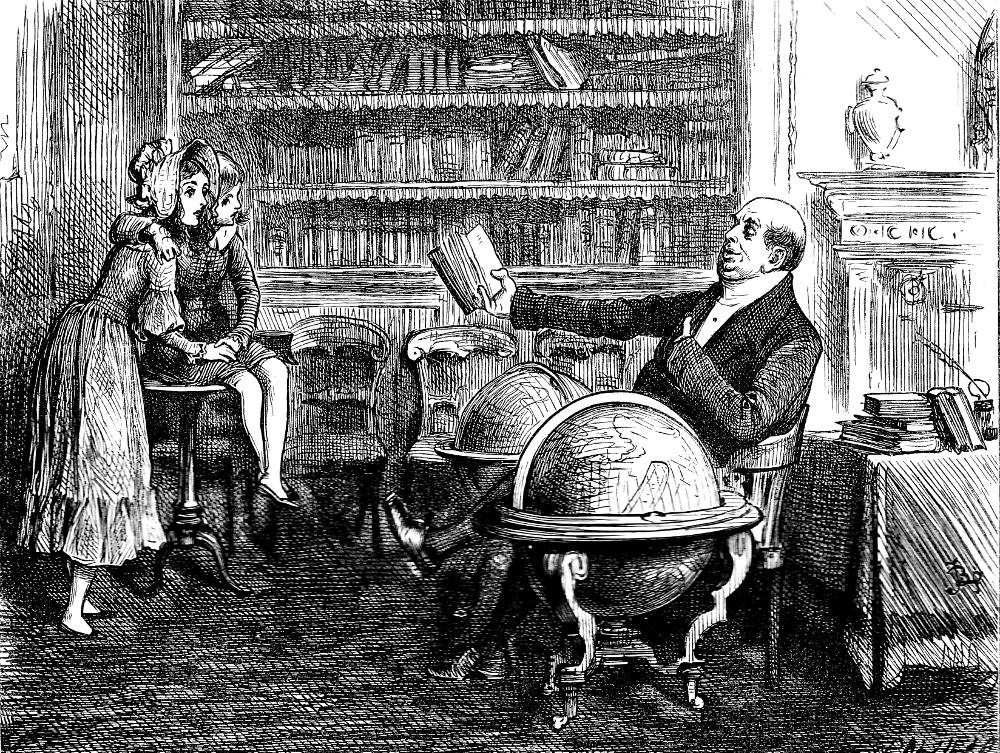 Left: Phiz's January 1847 illustration for the twelfth chapter, Doctor Blimber's Young Gentlemen as they appeared when Enjoying Themselves. Right: Fred Barnard's Household Edition illustration of Dr. Blimber in his study: >When the Doctor smiled auspiciously at his author, or knit his brows, or shook his head and made wry faces at him, as much as to say, "Don't tell me, Sir; I know better," it was terrific. (1867).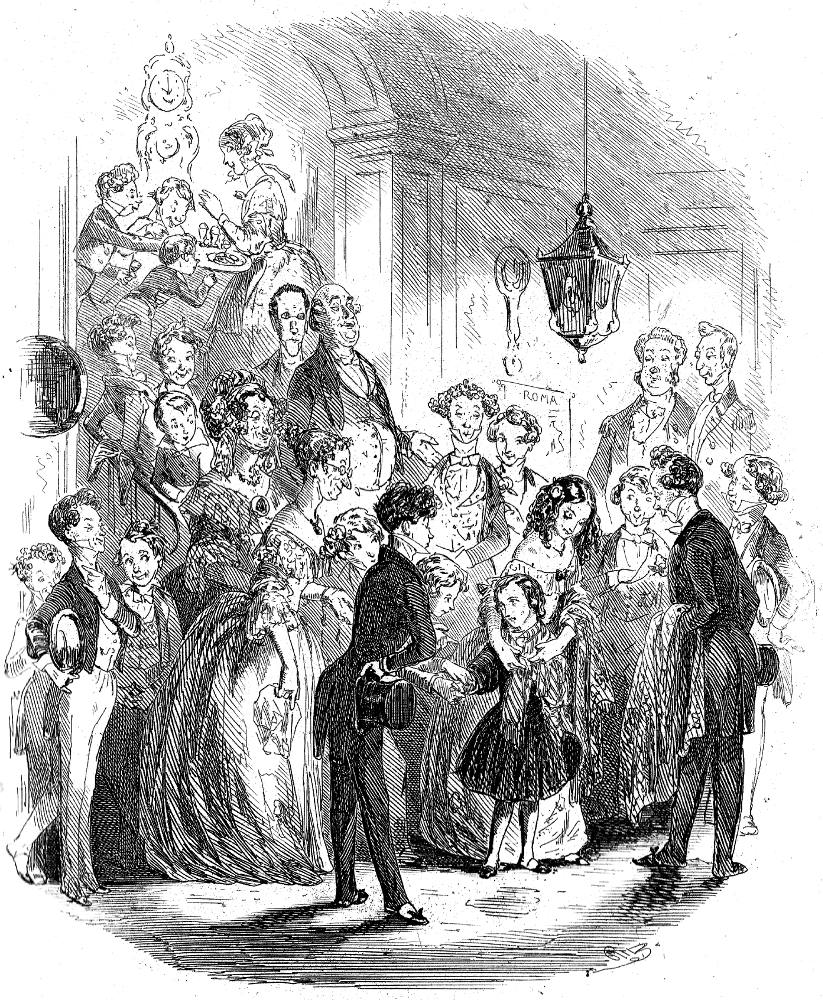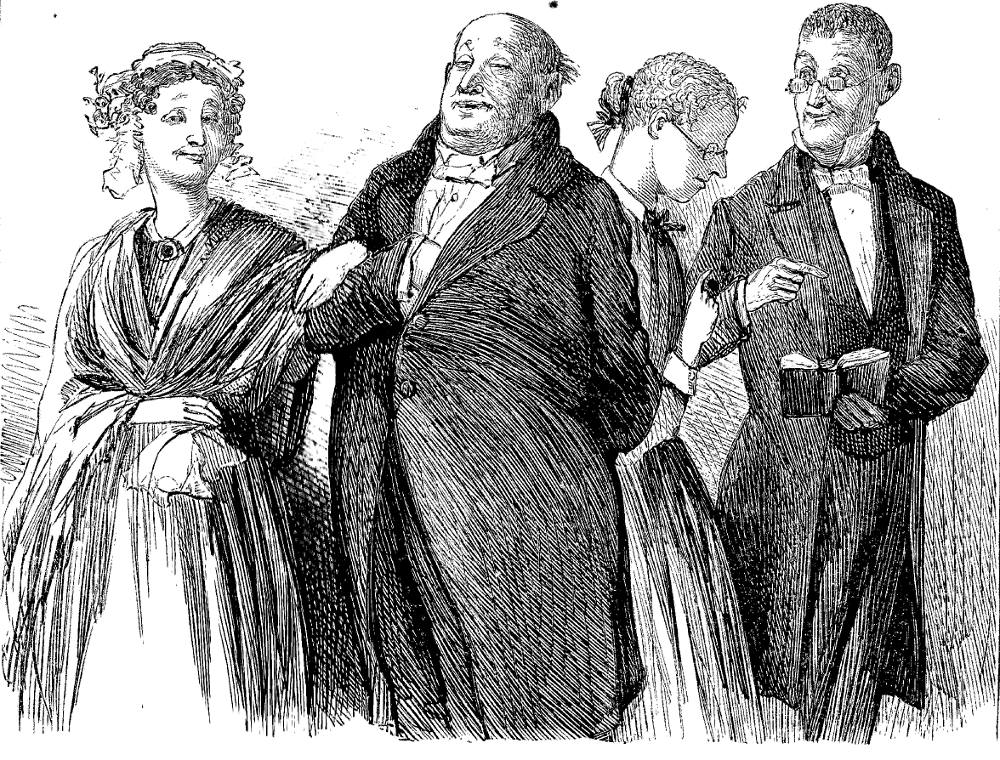 Left: Phiz's other study of Dr. Blimber's Academy, engraved frontispiece for the first volume, Paul Goes Home for the Holidays (February 1847). Right: Sol Eytinge, Junior's family grouping of the Blimbers, The Blimbers and Mr. Feeder (1867).
Related Material, including Other Illustrated Editions of
Dombey and Son
Scanned image and text by Philip V. Allingham. [You may use this image without prior permission for any scholarly or educational purpose as long as you (1) credit the person who scanned the image and (2) link your document to this URL in a web document or cite the Victorian Web in a print one.]
Bibliography
Dickens, Charles. Dombey and Son. Illustrated by Phiz. (Hablot K. Browne). London: Chapman and Hall, 1848.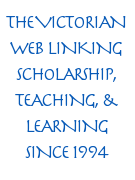 _______. Dombey and Son. Illustrated by Hablot Knight Browne (Phiz). 8 coloured plates. London and Edinburgh: Caxton and Ballantyne, Hanson, 1910.
Dickens, Charles. Dombey and Son. Illustrated by Sol Eytinge, Jr, and engraved by A. V. S. Anthony. 14 vols. Boston: Ticknor & Fields, 1867. III.
_______. Dombey and Son. Illustrated by Fred Barnard [62 composite wood-block engravings]. The Works of Charles Dickens. The Household Edition. 22 vols. London: Chapman and Hall, 1877. XV.
Dickens, Charles. Dealings with the Firm of Dombey and Son: Wholesale, Retail, and for Exportation. Illustrated by Harry Furniss. The Charles Dickens Library Edition. London: Educational Book Company, 1910. IX.
---
Last modified 30 December 2019