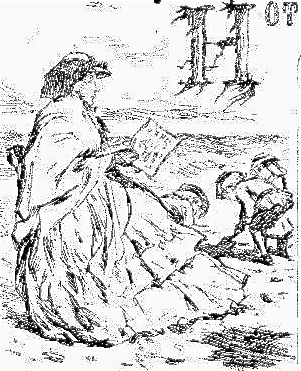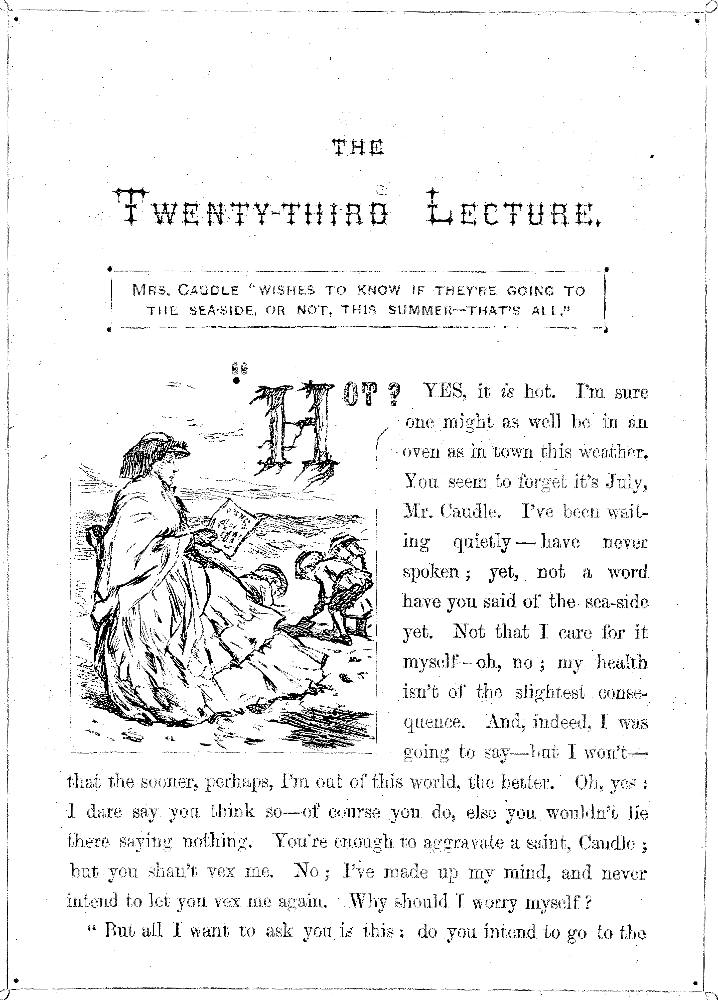 Mrs. Caudle at Margate, Initial "H" —; initial-letter vignette for "The Twenty-Third Lecture" in Mrs. Caudle's Curtain Lectures, first published in the Punch; or, The London Charivari number for​ 12 July 1845 instalment, "Mrs. Caudle 'wishes to know if they're going to the sea-side, or not, this summer —; that's all's," p. 115. Wood-engraving 6.2 x 5.2 cm, framed; thirty-eighth illustration in the third edition.​ Mrs. Caudle and her young three children, evidently unaccompanied by a maid or nanny, are cooling off on the breezy Margate Sands in a traditional English middle-class seaside vacation. Keene appears to have Margaret Caudle browsing through a magazine rather than engrossed in the latest novel.
Scanned image and text by Philip V. Allingham. [You may use this image without prior permission for any scholarly or educational purpose as long as you (1) credit the person who scanned the image and (2) link your document to this URL.]
Passage Illustrated: Mrs. Caudle's contemplating a seaside vacation
"Why can't I tell you what it will cost? How can I or any woman tell exactly what it will cost? Of course lodgings —; and at Margate, too —; are a little dearer than living at your own house. Pooh! You know that? Well, if you did, Mr. Caudle, I suppose there's no treason in naming it. Still, if you take 'em for two months, they're cheaper than for one. No, Mr. Caudle, I shall not be quite tired of it in one month. No: and it isn't true that I no sooner get out than I want to get home again. To be sure, I was tired of Margate three years ago, when you used to leave me to walk about the beach by myself, to be stared at through all sorts of telescopes. But you don't do that again, Mr. Caudle, I can tell you.
What will I do at Margate? Why, isn't there bathing, and picking up shells; and aren't there the packets, with the donkeys; and the last new novel, whatever it is, to read? —; for the only place where I really relish a book is at the sea-side. No; it isn't that I like salt with my reading, Mr. Caudle! I suppose you call that a joke? You might keep your jokes for the daytime, I think. But as I was saying —; only you always will interrupt me —; the ocean always seems to me to open the mind. I see nothing to laugh at; but you always laugh when I say anything. Sometimes at the sea-side —; especially when the tide's down —; I feel so happy: quite as if I could cry.
When shall I get the things ready? For next Sunday?​ [Lecture XXIII. "Mrs. Caudle 'wishes to know if they're going to the sea-side, or not, this summer — that's all',"​ pp. 118-119]
Commentary: Mrs. Caudle at Margate Sands
Whereas the youthful scions of the English nobility customarily undertook the Grand Tour in the eighteenth-century, the middle-class, finally prosperous enough for leisure activities in the nineteenth, took to the seaside at such former fishing villages as Brighton, Worthing, Blackpool, Margate (the object of the "Steam Excursion" in Dickens's Sketches by Boz, and in particular nearby Ramsgate on the English Channel, visited by the noveau riche Tuggses in Charles Dickens's celebrated 1836 sketch "The Tuggses at Ramsgate". As the British middle-class became more affluent, it began to extend its notion of the seaside vacation to include the French side of the Channel, particularly at places such as Boulogne, Dieppe, and Calais —; towards the end of the Jerrold series, the Caudles go on a French seaside vacation. The Normandy coast was a favourite spot for illustrator George Du Maurier, who shows English tourists on vacation there in the final scene of the serialised version of Thomas Hardy'sA Laodicean, "Somerset Now Made Them Known To One Another" in Harper's New Monthly Magazine (November 1881). Jerrold's friend and fellow journalist Charles Dickens preferred to take his family to the seaside at Broadstairs, staying at Fort House, and in 1838 on the Isle of Wight. In the tenth chapter of "Tales" in Sketches by Boz (1834) Dickens depicts an excursion by Londoners to the resort of Gravesend on the Essex Estuary, illustrated by Fred Barnard in the Household Edition as The Gravesend Boat (1876). The Caudles' immediate destination in this twenty-third lecture was highly popular with upper-middle-class Londoners at the time. As was the case with its neighbour, Ramsgate, in the mid-nineteenth century, Margate drew Londoners to its beaches in the summer months. Part of the traditional seaside vacation experience was the resort's pier, which was largely destroyed by a storm in 1978. Margate remains one of the drier, sunnier towns of Kent, July being the sunniest of the summer months with an average of 239 hours of sun, 41 milimeters of precipitation, and an average daily temperature of 21.7 Celsius.
Keene's illustration shows Mrs. Caudle on Margate Sands, which from 1805 had bathing machines available for the "most refined" females wishing to avoid the male proprietary gaze. The seaside scene is not actually occurring in the accompanying text; rather, Margaret Caudle is recalling her last visit to the popular resort when, children in tow and book in hand, she occupied a beach chair Margate Sands and watched the breakers. Keene seems to suggest that she will find the forthcoming experience similar, even though the children are older and the changeable Channel weather could be quite different. In her bedtime discussion with her husband she seems to be arguing for an extended stay at the breezy seaside, away from hot, humid London.
Related Material on Leisure
Victorian Seaside Resorts
Bibliography
Jerrold, Douglas. Mrs. Caudle's Curtain Lectures, as Suffered by the late Job Caudle.​Edited from the Original MSS. by Douglas Jerrold. With a frontispiece by Leech, and as motto on the title-page, "Then, Pistol, lay thy head in Fury's lap. —; Shakespeare."​ London: Punch​ Office; Bradbury​ and Evans,​ 1846.
Jerrold, Douglas. Mrs. Caudle's Curtain Lectures. Illustrated by John Leach and Richard Doyle. London: Bradbury and Evans, 1856.
Jerrold, Douglas. Mrs. Caudle's Curtain Lectures. Illustrated by Charles Keene. London: Bradbury and Evans, 1866.
---
Last modified 10 December 2017