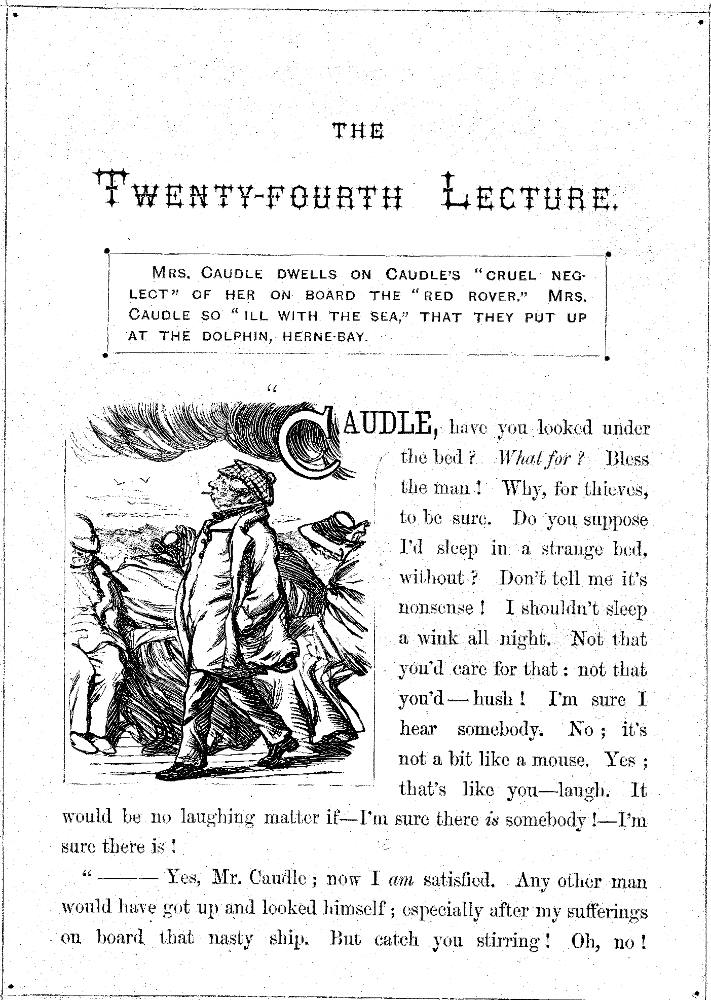 On board the "Red Rover," Initial "C"
Charles Keene
1866
Wood-engraving
6.3 x 5.2 cm, framed
Thirty-ninth illustration for Douglas Jerrold's Mrs.​ ​ Caudle's Curtain Lectures (first published 19 July 1845): "The Twenty-Fourth Lecture," p.​120.
[Click on image to enlarge it and mouse over text for links.]
Scanned image and text by Philip V. Allingham.
[You may use these images without prior permission for any scholarly or educational purpose as long as you link your document to this URL in a web document or cite the Victorian Web in a print one.]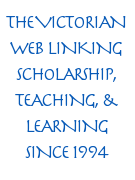 Passage Illustrated: Job Caudle on the deck of the "Red Rover"
"Yes, Caudle; we've now been married many years, but if we were to live together for a thousand years to come —; what are you clasping your hands at? — a thousand years to come, I say, I shall never forget your conduct this day. You could go to the other end of the ship and smoke a cigar, when you knew I should be ill — oh, you knew it; for I always am. The brutal way, too, in which you took that cold brandy-and-water —; you thought I didn't see you; but ill as I was, hardly able to hold my head up, I was watching you all the time. Three glasses of cold brandy-and-water; and you sipped 'em, and drank the health of people who you didn't care a pin about; whilst the health of your own lawful wife was nothing. Three glasses of brandy-and-water, and I left —; as I may say —; alone! You didn't hear 'em, but everybody was crying shame of you. [Lecture XXIV. "Mrs. Caudle dwells on Caudle's "Cruel Neglect" of her on board the "Red Rover." Mrs. Caudle so "Ill with the Sea," that they put up at the Dolphin, Herne Bay,"​p. 122]
Commentary
The Caudles are finally on their way to Margate. They have taken an excursion vessel, The Red Rover, presumably embarking at St. Katherine's Dock, but have encountered headwinds as the vessel goes down the Thames, much to Margaret Caudle's discomfort. Job Caudle, for his part, apparently finds the weather bracing as he smokes a cigar on deck. In the tenth chapter of "Tales" in Sketches by Boz (1839) Dickens depicts an excursion by Londoners to the resort of Gravesend on the Essex Estuary, illustrated by Fred Barnard in the Household Edition as The Gravesend Boat (1876). The Caudles' immediate destination in this twenty-fourth lecture is a resort highly popular with upper-middle-class Londoners at the time. As was the case with its neighbour, Ramsgate, in the mid-nineteenth century, Margate drew Londoners to its beaches in the summer months. Dickens's "Steam Excursion" likewise involves a boat-trip on the Thames that leads to general sea-sickness, which Dickens like Jerrold treats humorously. At least Margaret Caudle found Captain Large sympathetic to her condition, for he escorted her below to a cabin, while her husband knocked back three glasses of brandy-and-water and smoked on the foredeck. He indecorously suggests that her having consumed too much of the lobster salad and gooseberry pie at dinner produced her unpleasant sensations of discomfort. The scene in which Mrs. Caudle rehearses the inconveniences of the voyage actually occurs at bedtime in their hotelroom at The Dolphin in the resort of Herne Bay, a seaside town in Kent. The resort's seafront is still home to the world's first freestanding purpose-built Clock Tower, dating from 1837. During the 1840s, steamboats began a regularly scheduled service between Herne Bay and London. The Caudles appear to have put up at the late eighteenth-century inn actually called "The Ship."
George Cruikshank's Complementary Steel-engravings for "The Steam Excursion" (1839)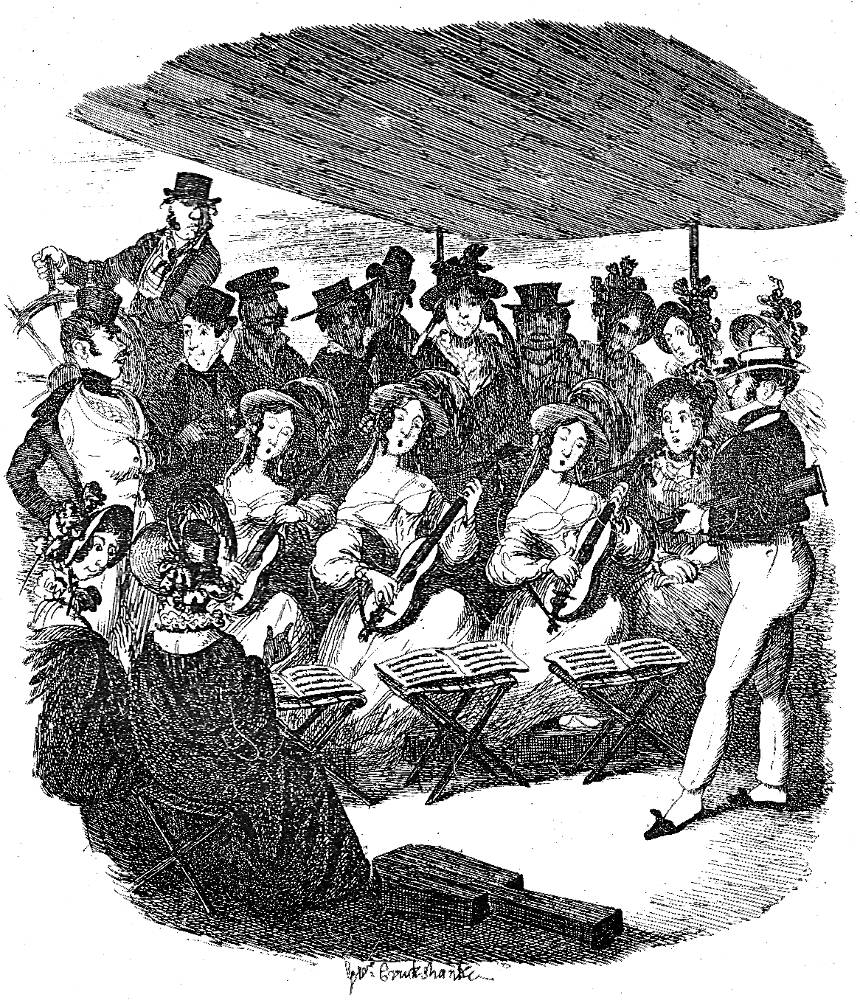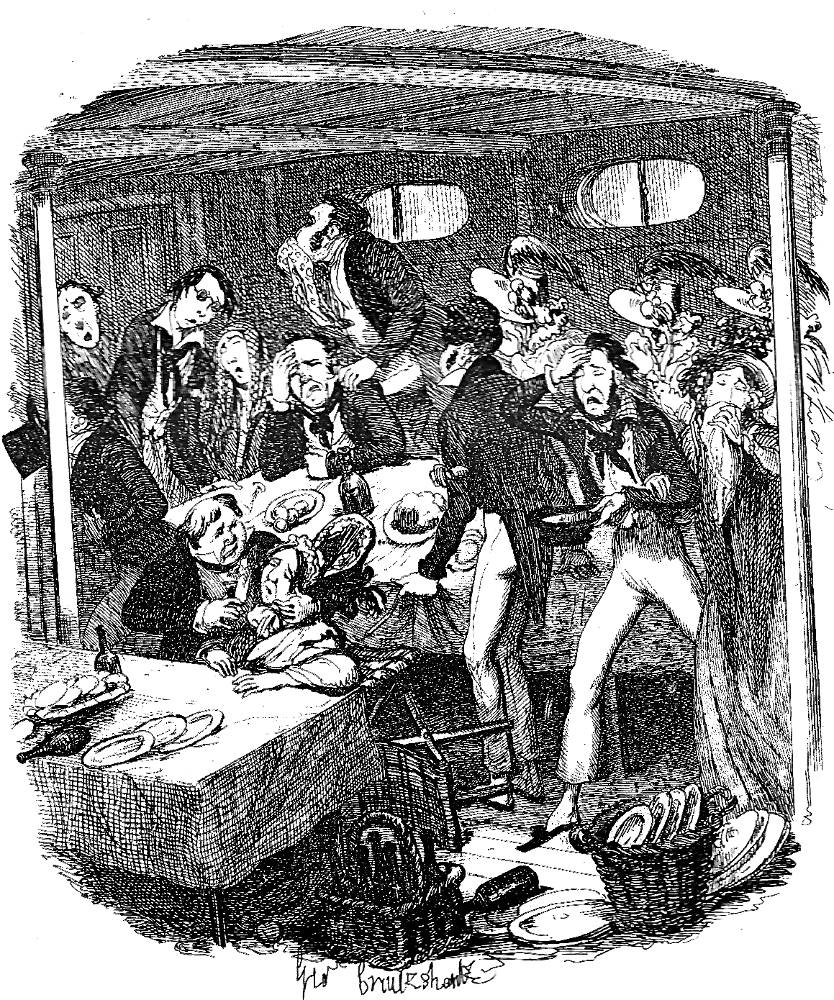 Above: Cruikshank's realisation of the "before" and "after" scenes on board the Gravesend steamer, "The Steam Excursion," Part 1 and "The Steam Excursion," Part 2 (1839), the latter depicting the less-than-hilarious effects of sea-sickness. [Click on image to enlarge it.]
Related Material on Leisure
Victorian Seaside Resorts
Bibliography
Jerrold, Douglas. Mrs. Caudle's Curtain Lectures, as Suffered by the late Job Caudle.​Edited from the Original MSS. by Douglas Jerrold. With a frontispiece by Leech, and as motto on the title-page, "Then, Pistol, lay thy head in Fury's lap. —; Shakespeare."​ London: Punch​Office; Bradbury​ and Evans,​ 1846.
Jerrold, Douglas. Mrs. Caudle's Curtain Lectures. Illustrated by John Leach and Richard Doyle. London: Bradbury and Evans, 1856.
Jerrold, Douglas. Mrs. Caudle's Curtain Lectures. Illustrated by Charles Keene. London: Bradbury and Evans, 1866.
---

Victorian
Web

Illus-
tration

Charles
Keene

Visual
Arts

Next
Last modified 13 December 2017