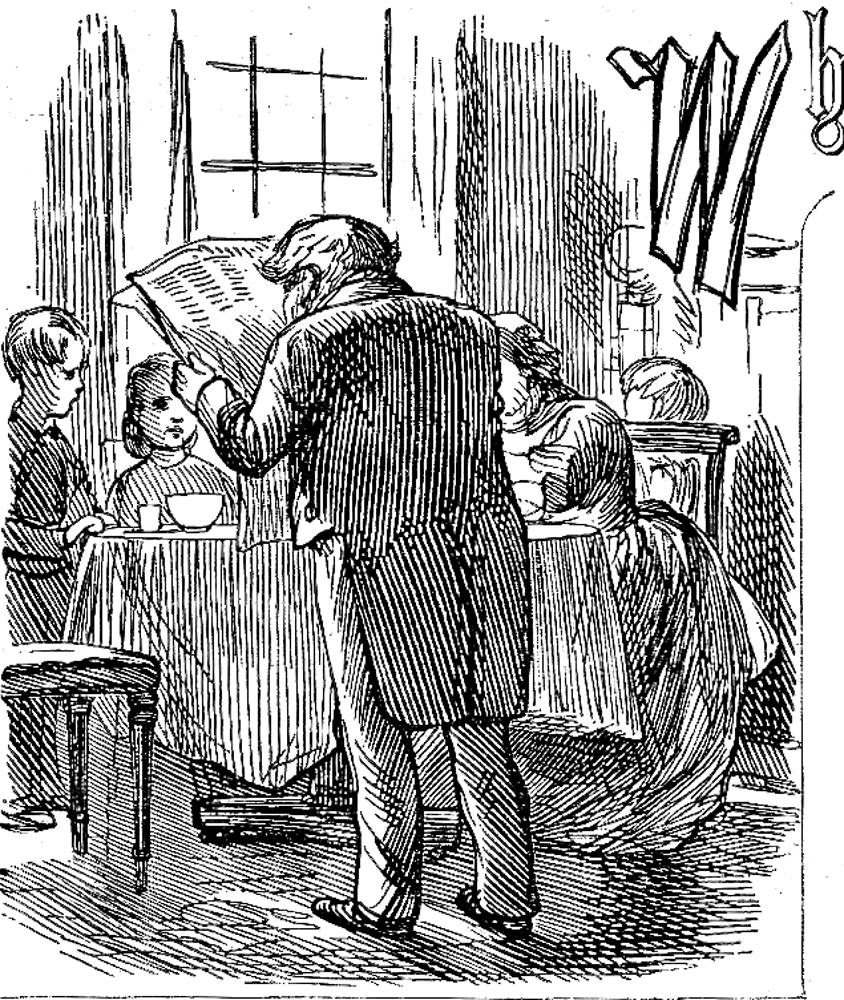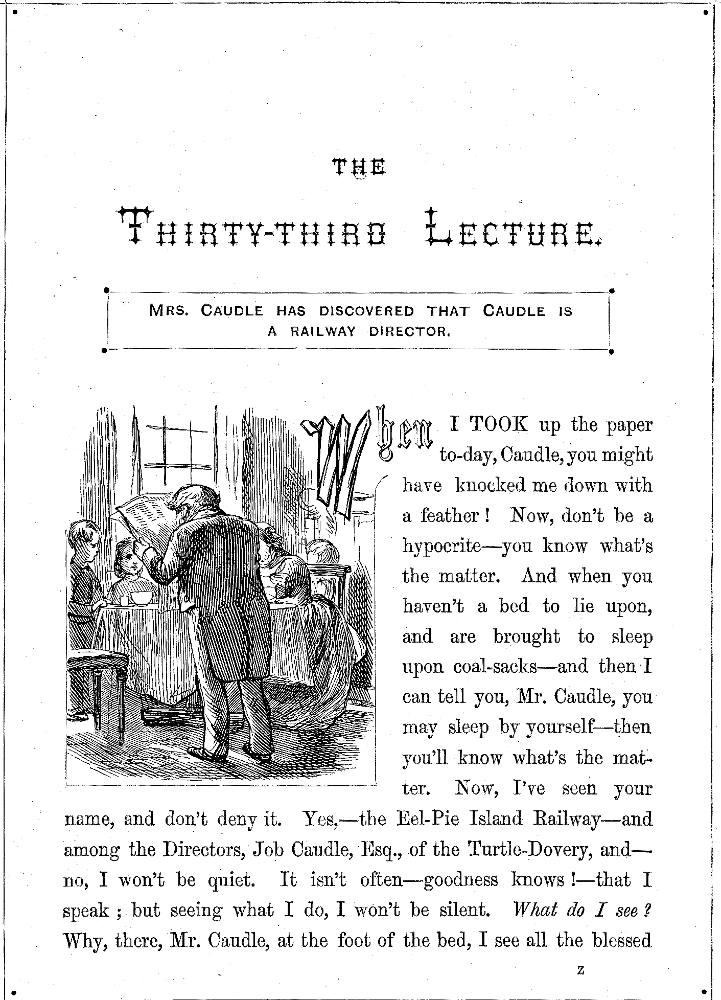 Mr. Caudle​ Reads​ the​ Share-List. —; Initial "W" —; initial-letter vignette for "The Thirty-third Lecture" in Mrs. Caudle's Curtain Lectures, first published in Punch; or, The London Charivari 20 September 1845, "Mrs. Caudle has discovered that Caudle is a Railway Director." Wood-engraving, 6.2 cm high by 5.1 cm wide, framed, p. 169. Fifty-third illustration in the third edition.​ Like many well-off bourgeoisie, Job Caudle has been tempted to invest in the railway bubble of the 1840s.
Scanned image and text by Philip V. Allingham. [You may use this image without prior permission for any scholarly or educational purpose as long as you (1) credit the person who scanned the image and (2) link your document to this URL.]
Passage Illustrated: Mr. Caudle reading the morning paper's financial pages
"When I took up the paper to-day, Caudle, you might have knocked me down with a feather! Now, don't be a hypocrite —; you know what's the matter. And when you haven't a bed to lie upon, and are brought to sleep upon coal sacks —; and then I can tell you, Mr. Caudle, you may sleep by yourself —; then you'll know what's the matter. Now, I've seen your name, and don't deny it. Yes, —; the Eel-Pie Island Railway, —; and among the Directors, Job Caudle, Esq., of the Turtle-Dovery, and — no, I won't be quiet. It isn't often —; goodness knows! —; that I speak; but seeing what I do, I won't be silent. [Lecture 33, "Mrs. Caudle has discovered that Caudle is a Railway Director," p. 169]
Commentary: Mrs. Caudle's Apprehensions about the Railway Investment Bubble
No wonder that Margaret Caudle is concerned about the possibility of her husband's bankrupting the family by becoming involved in the the great railway mania. By the time that Jerrold was writing his weekly marital satire for London readers, a fever of railway gripped the nation. Rampant speculation had resulted in many more lines being floated than were feasible, given the potential for passenger and freight traffic. One-third of the total mileage of railways authorized between 1844 and 1847 was never built. The investment bubble was about to burst. By 1846 this had resulted in a fever of railway speculation with many more lines being floated than were feasible. In such a fervid environment, fraud was inevitable. The boom-bust cycle in railway finance was partly the result of Parliament's failure to discourage unsound speculation through enacting appropriate financial regulations. Incidentally, there really was an Eel-Pie Island, located in the Thames near Twickenham and Richmond upon Thames, but its modest population would hardly have supported a rail line. The piece in appeared in Punch at the very height of the mania, when even relatively small English towns expected to have their own railways. As a result of projects authorized between 1844 and 1846, British companies constructed a total of 6,220 miles (10,010 km) of railway line; by comparison, the total route mileage of the modern United Kingdom railway network is about 11,000 miles (18,000 km). The investment mania reached its zenith in 1846, when no fewer than 272 Acts of Parliament were passed, setting up new railway companies, with the proposed routes totalling 9,500 miles (15,300 km) of new rail track. Because railway investment seemed like a sure bet in 1845, many middle class families sank their entire investment portfolio into new railway companies. However, shares that had traded at 167.9 in the summer months of 1845 had dropped by sixty-five per cent by the end of the following year as a result of the Bank of England's raising interest rates in the autumn of 1845. As the chartered banks began to re-invest in safer financial instruments such as bonds, investment cash flowed out of railways, under-cutting the boom. "In this latter period Charlotte Brontë, who, along with her sisters, had invested most of her small inheritance in one of Hudson's lines, . . . was a heavy loser as a result. . ." (Odlyzko, p. 2).
Related Material
Bibliography
Jerrold, Douglas. Mrs. Caudle's Curtain Lectures, as Suffered by the late Job Caudle.​Edited from the Original MSS. by Douglas Jerrold. With a frontispiece by Leech, and as motto on the title-page, "Then, Pistol, lay thy head in Fury's lap. —; Shakespeare."​ London: Punch​ Office; Bradbury​ and Evans,​ 1846.
Jerrold, Douglas. Mrs. Caudle's Curtain Lectures. Illustrated by John Leach and Richard Doyle. London: Bradbury and Evans, 1856.
Jerrold, Douglas. Mrs. Caudle's Curtain Lectures. Illustrated by Charles Keene. London: Bradbury and Evans, 1866.
Odlyzko, Andrew. "The Railway Mania: Fraud, disappointed expectations, and the modern economy." August 14, 2012. Pp. 1-16. http://www.dtc.umn.edu/~odlyzko/doc/mania06.pdf
---
Last modified 28 December 2017