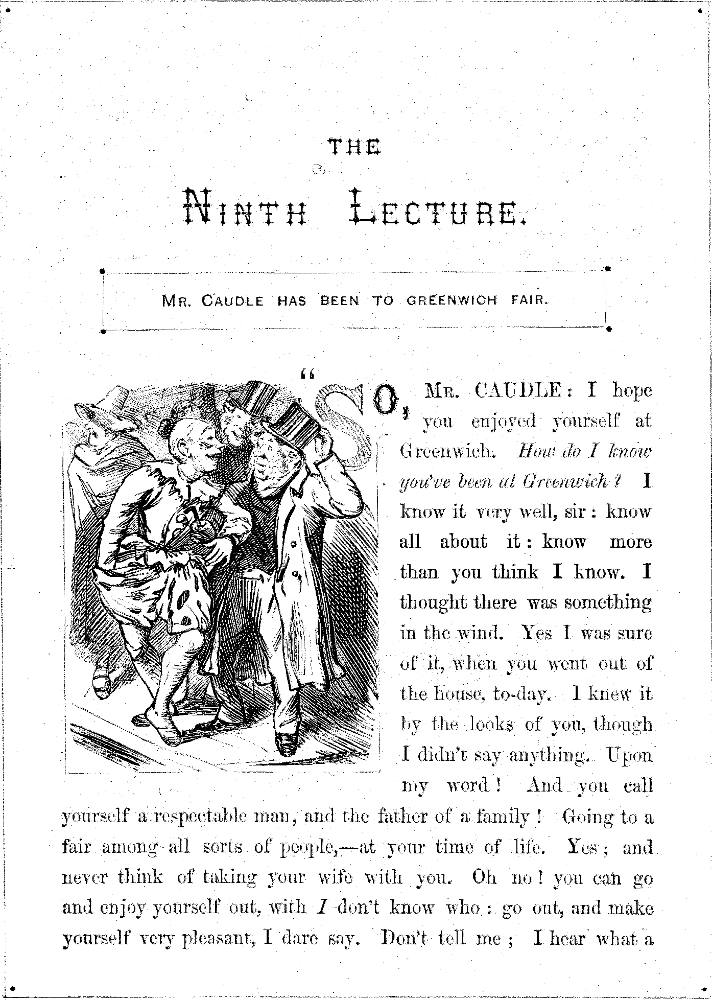 Mr. Caudle at the Greenwich Fair, Initial letter "S" —; initial-letter vignette for "The Ninth Lecture" in Mrs. Caudle's Curtain Lectures, first published in the Punch; or, The London Charivari number for 22 March 1845; instalment, Mr. Caudle has been to Greenwich Fair," page 39. Wood-engraving 6.2 x 5.2 cm, framed. Nineteenth illustration in the third edition. The initial headnote vignette complements the main illustration, Mr. Caudle has a Weakness for Gingerbread Nuts. Having abandoned wife and family to their own devices on the Whitsuntide weekend, Mr. Job Caudle, respectable London businessman and toy-manufacturer, accompanied by a younger male friend (probably his neighbour, Harry Prettyman), takes in the sights of the annual spring festival, Greenwhich Fair. He will pay steeply for the day's outing when he gets home.
Scanned image and text by Philip V. Allingham. [You may use this image without prior permission for any scholarly or educational purpose as long as you (1) credit the person who scanned the image and (2) link your document to this URL.]
Passage Illustrated
"And then you must go into the shows? There, —; you don't deny that. You did go into a show. "What of it, Mr. Caudle?" —; A good deal of it, sir. Nice crowding and squeezing in those shows, I know. Pretty places! And you a married man and the father of a family. No: I won't hold my tongue. It's very well for you to threaten to get up. You're to go to Greenwich Fair, and race up and down the hill, and play at kiss in the ring. Pah! it's disgusting, Mr. Caudle. Oh, I dare say you did play at it; if you didn't, you'd have liked, and that's just as bad; —; and you can go into swings, and shows, and roundabouts. If I was you, I should hide my head under the clothes and be ashamed of myself.
"And what is most selfish —; most mean of you, Caudle —; you can go and enjoy yourself, and never so much as bring home for the poor children a gingerbread nut. Don't tell me that your pocket was picked of a pound of nuts! Nice company you must have been in to have your pocket picked. ["The Ninth Lecture. —; Mr. Caudle has been to Greenwich Fair," pp. 42-43]
Related Material
Commentary
Keene and Jerrold may both have been responding in this ninth lecture to George Cruikshank's illustration in Dickens's Sketches by Boz entitled Greenwich Fair (1836). Both the illustrator and the satirist would have been familiar with the bacchanal scene which Dickens and Cruikshank described in the mid-1830s, but Jerrold wrote the sketch a decade ahead of the illustration by Hablot Knight Browne, Whitsuntide in Greenwich Park in the Illustrated London News for 21 May 1853. Since "Lecture Nine" was first published in the Punch number for 22 March 1845, Jerrold was anticipating the upcoming annual festival, and was thinking of Greenwich Fair as it existed in the early 1840s, whereas Keene's illustration alludes to the rather tamer version of the 1860s. Both George Cruikshank and 1870s Household Edition illustrator Fred Barnard have provided lively, detailed, and reliable images of the goings-on at the fair. Mr. Caudle in Keene's initial illustration of the Fair is being accosted by a clown in white-face, the makeup which the celebrated Joey Grimaldi favoured in such skits as Live Properties, suggests that he is being jostled as he goes into a show or performance in one of the tents temporarily erected for the annual fair.
In the second illustration for "The Ninth Lecture," Caudle and his friend, still outside the entertainment tents, are lining up with women and children to purchase a bag of gingerbread nuts from a young woman dressed in the fashion of the 1860s. Keene shows a more "family-friendly" face of the somewhat notorious fair, which featured licentious dancing at the Crown and Anchor, a temporary dancehall erected for the festival and depicted in 1836 by Cruikshank for Dickens's Sketches by Boz.
Later Images of Greenwich Fair, the Spring Festival: 1853 and 1876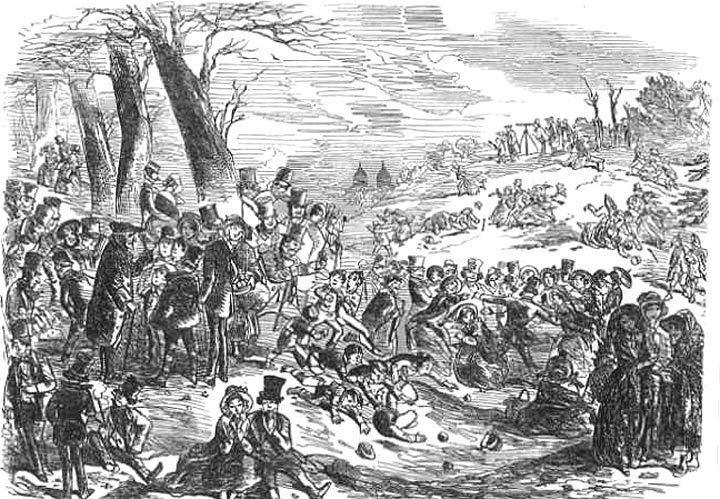 Above: Phiz's rather tamer image of the fair, just four years before the Home Secretary cancelled it, Whitsuntide at Greenwich Park/span> (21 May 1853). [Click on the image to enlarge it.]
Above: Fred Barnard's realistic wood-engraving of an impromptu picnic on the hill beneath the Greenwich Observatory in The gentleman described looks extremely foolish, and squeezes her hand, and fees the Gipsy liberally (1876). [Click on the image to enlarge it.]
Of late, as the following excerpts from recently published articles aver, the​raucous riverside bacchanal has made something of a comeback at Greenwich, albeit as a somewhat more "family friendly" event ("tumbling" does not apparently meet the standards of modern "risk-assessment"). At the original fair, abandoned in 1857 perhaps because of its unVictorian licentiousness and partly because of its sheer numbers (which must have rendered policing as problematic as any kind of law enforcement at Woodstock in our own era), the chief attractions were gaily lit vendors' stalls (selling prepared food, nicknacks, toys, and cigars), bands, wild-beast shows, and the twenty-five-minute show at Richardson's temporary theatre (featuring a melodrama, a pantomime, a comic song, and "incidental music"), and the temporary ballroom of "The Crown and Anchor" (a name acknowledging the maritime heritage of the borough).
What would one give to be transported back in time to experience Greenwich Fair at its giddy height? As it gathered force in the early 19th century —; having begun life, judging by earliest mentions, a century earlier —; it prompted visitors of a literary disposition to reach for their pens in wonder.
Dickens plainly adored the multitudinous spectacle that seized Greenwich every Easter and Whitsun. In Sketches by Boz (1836)​. . . .
Greenwich Fair was closed down, upon petition to the Home Secretary, in 1857; it had become too teeming (visitor numbers in excess of 200,000) and too debauched for the better-heeled locals. But this coming weekend, it will be bornagain, as part of the​Greenwich and Docklands International Festival 2011. . . . .
What he can't do is wave a wand, undo "progress", and allow today's youth to go hurtling downhill from the top of Observatory Hill en masse, endangering life and limb —; "We can't risk-assess that, "he jokes. Gone are the naval pensioners, who'd​ tell hair-raising tales and —; for a penny a pop —;​offer peeks through their telescopes of the Isle of Dogs gibbet, where rotting pirate corpses would hang. Gone, too, is the notorious Crown and Anchor dancing-booth, in which cross-dressing and all kinds of transgressive carry-on would take place; and Richardson's, a travelling theatre​ . . .​ —; Dominic Cavendish.
Hawkers, sideshows, wax works, lurid theatrical entertainments —; there were booths for anything the partying cockney could want, and as the years went on, the upper classes left them to it more and more.
They could get a tooth pulled or watch a prize fight. They could buy a trinket or dance a quadrille. They could hear a trumpet voluntary or get their fortunes told, watch wild beasts fight or drink a barrel of beer. They could visit Wombwell's Menagerie or any one of the dozens of alehouses on the Thames. They could 'meet'​a nice young lady and if they were really getting on, that they could engage in a spot of tumbling together. He could even get himself a Scratcher to tease her with. (no —; ​ not some strange marital aid —;​it was little serrated wheel on a stick which you rolled up and down your victim's back. The noise it made sounded as though you'd ripped their clothes. Hilarious.)​ —; The Greenwich Phantom —; An Intimate Guide to Life in Greenwich.
George Cruikshank probably read the periodical version of the journalistic sketch in The Evening Chronicle for 16 April 1835 under the title "Sketches of London No. 9" by the suddenly popular "Boz" even before he received the commission to illustrate the First Series in volume form. The essay must have given him a wealth of material for visual interpretation —; booths, animal shows, popular theatre, and "tumbling" down the hill —; so that one may assume that in producing the present illustration Cruikshank received some input from young Dickens himself. to the left, a young man cavorts in a lady's bonnet while his partner, right of centre, is apparently wearing his top-hat. Several young men are wearing false noses, as if they were participants in an Italian festival, and musicians play dance-tunes (upper left) for the young men and women under the illumination of small garden lights set in a chandelier, presumably hanging from the improvised ceiling. The clouds of smoke upper right and left imply large-scale smoking of cigars by the male dancers.
The 21 May 1853 Illustrated London News illustration by Phiz, who replaced Cruikshank as Dickens's chief illustrator, shows the innocuous afternoon entertainments, and features in the lower left a Greenwich Naval Pensioner's offering to conduct a guided tour of lurid local scenes in Whitsuntide at Greenwich Park (detail) while on the hill (upper right) while another such retiree offers to show "interesting sights" through a telescope.
Bibliography
Cavendish, Dominic. "Greenwich Fair: Where Dickens let his hair down." The Daily Telegraph. 18 June 2011. Accessed 13 April 2017. http://www.telegraph.co.uk/culture/theatre/8581929/Greenwich-Fair-Where-Dickens-let-his-hair-down.html
Dickens, Charles. "Greenwich Fair," Chapter 12 in "Scenes," Sketches by Boz. Illustrated by George Cruikshank. London: Chapman and Hall, 1839; rpt., 1890. Pp. 81-87.
Dickens, Charles. "Greenwich Fair," Chapter 12 in "Scenes," Sketches by Boz. Illustrated by Fred Barnard. The Household Edition. London: Chapman and Hall, 1876. Pp. 115-56.
Dickens, Charles. "Greenwich Fair," Chapter 12 in "Scenes," Sketches by Boz. Illustrated by Harry Furniss. The Charles Dickens Library Edition. London: Educational Book Company, 1910. Vol. 1. Pp. 104-112.
"Greenwich Fair." The Greenwich Phantom —; An Intimate Guide to Life in Greenwich.​Accessed 13 April 2017.​ http://www.thegreenwichphantom.co.uk/2008/05/greenwich-fair/.
Hawksley, Lucinda Dickens. Chapter 3, "Sketches by Boz." Dickens Bicentenary 1812-2012: Charles Dickens. San Rafael, California: Insight, 2011. Pp. 12-15.
Jerrold, Douglas. Mrs. Caudle's Curtain Lectures, as Suffered by the late Job Caudle.​Edited from the Original MSS. by Douglas Jerrold. With a frontispiece by Leech, and as motto on the title-page, "Then, Pistol, lay thy head in Fury's lap. —; Shakespeare."​ London: Punch​ Office; Bradbury​ and Evans,​ 1846.
Jerrold, Douglas. Mrs. Caudle's Curtain Lectures . Illustrated by John Leach and Richard Doyle. London: Bradbury and Evans, 1856.
Jerrold, Douglas. Mrs. Caudle's Curtain Lectures. Illustrated by Charles Keene. London: Bradbury and Evans, 1866.
Kitton, Frederic G. "George Cruikshank." Dickens and His Illustrators. London: Chapman & Hall,1899. Rpt. Honolulu: U. Press of the Pacific, 2004. Pp.1-28.
Phiz (Hablot Knight Browne). "Whitsuntide in Greenwich Park." Illustrated London News. 21 May 1853. P. 408.
Schlicke, Paul. "Sketches by Boz." Oxford Reader's Companion to Dickens. Oxford: Oxford U. P., 1999. Pp. 530-535.
---
Last modified 14 November 2017