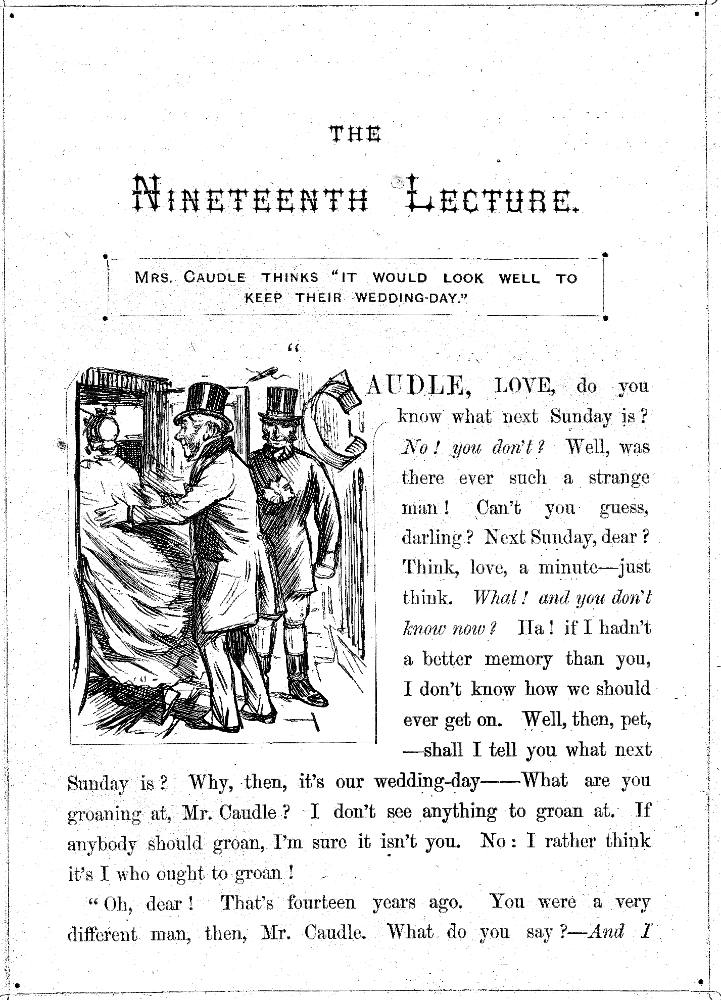 "Mrs. Caudle's Wedding Day" —; Illuminated Initial "C"
Charles Keene
1866
Wood-engraving
6.3 x 5.1 cm, framed
Thirty-third illustration for Douglas Jerrold's Mrs. Caudle's Curtain Lectures (first published 14 June 1845): "The Nineteenth Lecture," p. 94.
[Click on image to enlarge it and mouse over text for links.]
Scanned image and text by Philip V. Allingham.
[You may use these images without prior permission for any scholarly or educational purpose as long as you link your document to this URL in a web document or cite the Victorian Web in a print one.]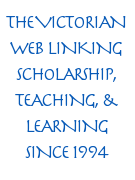 Passage Illustrated
"Now, Caudle, dear, do let us talk comfortably. After all, love, there's a good many folks who, I daresay, don't get on half so well as we've done. We've both our little tempers, perhaps; but you are aggravating; you must own that, Caudle. Well, never mind; we won't talk of it; I won't scold you now. We'll talk of next Sunday, love. We never have kept our wedding-day, and I think it would be a nice day to have our friends. What do you say? They'd think it hypocrisy? No hypocrisy at all. I'm sure I try to be comfortable; and if ever man was happy, you ought to be. No, Caudle, no; it isn't nonsense to keep wedding-days; it isn't a deception on the world; and if it is, how many people do it! I'm sure it's only a proper compliment that a man owes to his wife. Look at the Winkles—don't they give a dinner every year? Well, I know, and if they do fight a little in the course of the twelvemonth, that's nothing to do with it. They keep their wedding-day, and their acquaintance have nothing to do with anything else.
"As I say, Caudle, it's only a proper compliment that a man owes to his wife to keep his wedding-day. It's as much as to say to the whole world —; 'There! if I had to marry again, my blessed wife's the only woman I'd choose!' Well! I see nothing to groan at, Mr. Caudle —; no, nor to sigh at either; but I know what you mean: I'm sure, what would have become of you if you hadn't married as you have done —; why, you'd have been a lost creature! I know it; I know your habits, Caudle; and —; I don't like to say it, but you'd have been little better than a ragamuffin. Nice scrapes you'd have got into, I know, if you hadn't had me for a wife. The trouble I've had to keep you respectable —; and what's my thanks? Ha! I only wish you'd had some women!
"But we won't quarrel, Caudle. No; you don't mean anything, I know. We'll have this little dinner, eh? Just a few friends? Now don't say you don't care—that isn't the way to speak to a wife; and especially the wife I've been to you, Caudle. Well, you agree to the dinner, eh? Now, don't grunt, Mr. Caudle, but speak out. You'll keep your wedding-day? What? ["The Nineteenth Lecture. —; Mrs. Caudle thinks 'it would look well to keep their wedding-day'," pp. 95-96]
Commentary
Although once again the couple are conducting their discussion at bed-time, Keene imagines the scene just after the wedding ceremony fourteen years earlier when Job Caudle, a slightly trimmer figure, assisted his bride, Margaret, into a closed carriage. The figure in boots to the right is presumably the vehicle's driver. The illustration encapsulates a reminiscence, but the text deals with the issue of celebrating one's wedding anniversary, which Jerrold suggests was still something of a novelty among the upper-middle class. Part of the appeal of celebrating the anniversary for Margaret Caudle is that it will "look well," that is, make for a social occasion at which they can host an elegant dinner with venison, the meat of the aristocracy, for a number of married couples.
Bibliography
Jerrold, Douglas. Mrs. Caudle's Curtain Lectures, as Suffered by the late Job Caudle.​Edited from the Original MSS. by Douglas Jerrold. With a frontispiece by Leech, and as motto on the title-page, "Then, Pistol, lay thy head in Fury's lap. —; Shakespeare."​London: Punch​Office; Bradbury​ and Evans,​ 1846.
Jerrold, Douglas. Mrs. Caudle's Curtain Lectures . Illustrated by John Leach and Richard Doyle. London: Bradbury and Evans, 1856.
Jerrold, Douglas. Mrs. Caudle's Curtain Lectures. Illustrated by Charles Keene. London: Bradbury and Evans, 1866.
---

Victorian
Web

Illus-
tration

Charles
Keene

Visual
Arts

Next
Last modified 3 December 2017