"To preserve your approbation, Mrs. General," said Fanny, returning the smile with one in which there was no trace of those ingredients, "will of course be the highest object of my married life; to lose it, would of course be perfect wretchedness" — Book 2, chap. xv, is the full title as given in the Harper and Brothers printing. Sixties' illustrator James Mahoney's forty-first illustration for Charles Dickens's Little Dorrit, Household Edition, 1873. Wood-engraving by the Dalziels, 10.5 cm high by 13.7 cm wide, p. 305, framed, under the running head "Miss Fanny is Engaged." [Click on the image to enlarge it.]
Scanned image and text by Philip V. Allingham. [You may use this image without prior permission for any scholarly or educational purpose as long as you (1) credit the person who scanned the image and (2) link your document to this URL.]
Passage Illustrated
"I trust Miss Dorrit will allow me to offer her my best congratulations."
Here Mrs General stopped, and added internally, for the setting of her face, "Papa, potatoes, poultry, Prunes, and prism."
"Mr. Dorrit," she superadded aloud, "is ever most obliging; and for the attention, and I will add distinction, of having this confidence imparted to me by himself and Miss Dorrit at this early time, I beg to offer the tribute of my thanks. My thanks, and my congratulations, are equally the meed of Mr. Dorrit and of Miss Dorrit."
"To me," observed Miss Fanny, "they are excessively gratifying — inexpressibly so. The relief of finding that you have no objection to make, Mrs. General, quite takes a load off my mind, I am sure. I hardly know what I should have done," said Fanny, "if you had interposed any objection, Mrs General."
Mrs. General changed her gloves, as to the right glove being uppermost and the left undermost, with a Prunes and Prism smile.
"To preserve your approbation, Mrs. General," said Fanny, returning the smile with one in which there was no trace of those ingredients, "will of course be the highest object of my married life; to lose it, would of course be perfect wretchedness. I am sure your great kindness will not object, and I hope papa will not object, to my correcting a small mistake you have made, however. The best of us are so liable to mistakes, that even you, Mrs. General, have fallen into a little error. The attention and distinction you have so impressively mentioned, Mrs. General, as attaching to this confidence, are, I have no doubt, of the most complimentary and gratifying description; but they don't at all proceed from me. The merit of having consulted you on the subject would have been so great in me, that I feel I must not lay claim to it when it really is not mine. It is wholly papa's. I am deeply obliged to you for your encouragement and patronage, but it was papa who asked for it. I have to thank you, Mrs. General, for relieving my breast of a great weight by so handsomely giving your consent to my engagement, but you have really nothing to thank me for. I hope you will always approve of my proceedings after I have left home and that my sister also may long remain the favoured object of your condescension, Mrs. General." — Book the Second, "Riches," Chapter 15, "No just Cause or Impediment why these Two Persons should not be joined together," p. 308-309.
Commentary
​William Dorrit, having come into a fortune and joined the ranks of the upper middle class, has engaged the "polishing" services of the pretentious Mrs. Hortensia General, widow of an army officer, to educate his daughters and prepare them for their new position in society. Mrs. General is significant among the secondary characters, not merely because she has marital designs upon Mr. Dorrit, but also because the regimentation of the Dorrit sisters is a motivating factor in Fanny's decision to marry Edmund Sparkler, and thereby escape her domination and the possibility that Mrs. General may become her "mother-in-law" (that is, step-mother)​ rather than merely her governess and chaperone. Mrs. General's "system" of education is making young ladies agreeable and attractive in preparation for upper-middle-class marriages; however, they should never anything unpleasant or improper, and hold no opinions whatsoever that are contrary to the received wisdom of respectable society. Unfortunately for the authentic and sympathetic Amy, Mrs. General insists on the Dorrit girls' maintaining decorum and cultivating a proper veneer; she does not even acknowledge that she is a paid servant, but assumes the role of a friend of the family and its counselor — hence, in this scene Fanny challenges the notion that she needs Mrs. General's consent or approbation before accepting Edmund Sparkler's marriage proposal.
In the second book, "Riches," Dickens makes Mrs. General the exemplar of a social attitude (propriety) and in these chapters gives her a distinct voice or verbal presence, but offers little in the way of physical features for the inspiration of an illustrator. Later artists such as Mahoney and Eytinge, of course, could reference Phiz's original images of Mrs. General for the Chapman and Hall serialisation (in which the earlier illustrator has crammed the widow of the commissariat officer's widow into the lower right corner of The Travellers, one of two illustrations for the eleventh monthly part, October 1856, but has not developed her). Later illustrators had to select a carriage and fashion appropriate to Dickens's descriptions of her manner. The philosophy of "Prunes and Prism" includes never acknowledging anything disagreeable:
"If Miss Amy Dorrit will direct her own attention to, and will accept of my poor assistance in, the formation of a surface, Mr. Dorrit will have no further cause of anxiety. May I take this opportunity of remarking, as an instance in point, that it is scarcely delicate to look at vagrants with the attention which I have seen bestowed upon them by a very dear young friend of mine? They should not be looked at. Nothing disagreeable should ever be looked at. Apart from such a habit standing in the way of that graceful equanimity of surface which is so expressive of good breeding, it hardly seems compatible with refinement of mind. A truly refined mind will seem to be ignorant of the existence of anything that is not perfectly proper, placid, and pleasant." Having delivered this exalted sentiment, Mrs. General made a sweeping obeisance, and retired with an expression of mouth indicative of Prunes and Prism. — Book 2, Chapter 5, "Something Wrong Somewhere," p. 244.
Mahoney in presenting Mrs. General and Fanny Dorrit as foils perhaps places too much emphasis on Fanny (right), dressed for the sake of visual continuity as she was in her previous appearance, in "Well, Amy dear." Mahoney's Mrs. General here, in contrast to these other images, is nondescript and unimpressive; certainly there is nothing imperious about this slender, middle-aged woman in black tulle and sausage-roll curls, who is a far cry from the impressive middle-aged lady in evening-dress depicted by Harry Furniss in 1910.
Between the two women sparring verbally is the pillar-like figure of William Dorrit, caught between the two in emotional vice. Although the picture does not make his emotions plain, he resents Fanny's placing him in the awkward position of having to support her marriage to EDmund Sparkler, despite his regarding the banker Merdle as a valuable connection. He is framed by the large-scale, ornately framed painting behind him, the only detail that suggests the setting, the family's wainscotted suite in Rome.
Images of the Pertinacious Mrs. General, 1856 through 1910
​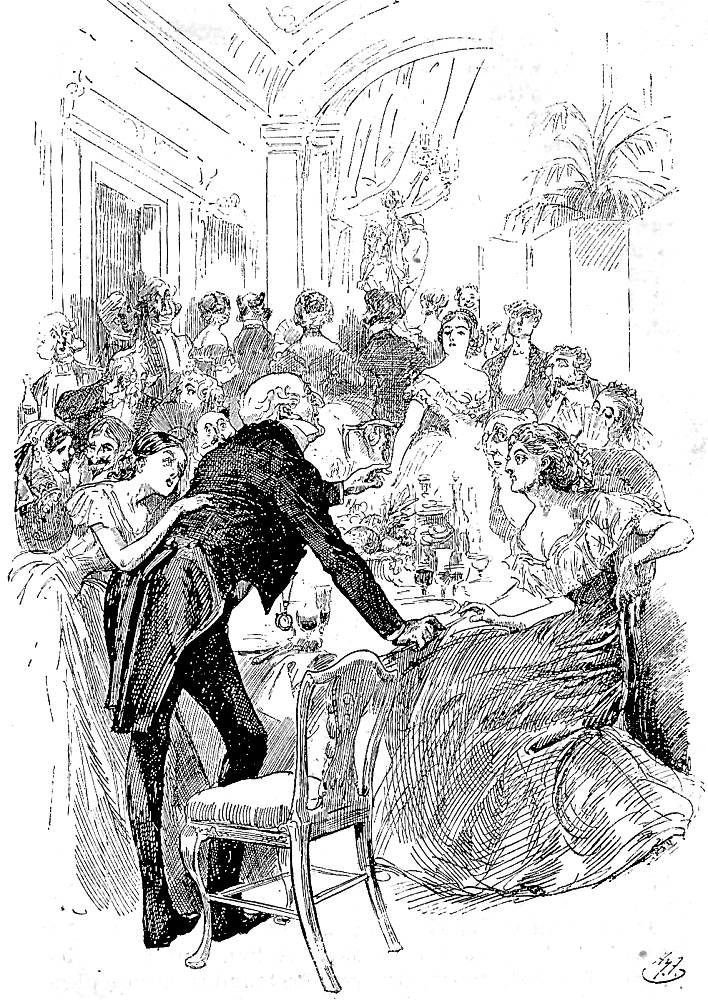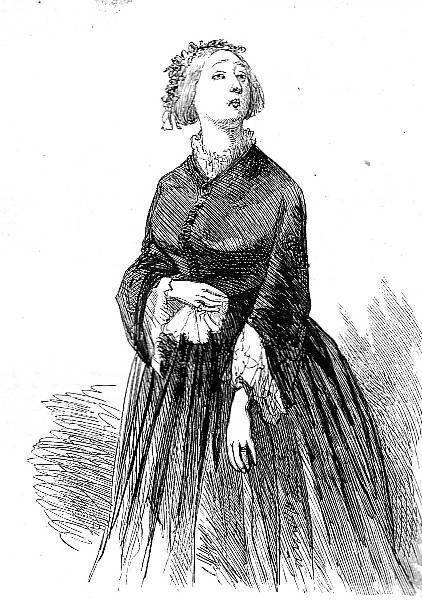 Right: Harry Furniss's illustration of Mr. Dorrit's's mental breakdown at the Merdle farewell dinner, Mr. Doprrit Forgets Himself (1910)Right: Sol Eytinge, Junior's study of the lady governess Mrs. General, Prunes and Prism (1867). [Click on images to enlarge them.]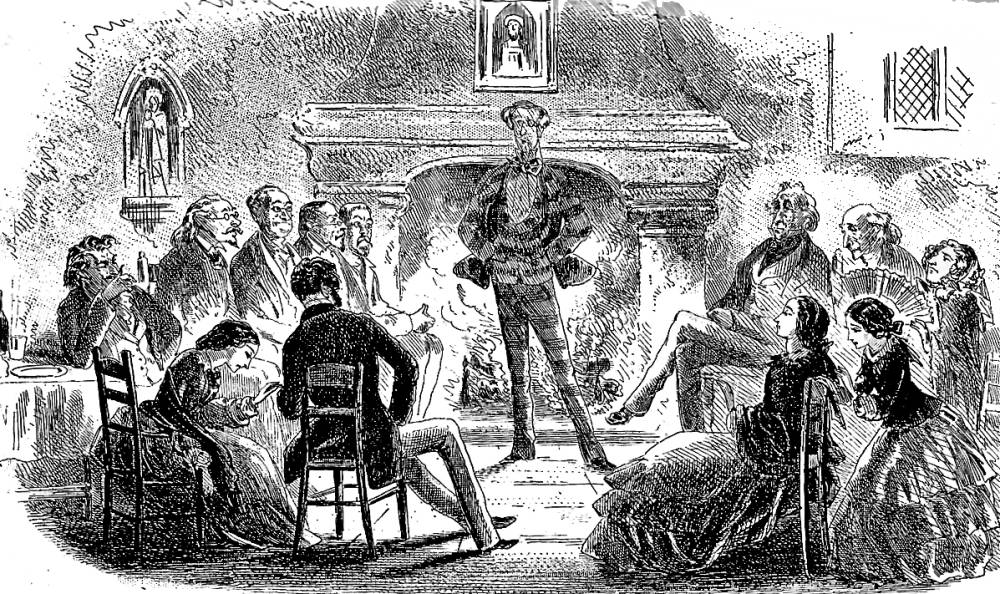 Above: Phiz's study in the original serial of the scene in which Mr. Dorrit's party with other foreigners put up at a convent in the Alps, The Travellers (Part 11, October 1856). [Click on the image to enlarge it.]
References
Dickens, Charles. Little Dorrit. Illustrated by Hablot Knight Browne ("Phiz"). The Authentic Edition. London: Chapman and Hall, 1901 [rpt. of the 1868 volume, based on the 30 May 1857 volume].
Dickens, Charles. Little Dorrit. Frontispieces by Felix Octavius Carr Darley and Sir John Gilbert. The Household Edition. 55 vols. New York: Sheldon & Co., 1863. 4 vols.
Dickens, Charles. Little Dorrit. Illustrated by Sol Eytinge, Jr. The Diamond Edition. Boston: Ticknor & Fields, 1867. 14 vols.
Dickens, Charles. Little Dorrit. Illustrated by James Mahoney. The Household Edition. 22 vols. London: Chapman and Hall, 1873. Vol. 5.
Dickens, Charles. Little Dorrit. Illustrated by Harry Furniss. The Charles Dickens Library Edition. 18 vols. London: Educational Book, 1910. Vol. 12.
Hammerton, J. A. "Chapter 19: Little Dorrit." The Dickens Picture-Book. The Charles Dickens Library Edition. Illustrated by Harry Furniss. 18 vols. London: Educational Book Co., 1910. Vol. 17. Pp. 398-427.
Kitton, Frederic George. Dickens and His Illustrators: Cruikshank, Seymour, Buss, "Phiz," Cattermole, Leech, Doyle, Stanfield, Maclise, Tenniel, Frank Stone, Landseer, Palmer, Topham, Marcus Stone, and Luke Fildes. Amsterdam: S. Emmering, 1972. Re-print of the London 1899 edition.
Lester, Valerie Browne. Phiz: The Man Who Drew Dickens. London: Chatto and Windus, 2004.
"Little Dorrit — Fifty-eight Illustrations by James Mahoney." Scenes and Characters from the Works of Charles Dickens, Being Eight Hundred and Sixty-six Drawings by Fred Barnard, Gordon Thomson, Hablot Knight Browne (Phiz), J. McL. Ralston, J. Mahoney, H. French, Charles Green, E. G. Dalziel, A. B. Frost, F. A. Fraser, and Sir Luke Fildes. London: Chapman and Hall, 1907.
Schlicke, Paul, ed. The Oxford Reader's Companion to Dickens. Oxford and New York: Oxford U. P., 1999.
Steig, Michael. Dickens and Phiz. Bloomington: Indiana University Press, 1978.
Vann, J. Don. Victorian Novels in Serial. New York: The Modern Language Association, 1985.
---
Last modified 11 June 2016