Pip Waits on Miss Havisham
Marcus Stone
1862
13.1 cm x 8.8 cm framed
Passage Illustrated: "'Look at me,' said Miss Havisham. 'You are not afraid of a woman who has never seen the sun since you were born?'" (Ch. 8), facing p. 65 [p. 81 in the Nonesuch Edition rpt. 2005].
Of Marcus Stone's eight plates, only two present Miss Havisham ("Pip Waits on Miss Havisham" and "A Rubber at Miss Havisham's"); however, all of Stone's 1862 wood-engravings graph Pip's journey from childhood to maturity, indicating that the bildungsroman aspect of the novel was uppermost in the British illustrator's mind.]
[Click on image to enlarge it.]
Scanned image and text by Philip V. Allingham.
[You may use these images without prior permission for any scholarly or educational purpose as long as you (1) credit the photographer and (2) link your document to this URL in a web document or cite the Victorian Web in a print one.]
Commentary Continued
Of John McLenan's thirty-four full-size plates reprinted in the T. B. Peterson single-volume edition, four depict Miss Havisham in her boudoir (facing pages 48, 64, 70, and 204), one shows her candle in hand in a corridor (facing page 176), and one depicts her ablaze in the dining-room (facing page 224). Thus, Miss Havisham is featured prominently in five of McLenan's plates while, for example, Magwitch occurs in five, Joe in seven, and Pip in 29. Significantly, Stone has chosen to demote Magwitch in status, for Pip's alternate father-figure appears in none of Stone's plates. [Click on image to enlarge it.
In "Pip Waits on Miss Havisham," in contradiction to the narrator's description in the letter-press of the imperious recluse as having a figure of nothing but skin and bone, as if she were a wax-work at a fair, Marcus Stone depicts her as youthful and attractive. Commanding in presence, she is lit by candelabra, enthroned as it were before her humble supplicant, the blacksmith's boy. Cloth cap in hand, Pip slightly bends at the knees, before the large-eyed, heiress with the elaborately arranged blonde hair and bare-shouldered, voluminous wedding dress (apparently no worse for a number of years of wear), her mirror just disappearing off the right-hand margin. Contrast this glowing image from Pip's memory with the despondent, introverted, somewhat elderly and angular bride in front of her mirror given us by McLenan, who has responded more accurately (if less delightfully) to the letter-press.
As Stein points out, even the most faithful illustrations, that is, those which attempt to realize as much as possible the textual moment to be illuminated, are constructed out of a secondary, interpreting or mediating imagination that, as it were, redrafts the moment in a different medium:
Even when illustrations seem closest to "literal construction" they make us aware of the reconstruction it necessarily involves, description redescribed from the perspective of a second medium and a second imagination. [171]
For the most part, ironically (given the close relationship between Marcus Stone and the author) it is McLenan rather than Stone who allows himself to be more closely guided by the letter-press as he attempts to incorporate every detail Dickens has provided. In contrast, Stone's style veers deliberately away from literal realism towards the creation of an appropriate mood or atmosphere, as we have seen in "Pip Waits on Miss Havisham," a plate realising not merely Stone's initial reading of the serialised in All the Year Round, but also the young illustrator's conversations with the author himself.
Relevant Illustrations from other editions: 1860-61, 1867, 1876, 1897, and 1910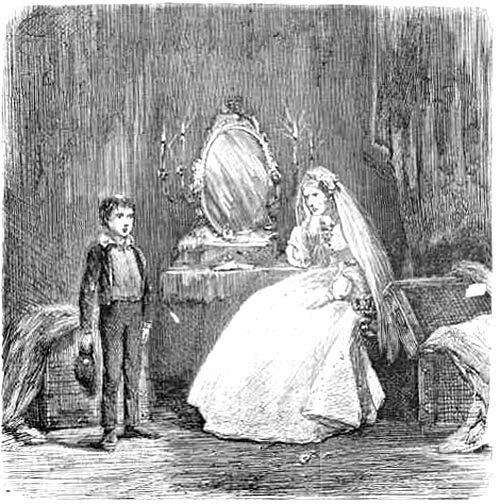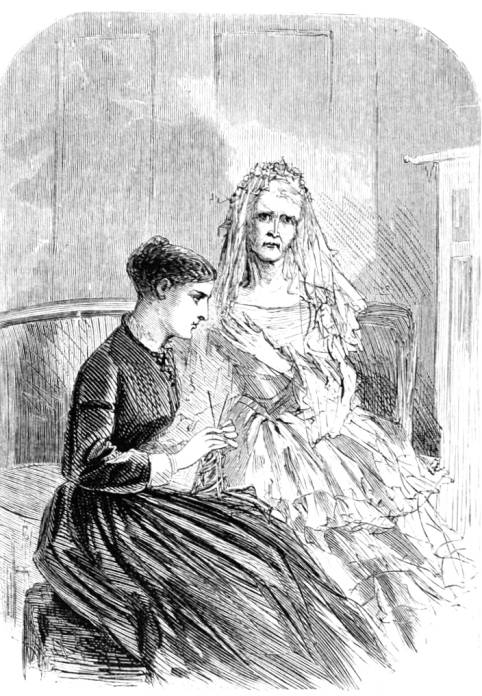 Left: John McLenan's 22 December 1860 depiction of the first meeting of Pip, cap in hand, and a startlingly white Miss Havisham "'Who is it?' said the lady at the table. 'Pip, Ma'am.'". Middle: "Miss Havisham and Estella" by Sol Eytinge, Junior in the Diamond Edition (1867), which involves a much older jilted heiress and a mature adopted daughter. Right: Charles Green's Gadshill Edition lithograph of an aged, depressed, but highly perceptive "Miss Havisham" (1897).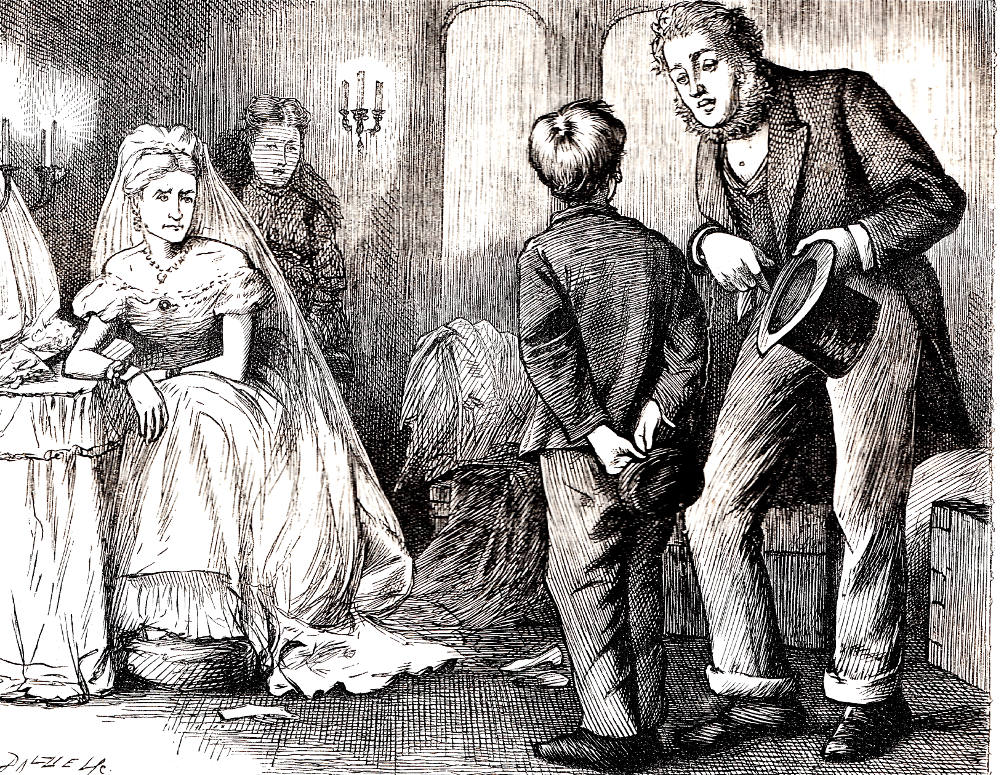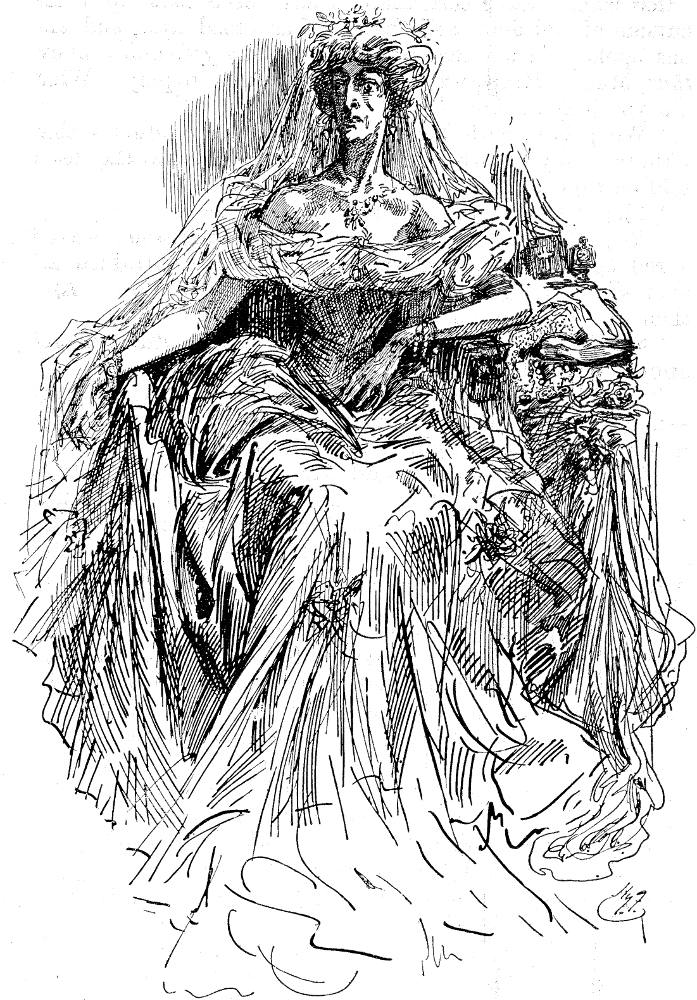 Left: F. A. Fraser's Household Edition illustration of a middle-aged Miss Havisham, supported by Estella, meeting Pip and his brother-in-law to finalize the boy's indentures in ""Well, Pip, you know . . . you yourself see me put 'em in my 'at" (1876). Right: Harry Furniss's's illustration of an enthroned but aged bride, "Miss Havisham" (1910). [Click on images to enlarge them.]
References
Allingham, Philip V. "The Illustrations for Great Expectations in Harper's Weekly (1860-61) and in the Illustrated Library Edition (1862) — 'Reading by the Light of Illustration'." Dickens Studies Annual, Vol. 40 (2009): 113-169.
Bentley, Nicolas, Michael Slater, and Nina Burgis. The Dickens Index. Oxford and New York: Oxford U. P., 1988.
Davis, Paul. Charles Dickens A to Z: The Essential Reference to His Life and Work. New York: Facts On File, 1998.
Dickens, Charles. The Letters of Charles Dickens. Ed. Madeline House, Graham Storey, and Kathleen Tillotson. Oxford: Clarendon, 1965. Vol. 9 (1859-1861).
Dickens, Charles. Great Expectations. All the Year Round. Vols. IV and V. 1 December 1860 through 3 August 1861.
Dickens, Charles. ("Boz."). Great Expectations. With thirty-four illustrations from original designs by John McLenan. Philadelphia: T. B. Peterson (by agreement with Harper & Bros., New York), 1861.
Dickens, Charles. Great Expectations. Il. Marcus Stone. The Illustrated Library Edition. London: Chapman and Hall, 1862. Rpt. in The Nonesuch Dickens, Great Expectations and Hard Times. London: Nonesuch, 1937; Overlook and Worth Presses, 2005.
Dickens, Charles. A Tale of Two Cities and Great Expectations. Il. Sol Eytinge, Jr. The Diamond Edition. 16 vols. Boston: Ticknor and Fields, 1867.
Dickens, Charles. Great Expectations. Volume 6 of the Household Edition. Il. F. A. Fraser. London: Chapman and Hall, 1876.
Dickens, Charles. Great Expectations. The Gadshill Edition. Il. Charles Green. London: Chapman and Hall, 1897-1908.
Dickens, Charles. Great Expectations. "With 28 Original Plates by Harry Furniss." Volume 14 of the Charles Dickens Library Edition. London: Educational Book Co., 1910.
McLenan, John, il. Charles Dickens's Great Expectations [the First American Edition]. Harper's Weekly: A Journal of Civilization, Vols. IV: 740 through V: 495 (24 November 1860-3 August 1861). Rpt. Philadelphia: T. B. Peterson, 1861.
Rosenberg, Edgar (ed.). "Launching Great Expectations." Charles Dickens's Great Expectations. New York: W. W. Norton, 1999. Pp. 389-423.
Stein, Robert A. "Dickens and Illustration." The Cambridge Companion to Charles Dickens. Ed. John O. Jordan. Cambridge: Cambridge U. P., 2001. 167-188.
Watt, Alan S. "Why Wasn't Great Expectations Illustrated?" The Dickens Magazine Series 1, Issue 2. Haslemere, England: Euromed Communications, 2001: 8-9.
Waugh, Arthur. "Charles Dickens and His Illustrators." Retrospectus and Prospectus: The Nonesuch Dickens. London: Bloomsbury, 1937, rpt. 2003. Pp. 6-52.
---

Victorian
Web

Illus-
tration

Great
Expectations

Marcus
Stone

Next
Last modified 8 January 2014