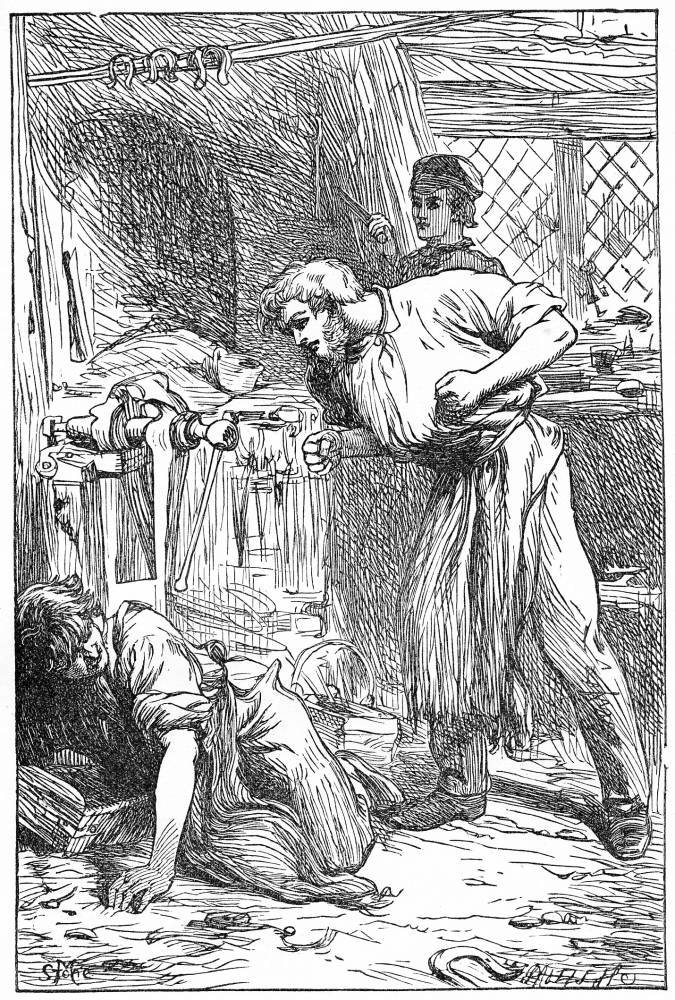 Old Orlick Among the Cinders
Marcus Stone
1862
13.2 cm x 8.8 cm framed
All of Marcus Stone's eight wood-engravings present Philip Pirrip ("Pip") in some form on the high road from the Marshes to London and on the life journey from blacksmith's apprentice to a very different identity in terms of class and profession. [Con tinued below]
[Click on image to enlarge it.]
Scanned image and text by Philip V. Allingham.
[You may use these images without prior permission for any scholarly or educational purpose as long as you (1) credit the photographer and (2) link your document to this URL in a web document or cite the Victorian Web in a print one.]
Passage Illustrated
If any man in that neighbourhood could stand up long against Joe, I never saw the man. Orlick, as if he had been of no more account that the pale young gentleman, was very soon among the coal dust, and in no hurry to come out of it. (Ch. 15, p. 132) [illustration appears on p. xiv in the Nonesuch Edition rpt. 2005].
Relevant Illustrations from other editions: 1860-61, 1867, 1876, 1897, and 1910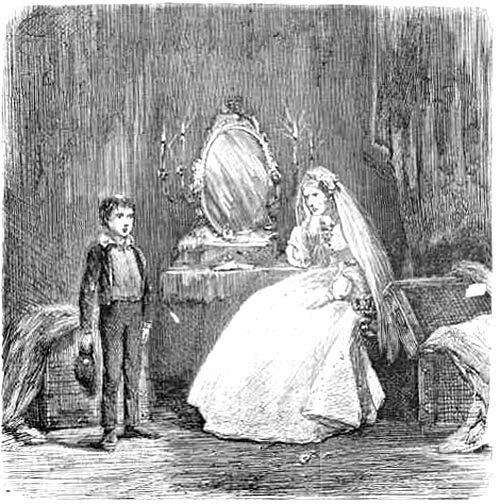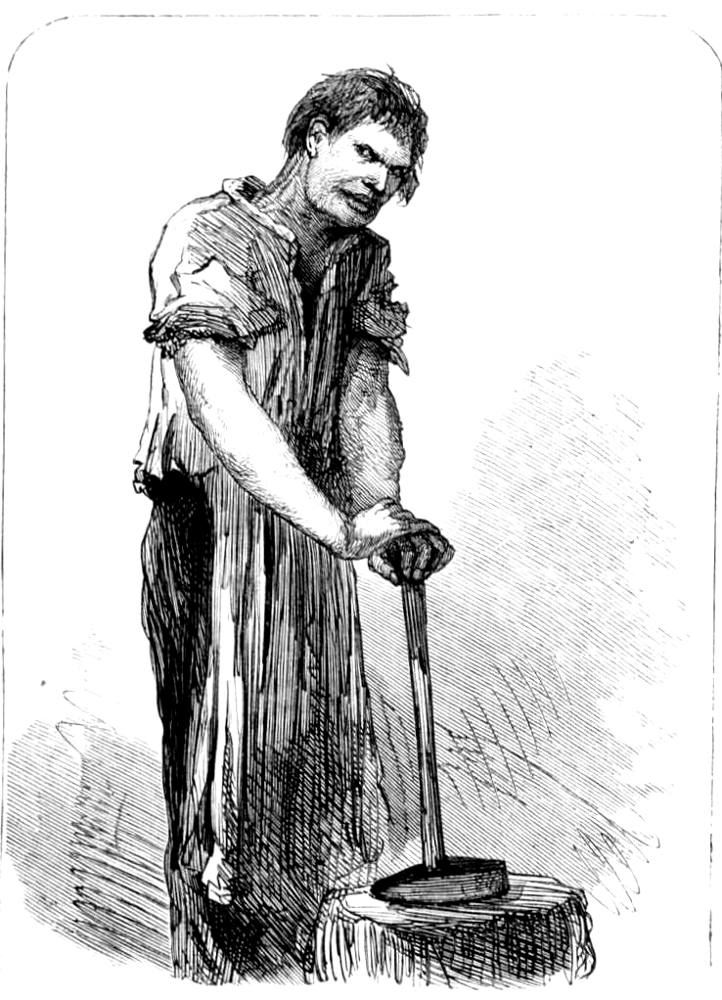 Left: John McLenan's 2 February 1861 depiction of Orlick's meeting Pip and Biddy on the Marshes, "Hulloa!" he growled; "Where are you two going?". Middle: "Old Orlick" by Sol Eytinge, Junior in the Diamond Edition (1867), which involves a more sinister and knowing villain wielding a sledge-hammer. Right: Charles Green's Gadshill Edition lithograph of the blacksmith and his assistants in the forge, "Orlick . . . very soon among the coal-dust" (1897).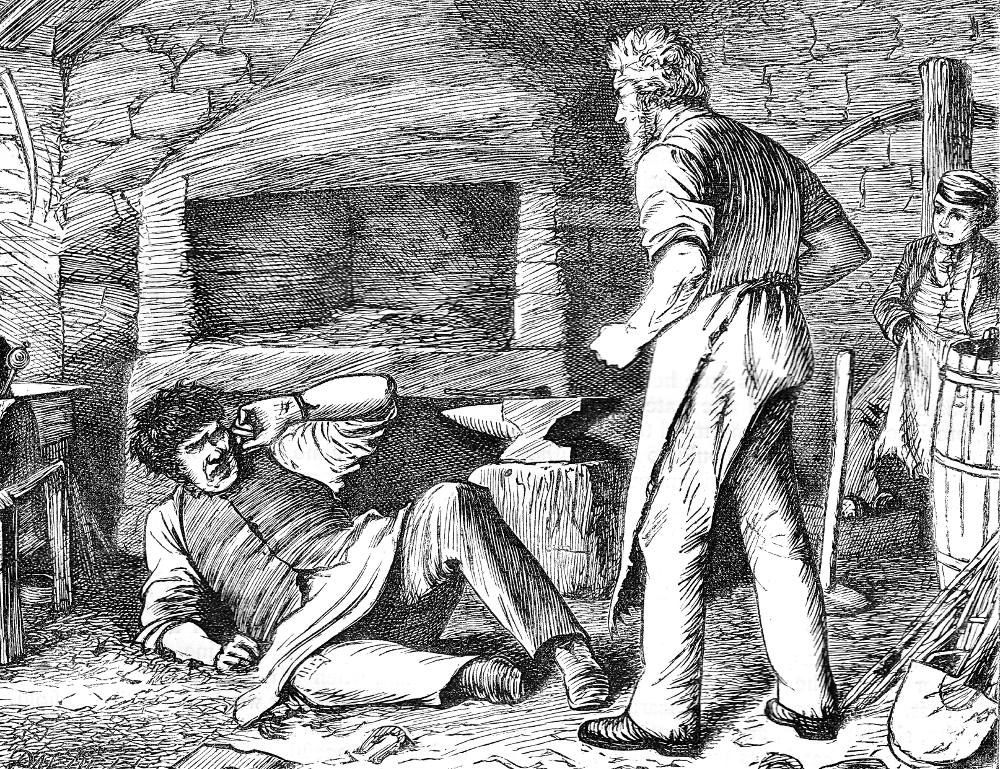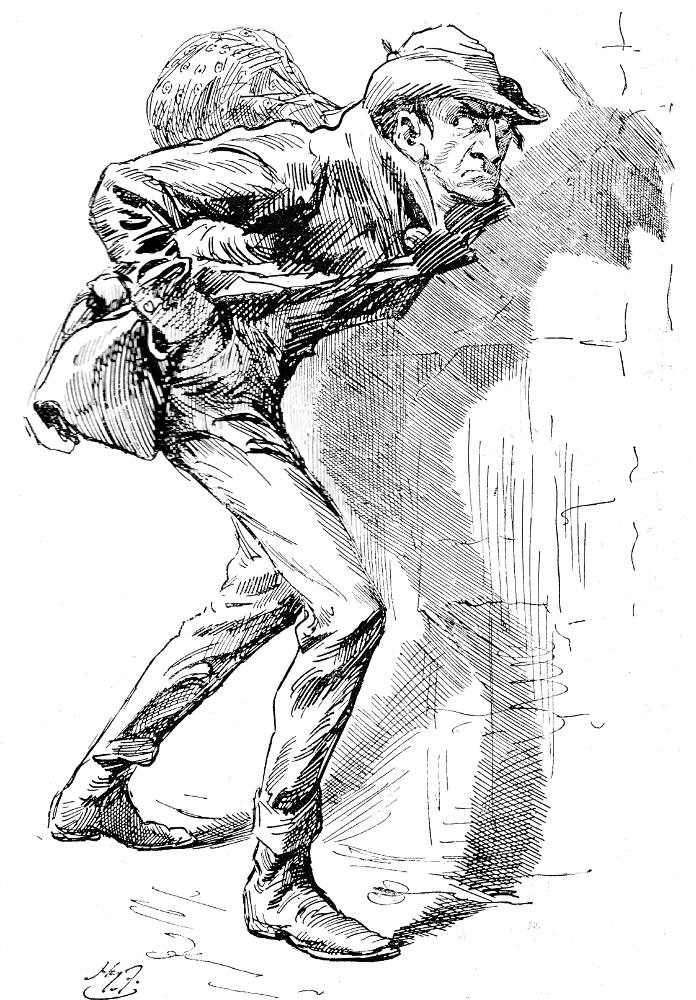 Left: F. A. Fraser's Household Edition illustration of the same scene, but a marginalised rather than central Pip, in ""Orlick . . . . was very soon among the coal-dust, and in no hurry to come out of it" (1876). Right: Harry Furniss's portrait of a far less physically intimidating Orlick, but with a posture, gait, and shiftiness of the eyes suggestive of duplicity, "Dolge Orlick" (1910). [Click on images to enlarge them.]
Commentary Continued
Here, Pip in his cloth cap, marker of his class, watches from rear centre as the giants of the forge, Joe and Orlick, struggle after Orlick has insulted Mrs. Joe. Like the other noted Dickens first-person narrator, David Copperfield, Pip is, in fact, often an observer and reporter, as well as the story's protagonist and the consciousness through which the actions, speeches, and observations of the novel are filtered. The plate is much more effectively positioned in the original Chapman and Hall volume, immediately opposite the passage realised, than it is reproduced and repositioned in the Nonesuch Edition (1937; rpt., 2005). In Marcus Stone's "Old Orlick Among the Cinders," we can identify ourselves with the figure of Pip because Stone has depicted him as a spectator, although each picture's perspective is established as belonging to a detached viewer who regards Pip as he in turn looks at Miss Havisham in Pip Waits on Miss Havisham and Joe and Orlick in the forge scene.
Mature Pip as storyteller, as observer and recorder of events from his first meaningful encounter in life — with the escaped convict Magwitch in the churchyard — is once again dwarfed by the other actors in the scene in the latter woodcut, but here his expression is critical rather than adoring. Although neither illustration contains as much detail as the Browne and Cruickshank steel engravings that adorn the earlier Dickens novels, each contains a significant object with thematic associations: the former plate includes Miss Havisham's disregarded timepiece (to the right of her left elbow), and the latter plate shows a vise, suggestive of Pip's position in the argument that has erupted between Joe, Mrs. Joe, and Orlick over the protagonist's taking time off to visit Satis House.
In the Harper's Weekly wood-engravings, John McLenan has given his villainous journeyman gaiters rather than cowboy boots, but the desperado's eyes in particular betray a style more geared towards caricature than realism, despite the wealth of detail incorporated into each scene such as the pollarded willow, swamp grass, and cattails here. Marcus Stone's fallen Orlick, in the foreground (left) of Old Orlick Among the Cinders, which serves as the frontispiece for the new Nonesuch Edition, is far more plausible and decidedly younger than McLenan's figure, rendering him a more suitable "double" psychologically for Pip, who also appears in working-class garb in the two Stone plates that precede Pip's coming into his expectations. McLenan's Orlick lacks the dynamic nature of Stone's rebellious journeyman, looking more like a waxworks dummy of a Western desperado than a living entity representative of the tradition of the melodramatic lower-class villain, epitomised somewhat later by Dick Dead-Eye in Gilbert and Sullivan's H. M. S. Pinafore. Regarding Joe as an American artisan of the entrepreneurial, "owner-operator" class, McLenan has chosen to depict him as mild-mannered, moderately plump, beardless, and clad in respectably bourgeois attire. Only in the 8 December 1860 and 9 February 1861 instalments,Then Joe began to hammer and clink, hammer and clink and "Pip's a gentleman of fortune, then" said Joe, "and God bless him in it!", does McLenan specifically depict Joe as a blacksmith, with jacket removed and sleeves rolled back to reveal brawny forearms which could not possibly fit under the jacket sleeves of the other plates in which he appears. In the first of these two illustrations McLenan minimizes Joe's bulk by making the soldiers taller and having Joe stoop over his anvil, his large arms and hands looking somewhat incongruous. Stone, on the other hand, consistently depicts Joe as a blonde, bearded, Nordic giant presiding over his forge and menacing Orlick, restraining the power in his mighty arms by a supreme act of self-control.
Moreover, whereas Stone's renditions of Pip (in Pip Waits on Miss Havisham and Old Orlick Among the Cinders) interpret him as a "labouring boy," McLenan consistently depicts young Pip in thoroughly respectable, American middle-class costume. For example, in Oh, Un-cle Pum-ble-chook! This Is Kind! (1 Dec. 1860, p. 765), Pip is wearing a shirt with a broad collar, a short jacket with large buttons, matching trousers, and shoes (rather than working-class boots), his garb seeming consistent with Mrs. Joe's American-middle class hooped skirt, bonnet, and shoulder-covering, all suitable to the 1860s rather than the 1830s.
In F. A. Fraser's twenty-eight Household Edition wood-engravings, one again finds the pattern established by Stone in that, in illustrations containing three figures, one is often the observer, as in Orlick . . . . Was Very Soon Among the Coal-dust, and in No Hurry To Come Out of It (p. 53; p. 129 in the Collier edition), in which a small Pip observes the aftermath of the battle of the Titans from the right, or in 'Now This,' Said Mr. Trabb . . . . 'Is a Very Sweet Article in which Trabb's boy rather than Pip, having suddenly risen in the world to become a customer, is the observer. Such "group" plates as that on page 77 (Collier edn., p. 187), "Say another word — one single word — and Wemmick shall give you your money back" and that on page 116 (Collier edn., p. 273), Drawling to his attendants, "Don't know yah, don't know yah!" tend to be rather cluttered, despite the artist's best attempts at using block groups, costume, gender, and gesture to provide a focus and an organisational principle. In this regard, Stone's organisation of the key elements in the scene is exemplary, although his figures are wanting in naturalness, and the moment realised most revealing of Joe Gargery's character.
Charles Green's 1897 illustration of precisely the same scene, a smooth lithograph showing a somewhat leaner and less physically powerful Joe, Orlick . . . very soon among the coal-dust, effectively conveys a sense of the blacksmith's shop and of a more mature Pip's position relative to those of the combatants, but, despite its highly convincing detailism, lacks the sheer energy of Stone's conception of the event.
References
Allingham, Philip V. "The Illustrations for Great Expectations in Harper's Weekly (1860-61) and in the Illustrated Library Edition (1862) — 'Reading by the Light of Illustration'." Dickens Studies Annual, Vol. 40 (2009): 113-169.
Bentley, Nicolas, Michael Slater, and Nina Burgis. The Dickens Index. Oxford and New York: Oxford U. P., 1988.
Davis, Paul. Charles Dickens A to Z: The Essential Reference to His Life and Work. New York: Facts On File, 1998.
Dickens, Charles. The Letters of Charles Dickens. Ed. Madeline House, Graham Storey, and Kathleen Tillotson. Oxford: Clarendon, 1965. Vol. 9 (1859-1861).
Dickens, Charles. Great Expectations. All the Year Round. Vols. IV and V. 1 December 1860 through 3 August 1861.
Dickens, Charles. ("Boz."). Great Expectations. With thirty-four illustrations from original designs by John McLenan. Philadelphia: T. B. Peterson (by agreement with Harper & Bros., New York), 1861.
Dickens, Charles. Great Expectations. Il. Marcus Stone. The Illustrated Library Edition. London: Chapman and Hall, 1862. Rpt. in The Nonesuch Dickens, Great Expectations and Hard Times. London: Nonesuch, 1937; Overlook and Worth Presses, 2005.
Dickens, Charles. A Tale of Two Cities and Great Expectations. Il. Sol Eytinge, Jr. The Diamond Edition. 16 vols. Boston: Ticknor and Fields, 1867.
Dickens, Charles. Great Expectations. Volume 6 of the Household Edition. Il. F. A. Fraser. London: Chapman and Hall, 1876.
Dickens, Charles. Great Expectations. The Gadshill Edition. Il. Charles Green. London: Chapman and Hall, 1897-1908.
Dickens, Charles. Great Expectations. "With 28 Original Plates by Harry Furniss." Volume 14 of the Charles Dickens Library Edition. London: Educational Book Co., 1910.
McLenan, John, il. Charles Dickens's Great Expectations [the First American Edition]. Harper's Weekly: A Journal of Civilization, Vols. IV: 740 through V: 495 (24 November 1860-3 August 1861). Rpt. Philadelphia: T. B. Peterson, 1861.
Rosenberg, Edgar (ed.). "Launching Great Expectations." Charles Dickens's Great Expectations. New York: W. W. Norton, 1999. Pp. 389-423.
Waugh, Arthur. "Charles Dickens and His Illustrators." Retrospectus and Prospectus: The Nonesuch Dickens. London: Bloomsbury, 1937, rpt. 2003. Pp. 6-52.
---

Victorian
Web

Illus-
tration

Great
Expectations

Marcus
Stone

Next
Last modified 11 January 2014