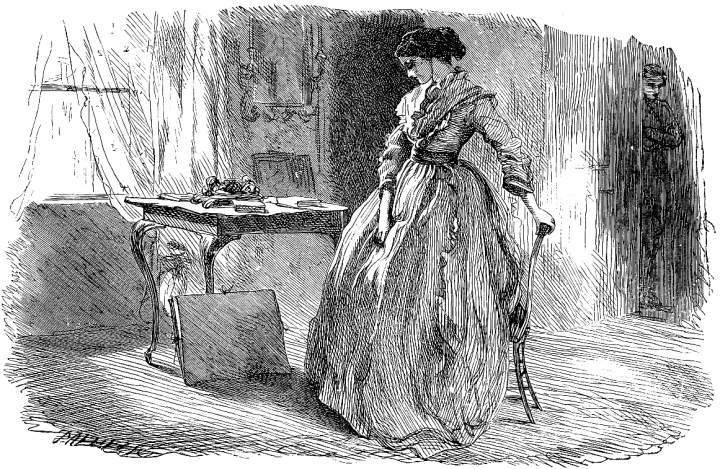 The Boofer Lady by Marcus Stone. Wood engraving by Dalziel. 9.5 cm high x 14.6 cm wide. First illustration for the tenth monthly number of Our Mutual Friend, Chapter Fourteen, "Strong of Purpose," in the second book, "Birds of a Feather." The Authentic edition, facing p. 340. [This part of the novel originally appeared in periodical form in February 1865.] Scanned image and text by Philip V. Allingham, [You may use this image without prior permission for any scholarly or educational purpose as long as you (1) credit the photographer and (2) link your document to this URL in a web document or cite the Victorian Web in a print one. ]
Stone's illustration for Book 2, Chapter 14, "Strong of Purpose," recalls the adopted orphan Johnny's dying from a respiratory ailment, and his final words in the Children's Hospital, to which Mrs. Boffin, Bella Wilfer, and John Rokesmith had taken him. The moment the illustrator has chosen to realise is the end of a passage in Part 10 (the monthly number for February 1865):
'I wouldn't let you go, now it comes to this, after all,' said Mr. Boffin, 'if I didn't hope that it may make a man and a workman of Sloppy, in as short a time as ever a man and workman was made yet. Why, what have you got there, Betty? Not a doll?'
It was the man in the Guards who had been on duty over Johnny's bed. The solitary old woman showed what it was, and put it up quietly in her dress. Then, she gratefully took leave of Mrs. Boffin, and of Mr. Boffin, and of Rokesmith, and then put her old withered arms round Bella's young and blooming neck, and said, repeating Johnny's words: 'A kiss for the boofer lady.'
The Secretary looked on from a doorway at the boofer lady thus encircled, and still looked on at the boofer lady standing alone there, when the determined old figure with its steady bright eyes was trudging through the streets, away from paralysis and pauperism. [340]
The phrase, a variation of which made it famous for a later generation of Victorians famous in Bram Stoker's Dracula (May, 1897) as the "Bloofer Lady" (a child-like description of Lucy Westenra, a nineteen-year-old beauty), is the title of this illustration, "The Boofer Lady," In Our Mutual Friend, little Johnny Higden, dying at the Children's Hospital, refers to Bella Wilfer, as "The boofer lady" when in Book 2, Chapter 9, "In Which The Orphan Makes His Will," he bequeaths to other suffering children in his ward his horse, Noah's ark, guardsman, and other toys lavished upon by the Boffins, and then asks Bella for a parting kiss:
With a weary and yet a pleased smile, and with an action as if he stretched his little figure out to rest, the child heaved his body on the sustaining arm, and seeking Rokesmith's face with his lips, said:
'A kiss for the boofer lady.' [287]
As Betty Higden leaves the Boffins', she recalls these pathetic words, shaped by a child so young as to be unable to pronounce "beautiful." However, instead of realising Betty's departure, Marcus Stone focuses on Bella's subsequent introspective moment just afterward. As John Harmon ("Rokesmith") observes her from the door of the drawing-room, Bella does regard the signs of her affluence, the drawing portfolio and the books on the writing table; rather, she seems to be looking inward, pondering her own shortcomings, including her acquisitiveness, and debating with herself whether she was wise to reject the Secretary's offer of marriage at the conclusion of the ninth monthly part.
Thus, the illustration acts as an extension of Dickens's text rather than a realisation of it, since the author's focus at this moment is the consciousness of the Secretary and not of Bella Wilfer. This illustration leads the reader to believe that Bella is experiencing regret; thus, the illustration of an apparently a minor moment in the tenth monthly part (February, 1865) in fact prepares the reader for a significant plot gambit, the eventual marriage of John Rokesmith and Bella Wilfer.
Such a single-subject illustration (which, but for the lightly sketched in figure of Rokesmith in the background, right, this certainly is) is rare both in Stone's narrative-pictorial sequence for Our Mutual Friend in particular — for Stone tends to favour two-person scenes — and in nineteenth-century illustrated fiction generally because such "character studies" do little to engage the reader because they rarely advance the plot or realise a significant action. However, the revolutionary illustrators of the 1860s were prepared to challenge the status quo in order to study the psychology of significant characters in the narrative, a feature of their work which distinguishes it from that of the previous generation of illustrators — George Cruikshank, John Leech, Hablot Knight Browne ("Phiz"), George Cattermole, and others — whose focus seems to have been to provide readers a detailed and faithful realisation of the poses, postures, juxtapositions, and physical contexts (especially furnishings) of characters. However, here, as in "Waiting for Father", Marcus Stone chooses to dwell on the state-of-mind of a single female character.
According to Stone's reading of the novel in monthly parts, but nonetheless informed by Dickens's personal explanations of the trajectories of the characters, this is a key moment of spiritual rehabilitation for the "wilful" Bella, for in deliberating as to whether she really loves Rokesmith after all, she reverses her judgment that only the acquisition of wealth can produce happiness. Reading the bare, unadorned text, one might not aware that this is a psychological turning point for Bella, and therefore the point at which the sensitive reader begins to identify with her.
References
Davis, Paul. Charles Dickens A to Z: The Essential Reference to His Life and Work. New York: Checkmark and Facts On File, 1998.
Dickens, Charles. Our Mutual Friend. Illustrated by Marcus Stone. Volume 14 of the Authentic Edition. London: Chapman and Hall; New York: Charles Scribners' Sons, 1901.
---
Last modified 22 June 2011