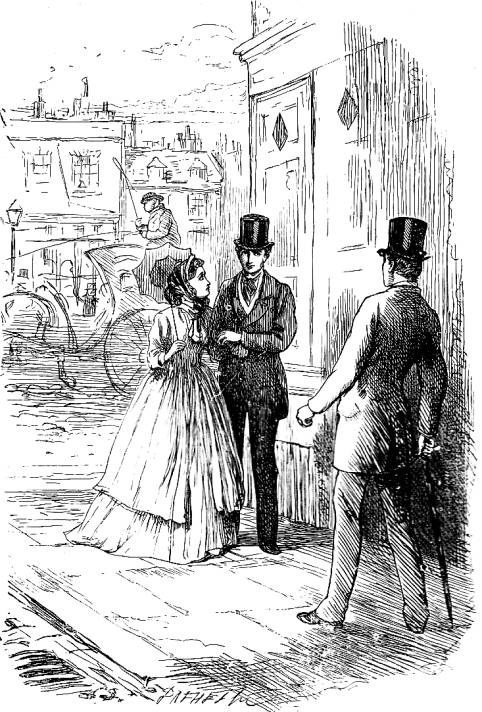 Lightwood at Last
Marcus Stone
Wood engraving by Dalziel
13.8 cm high x 9.3 cm wide, vignetted (facing p. 658).
Stone's illustration for Book 4, "A Turning," Chapter 12, "The Passing Shadow," appeared in the October, 1865, instalment.
[See below for commentary and passage illustrated.]
Scanned image and text by Philip V. Allingham.
[You may use this image without prior permission for any scholarly or educational purpose as long as you (1) credit the person who scanned the image and (2) link your document to this URL in a web document or cite the Victorian Web in a print one.]
Quite by chance, as they are in the city to "make some purchases" (656), Bella and John Rokesmith encounter Mortimer Lightwood on the street, a coincidence which leads to the revelation that John had originally used the alias "Julius Handford" when he arrived in London, and that he is therefore a "person of interest" in the murder of John Harmon. As a result of this revelation, John's reason for having avoided Mortimer, even to the point of refusing to attend the wedding of Eugene Wrayburn and Lizzie Hexam, is now apparent. Bella, of course, is surprised, so that this incident, a year into their marriage, becomes a test of faith for the Rokesmiths. Thus, the trial of Bella — of her renunciation of the quest for wealth instead of love — enters its final phase.
The precise passage complemented by the illustration is this:
They were chatting on in this way, and John had suggested, 'No jewels for your own wear, for instance?' and Bella had replied laughing. O! if he came to that, yes, there might be a beautiful ivory case of jewels on her dressing-table; when these pictures were in a moment darkened and blotted out.
They turned a corner, and met Mr. Lightwood.
He stopped as if he were petrified by the sight of Bella's husband, who in the same moment had changed colour.
'Mr. Lightwood and I have met before,' he said.
'Met before, John?' Bella repeated in a tone of wonder. 'Mr. Lightwood told me he had never seen you.'
'I did not then know that I had,' said Lightwood, discomposed on her account. I believed that I had only heard of — Mr. Rokesmith.' With an emphasis on the name.
'When Mr. Lightwood saw me, my love,' observed her husband, not avoiding his eye, but looking at him, 'my name was Julius Handford.'
Julius Handford! The name that Bella had so often seen in old newspapers, when she was an inmate of Mr Boffin's house! Julius Handford, who had been publicly entreated to appear, and for intelligence of whom a reward had been publicly offered!
'I would have avoided mentioning it in your presence,' said Lightwood to Bella, delicately; 'but since your husband mentions it himself, I must confirm his strange admission. I saw him as Mr. Julius Handford, and I afterwards (unquestionably to his knowledge) took great pains to trace him out.'
'Quite true. But it was not my object or my interest,' said Rokesmith, quietly, 'to be traced out.'
Bella looked from the one to the other, in amazement.
'Mr. Lightwood,' pursued her husband, 'as chance has brought us face to face at last — which is not to be wondered at, for the wonder is, that, in spite of all my pains to the contrary, chance has not confronted us together sooner — I have only to remind you that you have been at my house, and to add that I have not changed my residence.'
'Sir' returned Lightwood, with a meaning glance towards Bella, 'my position is a truly painful one. I hope that no complicity in a very dark transaction may attach to you, but you cannot fail to know that your own extraordinary conduct has laid you under suspicion.'
'I know it has,' was all the reply.
'My professional duty,' said Lightwood hesitating, with another glance towards Bella, 'is greatly at variance with my personal inclination; but I doubt, Mr. Handford, or Mr. Rokesmith, whether I am justified in taking leave of you here, with your whole course unexplained.' [657-658]
The passage and accompanying illustration should mark a moment of high drama: the exposure of John Rokesmith's double identity. And yet, despite the fact that the scene prepares us for Rokesmith's being none other than John Harmon — a fact not known even to Rokesmith's wife, and certainly not to Mortimer Lightwood, who has every reason to suspect Bella's husband of having played some sort of role in Harmon's drowning — the picture is hardly dramatic. Bella smiles enquiringly at her husband, and he in turn smiles at the well-dressed passenger on the sidewalk, neither betraying by their expressions the momentous nature of the meeting. By his posture — leaning back on his walking stick with his right hand, Mortimer is evidently surprised to encounter "Handford" after the latter's being missing for so long. However, Bella should register more than just mild curiosity in her face as her husband will now have to reveal the cause of his absolutely refusing to come into contact with Lightwood face to face.
However, the reader's interest naturally lies in seeing the expressions of the young men. Stone has hidden Lightwood's, so that the reader must construct it for himself. John's expression, however, betrays not the slightest apprehension at meeting the man whom he has for so long avoided. Verisimilitude is created by the hansom cab speeding along the thoroughfare in the background, the rough pavement, the gas lamp (left), and the house-fronts and multiple chimneys that establish the place of meeting as "The City," to which Bella has come up from Blackheath to shop with her husband. Perhaps his evident lack of apprehension should alert the reader to the fact that Rokesmith has nothing to fear on either hand: his wife loves him for who he is, not for his inherited wealth; and he cannot be prosecuted for Harmon's murder because he is Harmon himself, as we are about to learn.
References
Dickens, Charles. Our Mutual Friend. Il. Marcus Stone. Volume 14 of the Authentic Edition. London: Chapman and Hall; New York: Charles Scribners' Sons, 1901.
Davis, Paul. Charles Dickens A to Z: The Essential Reference to His Life and Work. New York: Checkmark and Facts On File, 1998.
---

Victorian
Web

Our Mutual
Friend

Illus-
tration

Marcus
Stone

Next

Last modified 31 July 2011