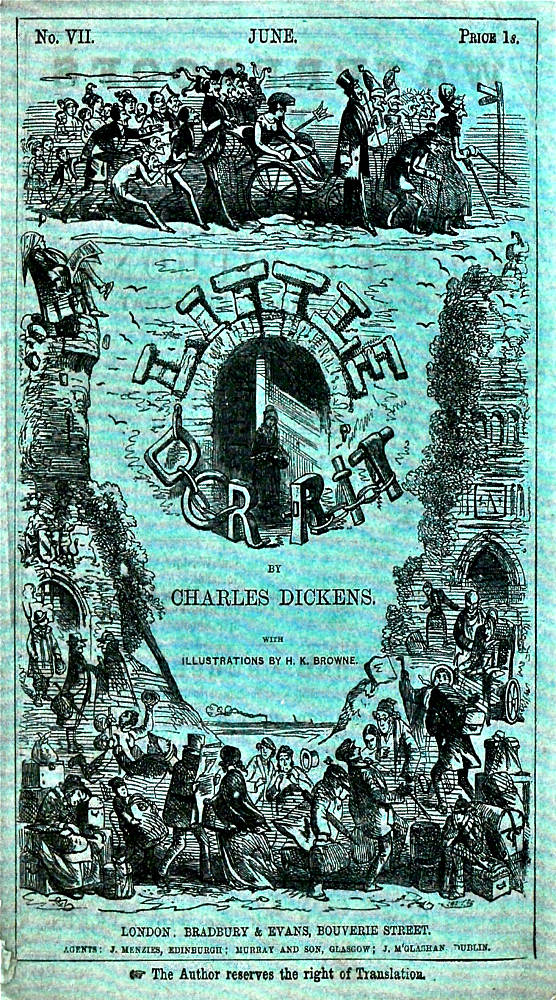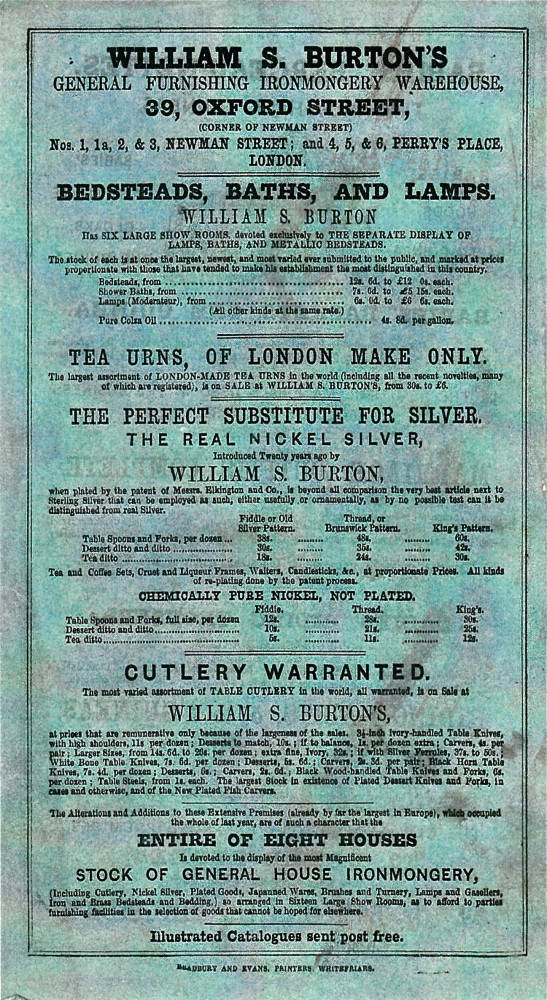 Wrapper for Dickens's Little Dorrit, No. VII. Hablot Knight Browne ("Phiz"). June 1857. Wood-engraving of the front panel and typeset back panel of the monthly wrapper (Bradbury and Evans)
Scanned image and text by Philip V. Allingham, [You may use this image without prior permission for any scholarly or educational purpose as long as you (1) credit the person who scanned the image and (2) link your document to this URL in a web document or cite the Victorian Web in a print one.]
Of the novels that Dickens published serially — that is, the works of volume length that do not include the five The Christmas Books and his considerable journalistic contributions to Household Words (30 March 1850-May 1859) and All the Year Round (30 April 1859-1893) — only those issued in monthly parts were originally sold in wrappers (that is, unbound pages), although Oliver Twist is a special case in that it originally appeared as magazine fiction in Bentley's Miscellany and then was re-issued in monthly instalments in 1846 by Chapman and Hall. In a nineteen-part serialisation, Little Dorrit was the ninth Dickens work to be issued in monthly wrappers (December 1855 through June 1857), the last being a "double" number with four illustrations.
The rear panel of the wrapper for Little Dorrit is of interest for its utter and complete commercial orientation, conveying the sense of Little Dorrit as a commodity text rather than a work of art; the back side of the wrapper exhorts readers to purchase products, and by implication asserts that the monthly part is a "product," too. This represents the evolution of the "advertiser" that appeared with the monthly numbers of Pickwick since it is devoted to the merchandise of William S., Burton's General Furnishing Ironmongery Warehouse in Oxford Street.
Significantly, the late paratextual critic Michael Steig in Dickens and Phiz (1978) refers to containers for bound pages of the monthly instalments of Dickens's novels as "covers" rather than "wrappers," perhaps to dispel the illusion of impermanence. The former term, after all, suggests an integral part of a book, the latter (as in fish-and-chip "wrappers") as something best disposed of. In Charles Dickens and His Original Illustrators (1980), Jane Rabb Cohen has reproduced a dozen such wrappers "for the Novels of Charles Dickens First Published in Monthly Parts," each being 22.2 by 14.6 cm (8.75 inches high by 5.75 inches wide). The wrapper for Sketches by Boz she places first, even though it was not a novel, and, moreover, was first published in volume form as a collection known as the "First Series" (2 vols.) by John Macrone in February 1836. Steig offers these observations on the wrapper for Little Dorrit:
In the center, Amy Dorrit stands at the outer gate of Marshalsea Prison, just having emerged from within; Butt and Tillotson comment that she stands "in a shaft of sunlight," but do not note that this sunlight — which here, as in the etched title page, lends a sanctified air to Amy — comes from within the prison, and that in a sense Amy goes into a world much darker than the prison. When it is repeated on the title page, this image is in turn complemented by the novel's frontispiece.
The "political cartoon" (as Butt and Tillotson call it) across the top, showing the blind and halt leading a dozing Britannia with a retinue of fools and toadies, is largely the same in the drawing, but one important detail differs in the extension of this motif down the sides of the design, while others are developed more clearly in the actual woodcut. The crumbling castle tower is in the drawing, as is the man sitting precariously on top of it, a [159/160] newspaper in his lap and a cloth over his eyes, oblivious of the deterioration of the building. But while in the cut the church tower is clearly ruined, with a raven (or jackdaw?) atop it, the ruin is less evident in the drawing, and on the tower we have a fat, bewigged man asleep on an enormous cushion; this looks like something out of the Bleak House cover, since the cushion is probably meant to be the woolsack, and the man a high member of the legal profession. I suspect that Dickens told Browne to remove him, as his place on the church is inappropriate. The black bird in the cut would seem to signify the general decay of Victorian society and the prevalence of death, or, if it is a jackdaw, the thievery of institutions; yet I cannot find it any more appropriate to the church. The child playing leapfrog with the gravestones, a concept we have earlier traced back to Browne's frontispiece for Godfrey Malvern, here underlines the theme of indifference and irresponsibility. One other alteration likely to have been at Dickens' insistence is the representation of Mrs. Clennam in her wheelchair, with Flintwinch standing alongside, In the drawing we see instead, from the rear, a woman in a bath chair, pushed by a man. Dickens probably wished to have a more particular representation of Arthur's mother, as she and Jeremiah have a malevolent appearance in the cut and stand out as the only other definite characters, apart from Amy.
Little Dorrit's cover is effective in conveying certain themes — decay, indifference, irresponsibility of government, and confusion — as well as foreshadowing major tonalities of the novel, such as the dark prison, Little Dorrit as central figure, and Mrs. Clennam and Flintwinch as evil genii presiding over the ramifications of the plot. Along with the Bleak House cover it is the most socially conscious of the designs, and presents its ideas more directly than its predecessor. Dickens must have supplied a good deal of direction for this wrapper, given that the date of the following letter (19 October 1855) is approximately six weeks before the publication date of Part 1:
Will you give my address to B. and E. without loss of time, and tell them that although I have communicated at full explanation length with Browne, I have heard nothing of or from him. Will you add that I am uneasy and wish they would communicate with Mr. Young, his partner, at once. Also that I beg them to be so good as send Browne my present address. [N, 2: 698] [Steig 159-161]
The twelve monthly wrappers employed in the initial publication of twelve Dickens works are as follows:
1. Sketches by Boz (November 1837);
2. The Posthumous Papers of the Pickwick Club (April 1836-November 1837);
3. The Life and Adventures of Nicholas Nickleby (April 1838-October 1839);
4. Master Humphrey's Clock (25 April 1840-6 February 1841);
5. The Life and Adventures of Martin Chuzzlewit. . . (January 1843-July 1844);
6. Dealings with the Firm of Dombey and Son. . . (October 1846-April 1848);
7. The Personal History, Adventures, Experiences, & Observations of David Copperfield . . . (May 1849-November 1850);
8. Bleak House (March 1852-September 18532);
9. Little Dorrit (December 1855-June 1857);
10. A Tale of Two Cities (June 1859-December 1859);
11. Our Mutual Friend (May 1864-November 1865);
12. The Mystery of Edwin Drood (April-September 1870-).
Neither Hard Times nor Great Expectations was issued in monthly parts, but rather in the weekly numbers of Dickens's journals Household Words and All the Year Round respectively. Oliver Twist did not initially appear in monthly parts; rather, it was was re-issued in this format in 1846, with a wrapper designed by the original magazine illustrator, George Cruikshank.
Related Material
References
Bentley, Nicolas, Michael Slater, and Nina Burgis. The Dickens Index. New York and Oxford: Oxford U. P., 1990.
Cohen, Jane Rabb. Charles Dickens and His Original Illustrators. Columbus: Ohio State U. P., 1980.
Davis, Paul. Charles Dickens A to Z: The Essential Reference to His Life and Work. New York: Checkmark and Facts On File, 1999.
Dickens, Charles. Little Dorrit. Illustrated by Phiz. The Authentic Edition. London:Chapman and Hall, 1901. (rpt. of the 1868 edition).
Dickens, Charles. Little Dorrit. Illustrated by Sol Eytinge, Jr. The Diamond Edition. Boston: Ticknor & Fields, 1867. 14 vols.
Dickens, Charles. Little Dorrit. Illustrated by James Mahoney. The Household Edition. 22 vols. London: Chapman and Hall, 1873. Vol. 5.
Dickens, Charles. Little Dorrit. Illustrated by Harry Furniss. The Charles Dickens Library Edition. 18 vols. London: Educational Book, 1910. Vol. 12.
Hammerton, J. A. "Chapter 19: Little Dorrit." The Dickens Picture-Book. The Charles Dickens Library Edition. Illustrated by Harry Furniss. 18 vols. London: Educational Book Co., 1910. Vol. 17. Pp. 398-427.
Kitton, Frederic George. Dickens and His Illustrators: Cruikshank, Seymour, Buss, "Phiz," Cattermole, Leech, Doyle, Stanfield, Maclise, Tenniel, Frank Stone, Landseer, Palmer, Topham, Marcus Stone, and Luke Fildes. Amsterdam: S. Emmering, 1972. Re-print of the London 1899 edition.
Lester, Valerie Browne. Phiz: The Man Who Drew Dickens. London: Chatto and Windus, 2004.
Schlicke, Paul, ed. The Oxford Reader's Companion to Dickens. Oxford and New York: Oxford U. P., 1999.
Steig, Michael. Dickens and Phiz. Bloomington: Indiana University Press, 1978.
Vann, J. Don. Victorian Novels in Serial. New York: The Modern Language Association, 1985.
---
Last updated 25 May 2016