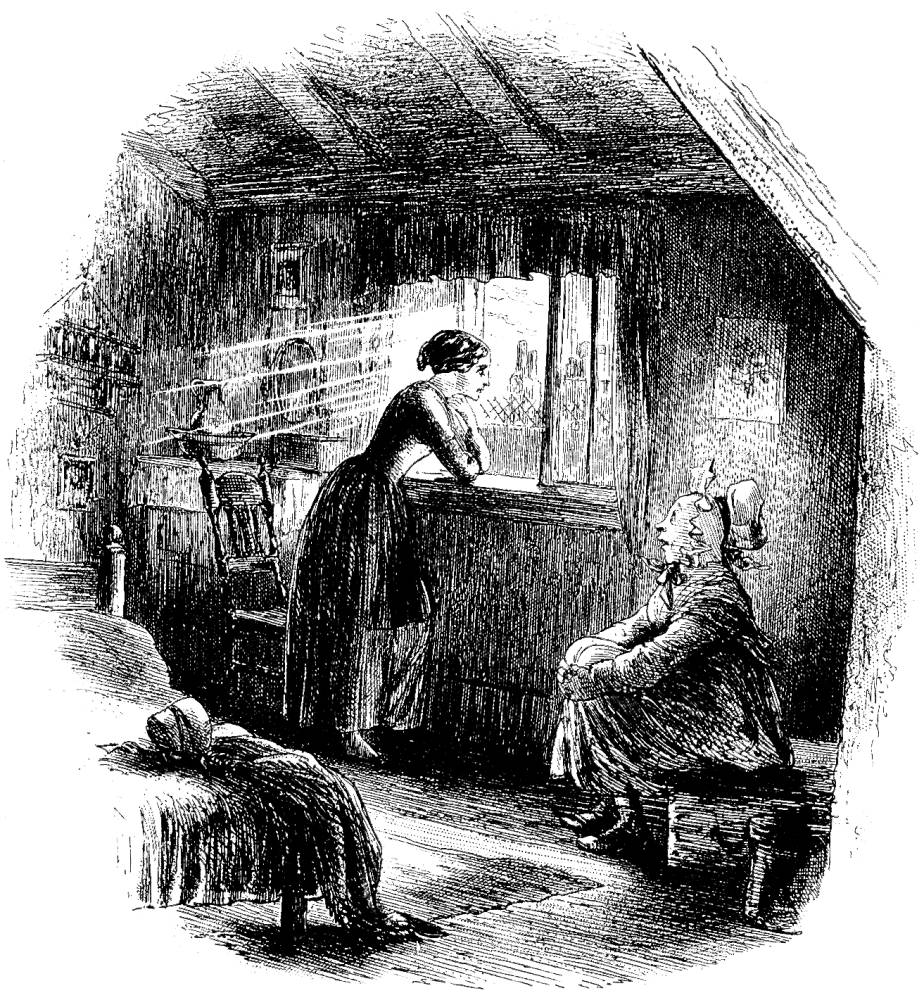 The Story of the Princess
Phiz (Hablot K. Browne)
June 1856
Illustration for Charles Dickens's Little Dorrit, Little Dorrit, Part VII (Book 1, Chapter 24).
Source: Authentic Edition (1901), facing p. 252.
Image scan and text by Philip V. Allingham.
[You may use this image without prior permission for any scholarly or educational purpose as long as you (1) credit the person who scanned the image and (2) link your document to this URL in a web document or cite the Victorian Web in a print one.]
[Click on the image to enlarge it.]
Passage Illustrated
But it's all over now — all over for good, Maggy. And my head is much better and cooler, and I am quite comfortable. I am very glad I did not go down."
Her great staring child tenderly embraced her; and having smoothed her hair, and bathed her forehead and eyes with cold water (offices in which her awkward hands became skilful), hugged her again, exulted in her brighter looks, and stationed her in her chair by the window. Over against this chair, Maggy, with apoplectic exertions that were not at all required, dragged the box which was her seat on story-telling occasions, sat down upon it, hugged her own knees, and said, with a voracious appetite for stories, and with widely-opened eyes:
"Now, Little Mother, let's have a good 'un!"
"What shall it be about, Maggy?"
"Oh, let's have a princess," said Maggy, "and let her be a reg'lar one. Beyond all belief, you know!"
Little Dorrit considered for a moment; and with a rather sad smile upon her face, which was flushed by the sunset, began:
"Maggy, there was once upon a time a fine King, and he had everything he could wish for, and a great deal more. He had gold and silver, diamonds and rubies, riches of every kind. He had palaces, and he had —"
"Hospitals," interposed Maggy, still nursing her knees. "Let him have hospitals, because they're so comfortable. Hospitals with lots of Chicking."
"Yes, he had plenty of them, and he had plenty of everything."
"Plenty of baked potatoes, for instance?" said Maggy.
"Plenty of everything."
"Lor!" chuckled Maggy, giving her knees a hug. "Wasn't it prime!"
"This King had a daughter, who was the wisest and most beautiful Princess that ever was seen. When she was a child she understood all her lessons before her masters taught them to her; and when she was grown up, she was the wonder of the world. Now, near the Palace where this Princess lived, there was a cottage in which there was a poor little tiny woman, who lived all alone by herself." — Book the First, "Poverty," Chapter 24, "Fortune-Telling," p. 251-252.
Commentary
Phiz has portrayed Amy in such a way that she conveys the sense of an innocence so strong as to be impervious to the corruptions of either the Marshalsea or Society; this is less true of her figure in the cover design, where her character has not yet been established and she looks as if she is bowed down with resignation. [Steig, 161]
The scene seems prosaic enough: Little Dorrit's garret in the Marshalsea — "beautifully kept" (250) and spotlessly clean, but otherwise as ugly as any other garret in the debtors' prison. Phiz complements the text by sharply realising the details of Amy's garret, but does not embed any symbolic elements — with the exception of the rays of sunlight that penetrate and illuminate her bedroom. If this plate exemplifies the story which Little Dorrit tells Maggy (right), the posture of the heroine at the window may suggest fairy-tale princesses trapped in towers, doomed to look upon life, but, like Tennyson's Lady of Shallot, cursed to remain above it, and never to interact with it. Amy, however, does have a life outside the prison walls, where romance in the person of Arthur Clennam will liberate her from the Marshalsea in the closing lines of the novel. The rays of light, therefore, do not emanate from Little Dorrit, but come from outside the prison walls, where Amy's future with John Clennam lies at the end of the marriage service in the Church of St. George the Martyr in the Borough, which today is identified with the novel and even has a small representation of Little Dorrit in its east window. As a child, Dickens took a room in nearby Lant Street when he was working at Warren's Blacking Factory at Hungerford Stairs on the Thames. Ironically, the house in which he lodged as a twelve-year-old then belonged to the Vestry Clerk of St. George's.
Phiz depicts the room not merely as neat, but as an extension of Amy herself, with curtains on the window, a tidy bed — altogether a different effect from the rooms that Mr. Pickwick visits in the debtors' prison. Maggy, the mentally challenged young woman who is Amy's constant companion, child-like hugs her knees as she proposes Amy "tell us a good 'un." Wistfully, but with a concentrated look of determination, Amy looks below, to the College yard, rather than across the chimney pots and roofs to greater London. The parallel illustration in the Household Edition volume of 1873 is a scene in which Amy plies her needle with the gossipy Flora Finching, "What nimble fingers you have," said Flora, "but are you sure you are well?" . . . "Oh yes, indeed!" Flora put her feet upon the fender and settled herself for a thorough good romantic disclosure — Book 1, chap. xxiv.
Viewed as a complementary illustration to the dark plate Visitors at the Works, the other engraving in the seventh monthly number (June 1856) which presents Arthur Clennam's professional and personal progress as the business and accounting partner in the industrial enterprise Doyce and Clennam, The Story of the Princess reminds the reader of Amy Dorrit's lack of progress as she is a prisoner of the Marshalsea whether she plies her needle for wages or acts as an occasional servant outside the prison walls. Whereas Clennam in his business retreat works by artificial light on the second floor of a factory with little leisure time, Amy occupies a tiny garret and hopes for more out of life than she has received so far. She, at least, is on the verge of a breakthrough as Pancks is about to announce that the Dorrits are heirs to a vast fortune.
To her own room too, strangely assorted room for her delicate youth and character, she was glad to retreat as often as she could without desertion of any duty. There were afternoon times when she was unemployed, when visitors dropped in to play a hand at cards with her father, when she could be spared and was better away. Then she would flit along the yard, climb the scores of stairs that led to her room, and take her seat at the window. Many combinations did those spikes upon the wall assume, many light shapes did the strong iron weave itself into, many golden touches fell upon the rust, while Little Dorrit sat there musing. New zig-zags sprung into the cruel pattern sometimes, when she saw it through a burst of tears; but beautified or hardened still, always over it and under it and through it, she was fain to look in her solitude, seeing everything with that ineffaceable brand.
A garret, and a Marshalsea garret without compromise, was Little Dorrit's room. Beautifully kept, it was ugly in itself, and had little but cleanliness and air to set it off; for what embellishment she had ever been able to buy, had gone to her father's room. Howbeit, for this poor place she showed an increasing love; and to sit in it alone became her favourite rest. — Book the First, "Poverty," Chapter 24, Fortune-Telling," p. 250.
Although by virtue of its juxtaposition to the text in such editions as the Authentic (1901), the picture is an adjunct to Amy's story of her fictional self for Maggy's entertainment, the picture may also allude to Amy's "looking down into the dark alley of the prison" (254), and spying Clennam's investigator, Pancks, who is in two senses Amy's "fortune-teller," not merely predicting but announcing good fortune:
She sat so long with her eyes wide open, that at length Little Dorrit, to entice her from her box, rose and looked out of window. As she glanced down into the yard, she saw Pancks come in and leer up with the corner of his eye as he went by. [254]
Maggy and Little Dorrit in the original, Diamond, Household, and Charles Dickens Library Editions, 1856-1910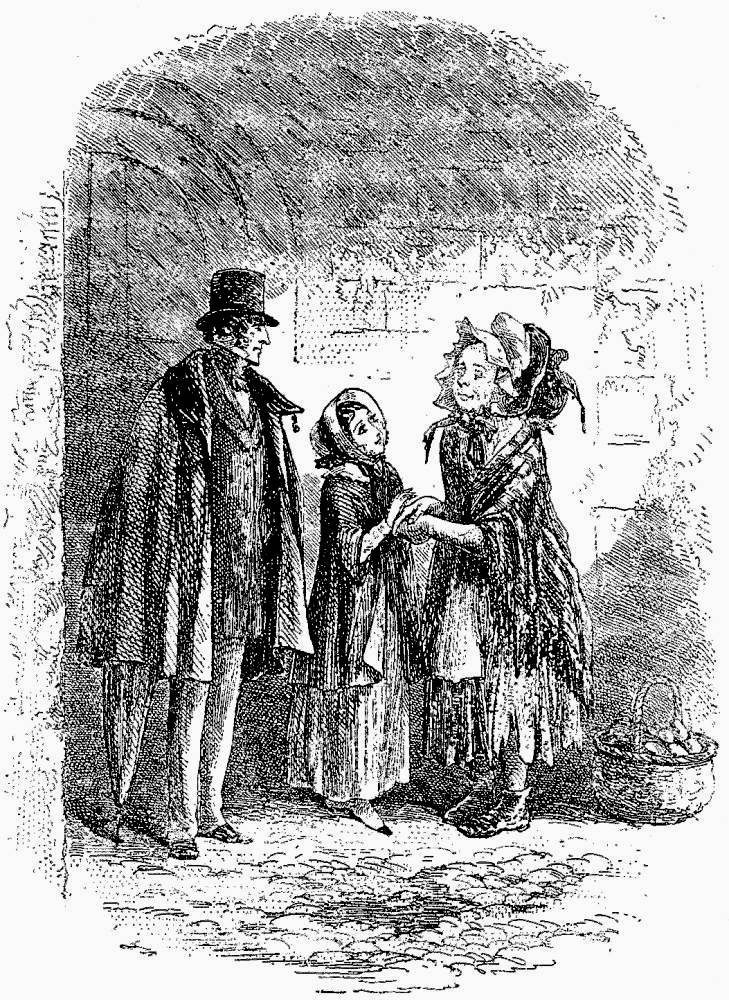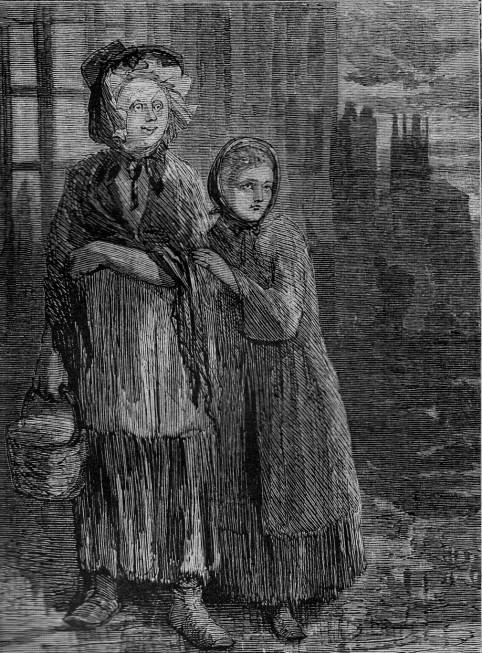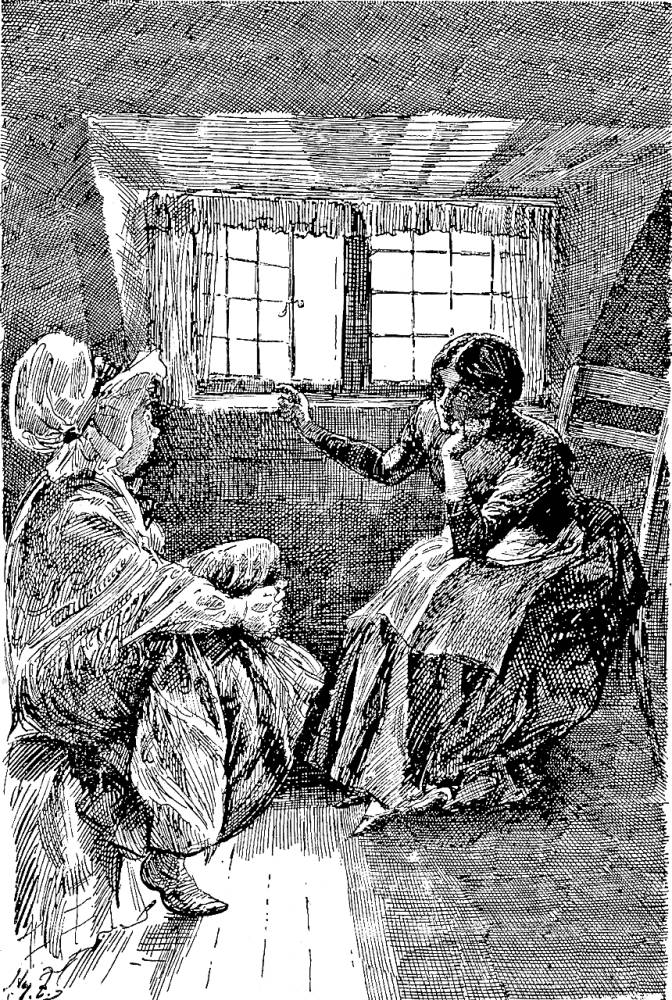 Above: Phiz's June 1856 plate showing Maggy and Arthur Clennam in the street outside the prison, Little Mother (Book 1, Chapter 9). Centre: Sol Eytinge, Junior's dual character study of Amy Dorrit and her mentally-challenged companion, Little Dorrit and Maggy (1867). Right: Harry Furniss's characterisation of Amy's entertaining Maggy, Little Dorrit tells The Story of the Princess (1910). [Click on the images to enlarge them.]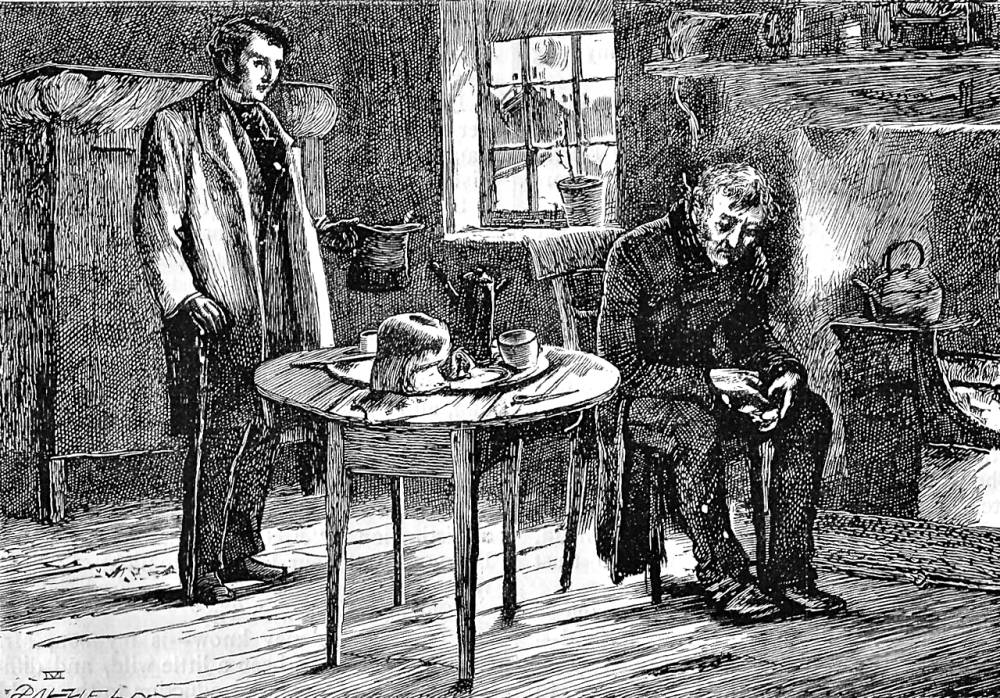 Above: James Mahoney's Household Edition illustration of Arthur Clennam's interrogation of the clarionet-player, Frederick Dorrit, in his rooms outside the Marshalsea about his niece, Amy, He was a feeble, spare, and slow in his pinches as in everything else. (Book I, Ch. 24). [Click on the image to enlarge it.]
References
Bentley, Nicolas, Michael Slater, and Nina Burgis. The Dickens Index. New York and Oxford: Oxford U. P., 1990.
The Characters of Charles Dickens pourtrayed in a series of original watercolours by "Kyd." London, Paris, and New York: Raphael Tuck & Sons, n. d.
Darley, Felix Octavius Carr. Character Sketches from Dickens. Philadelphia: Porter and Coates, 1888.
Davis, Paul. Charles Dickens A to Z: The Essential Reference to His Life and Work. New York: Facts On File, 1998.
Dickens, Charles. Little Dorrit. Illustrated by F. O. C. Darley and John Gilbert. The Works of Charles Dickens. The Household Edition. New York: Sheldon and Company, 1863. Vol. 4.
Dickens, Charles. Little Dorrit. Illustrated by James Mahoney [58 composite wood-block engravings]. The Works of Charles Dickens. The Household Edition. London: Chapman and Hall, 1873.
Dickens, Charles. Little Dorrit. Illustrated by Harry Furniss [29 composite lithographs]. The Works of Charles Dickens. The Charles Dickens Library Edition. London: Educational Book, 1919. Vol. 12.
Hammerton, J. A. "Chapter 19: Little Dorrit." The Dickens Picture-Book. The Charles Dickens Library Edition. London: Educational Book, 1910. Vol. 17. Pp. 398-427.
"Little Dorrit — Fifty-eight Illustrations by James Mahoney." Scenes and Characters from the Works of Charles Dickens, Being Eight Hundred and Sixty-six Drawings by Fred Barnard, Gordon Thomson, Hablot Knight Browne (Phiz), J. McL. Ralston, J. Mahoney, H. French, Charles Green, E. G. Dalziel, A. B. Frost, F. A. Fraser, and Sir Luke Fildes. London: Chapman and Hall, 1907.
Lester, Valerie Browne. Phiz: The Man Who Drew Dickens. London: Chatto and Windus, 2004.
Steig, Michael. Dickens and Phiz. Bloomington & London: Indiana U.P., 1978.
Vann, J. Don. Victorian Novels in Serial. New York: Modern Language Association, 1985.
---

Victorian
Web

Little
Dorrit

Illus-
tration

Phiz

Next
Last modified 22 May 2016