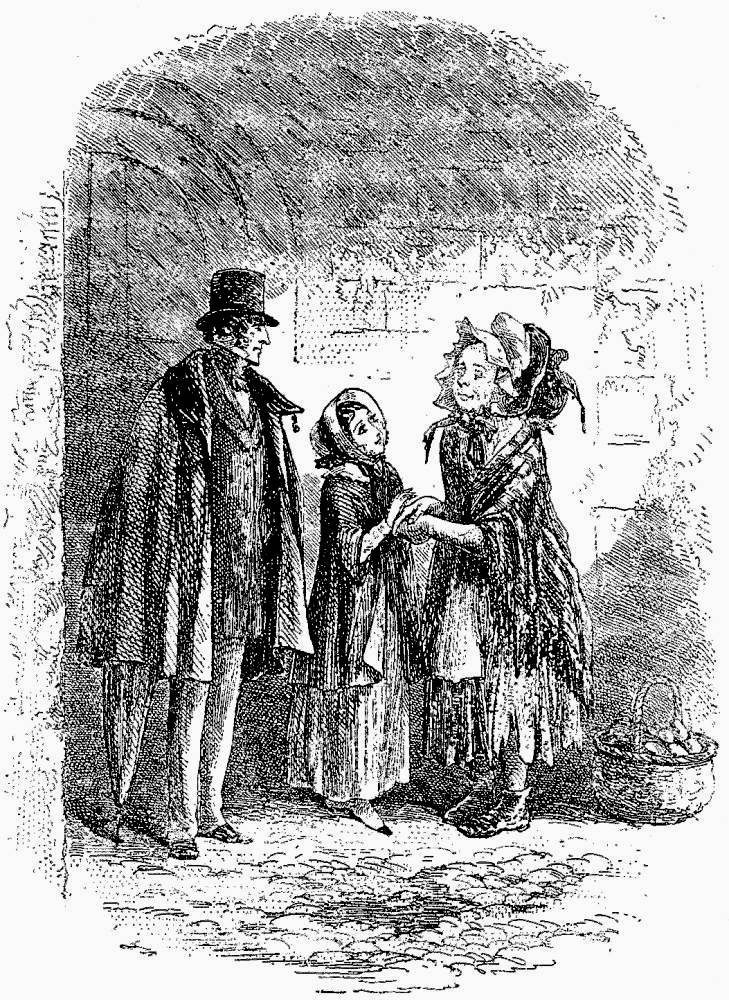 Little Mother
Hablot Knight Browne ('Phiz')
February 1856
12.2 x 8.5 cm vignetted
Dickens's Little Dorrit, Vol. 12 of the Authentic Edition, Book the First, "Poverty"; Chapter 9, "Little Mother," facing p. 86.
[Click on image to enlarge it.]
Scanned image and text by Philip V. Allingham.
[You may use these images without prior permission for any scholarly or educational purpose as long as you (1) credit the person who scanned the image and (2) link your document to this URL in a web document or cite the Victorian Web in a print one.]
Passage Illustrated
They were come into the High Street, where the prison stood, when a voice cried, "Little mother, little mother!" Little Dorrit stopping and looking back, an excited figure of a strange kind bounced against them (still crying "little mother"), fell down, and scattered the contents of a large basket, filled with potatoes, in the mud.
"Oh, Maggy," said Little Dorrit, "what a clumsy child you are!"
Maggy was not hurt, but picked herself up immediately, and then began to pick up the potatoes, in which both Little Dorrit and Arthur Clennam helped. Maggy picked up very few potatoes and a great quantity of mud; but they were all recovered, and deposited in the basket. Maggy then smeared her muddy face with her shawl, and presenting it to Mr. Clennam as a type of purity, enabled him to see what she was like.
She was about eight-and-twenty, with large bones , large features, large feet and hands, large eyes and no hair. Her large eyes were limpid and almost colourless; they seemed to be very little affected by light, and to stand unnaturally still. There was also that attentive listening expression in her face, which is seen in the faces of the blind; but she was not blind, having one tolerably serviceable eye. Her face was not exceedingly ugly, though it was only redeemed from being so by a smile; a good-humoured smile, and pleasant in itself, but rendered pitiable by being constantly there. A great white cap, with a quantity of opaque frilling that was always flapping about, apologised for Maggy's baldness, and made it so very difficult for her old black bonnet to retain its place upon her head, that it held on round her neck like a gipsy's baby. A commission of haberdashers could alone have reported what the rest of her poor dress was made of, but it had a strong general resemblance to seaweed, with here and there a gigantic tea-leaf. Her shawl looked particularly like a tea-leaf after long infusion. — Book the First, "Poverty," Chapter 9, "Little Mother," p. 86.
Commentary
Maggy is another one of those peculiarly Dickensian characters with the mind of a child in the body of an adult, so that, by virtue of role reversal, Amy Dorrit is the "Little Mother" by virtue of her intellectual maturity, whereas the twenty-eight-year-old with the mental age of ten is the child. A similar role reversal occurs in Our Mutual Friend with Jenny Wren and Mr. Dolls, for jenny must act as the sometimes-reproving parent to the alcoholic "child." Maggy's last name, although not given, is probably "Bangham," for her grandmother, Mrs. Bangham, is another inmate of the Marshalsea. Maggy's late mother was a prison nurse. Not a debtor herself, Maggy, like Frederick Dorrit, lives near rather than in the debtors' prison, and is free to come and go as a regular visitor, running errands for the inmates in order to support herself. After the newly-rich Dorrits depart for their Italian Grand Tour, Maggy rooms with the Plornishes in Bleeding Heart Yard. Her development arrested by her illness, Maggy is the child-adult, permanently trapped in the oral stage of development, fixated on the gratification of appetite, and especially on "chicking."
In contrast to the dimnutive but highly perceptive Little Dorrit, Maggy is a grotesque figure: gangly, bald, gigantic, and mentally retarded — almost androgynous, and certainly not "feminine." The diametrical opposite of Little Dorrit, Maggy is constantly hungry, both for food and for entertainment. Unlike the self-denying, angelic, and useful Little Dorrit, Maggy enjoys food — her fondest memory is of eating "chicking" when she was in hospital. Maggy's fixation with food symbolises that she is operating at the oral stage of development; she serves as Amy Dorrit's surrogate child as well as her companion.
Pertinent Diamond, Household, and Charles Dickens Library Edition Illustrations, 1867-1910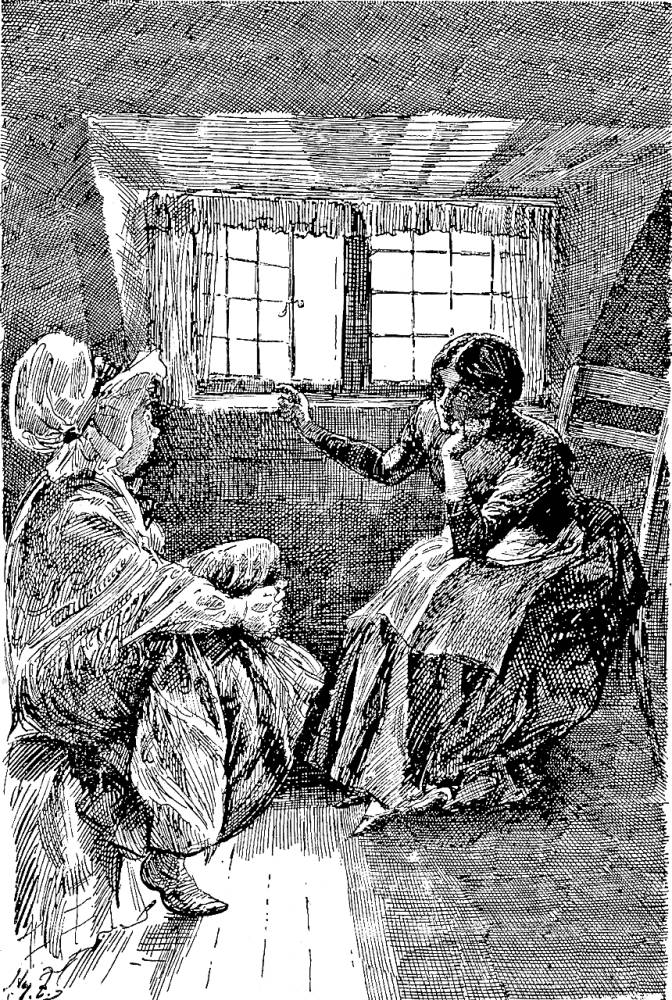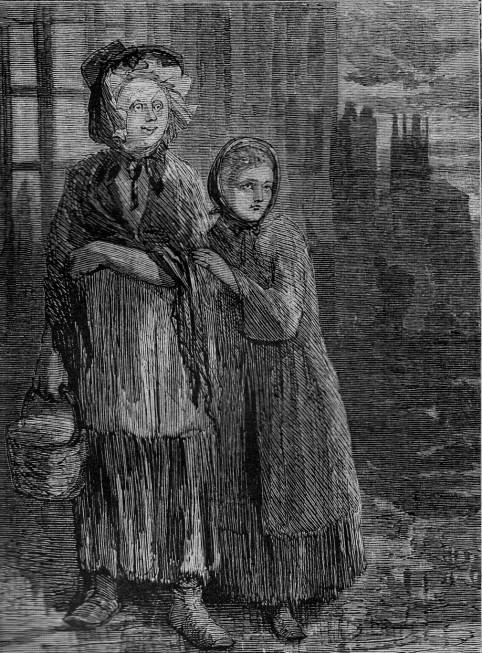 Left: James Mahoney's 1873 realization of Amy at the gate of the Marshalsea, Title-page Vignette (Household Edition). Centre: Harry Furniss's 1910 version of Little Dorrit's entertaining Maggie, Little Dorrit tells The Story of the Princess (1910). Right: Sol Eytinge, Junior's study in contrasts, Little Dorrit and Maggy (1867). [Click on the images to enlarge them.]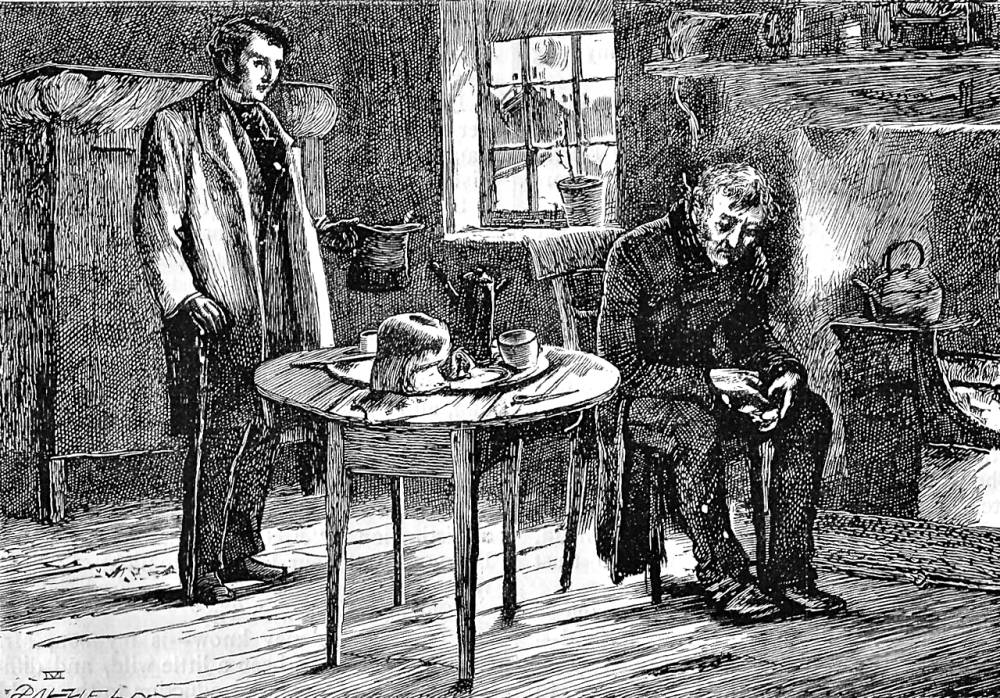 Above: James Mahoney's Household Edition illustration for Book One, Ch. 9, in which Arthur Clennam attempts to learn more about Amy from her uncle, He was a feeble, spare, and slow in his pinches as in everything else (1873). [Click on the image to enlarge it.]
References
Bentley, Nicolas, Michael Slater, and Nina Burgis. The Dickens Index. New York and Oxford: Oxford U. P., 1990.
The Characters of Charles Dickens pourtrayed in a series of original watercolours by "Kyd." London, Paris, and New York: Raphael Tuck & Sons, n. d.
Darley, Felix Octavius Carr. Character Sketches from Dickens. Philadelphia: Porter and Coates, 1888.
Davis, Paul. Charles Dickens A to Z: The Essential Reference to His Life and Work. New York: Facts On File, 1998.
Dickens, Charles. Little Dorrit. Illustrated by Hablot Knight Browne ("Phiz"). The Authentic Edition. London: Chapman and Hall, 1901 [rpt. of the 1868 volume, based on the 30 May 1857 volume].
Dickens, Charles. Little Dorrit. Illustrated by F. O. C. Darley and John Gilbert. The Works of Charles Dickens. The Household Edition. New York: Sheldon and Company, 1863. Vol. 4.
Dickens, Charles. Little Dorrit. Illustrated by James Mahoney [58 composite wood-block engravings]. The Works of Charles Dickens. The Household Edition. London: Chapman and Hall, 1873.
Dickens, Charles. Little Dorrit. Illustrated by Harry Furniss [29 composite lithographs]. The Works of Charles Dickens. The Charles Dickens Library Edition. London: Educational Book, 1919. Vol. 12.
Hammerton, J. A. "Chapter 19: Little Dorrit." The Dickens Picture-Book. The Charles Dickens Library Edition. London: Educational Book, 1910. Vol. 17. Pp. 398-427.
Lester, Valerie Browne. Phiz: The Man Who Drew Dickens. London: Chatto and Windus, 2004.
"Little Dorrit — Fifty-eight Illustrations by James Mahoney." Scenes and Characters from the Works of Charles Dickens, Being Eight Hundred and Sixty-six Drawings by Fred Barnard, Gordon Thomson, Hablot Knight Browne (Phiz), J. McL. Ralston, J. Mahoney, H. French, Charles Green, E. G. Dalziel, A. B. Frost, F. A. Fraser, and Sir Luke Fildes. London: Chapman and Hall, 1907.
Steig, Michael. Dickens and Phiz. Bloomington & London: Indiana U.P., 1978.
Vann, J. Don. Victorian Novels in Serial. New York: Modern Language Association, 1985.
---

Victorian
Web

Little
Dorrit

Illus-
tration

Phiz

Next
Last modified 20 April 2016