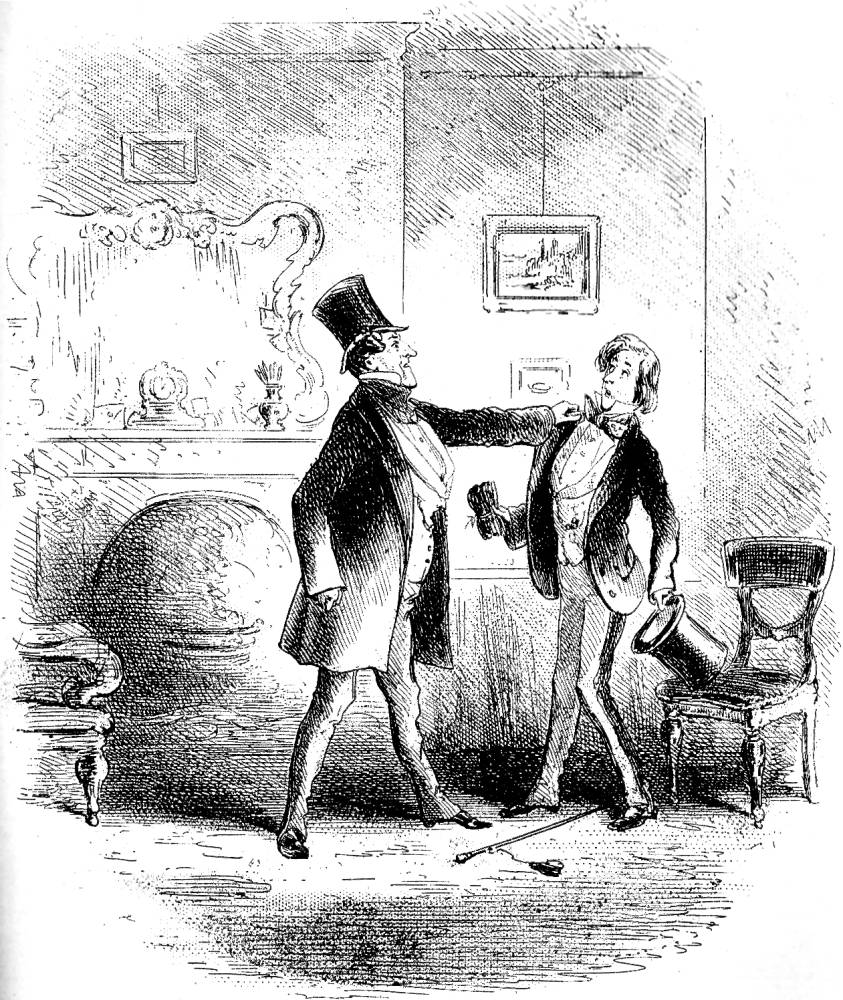 Reception of an Old Friend
Phiz (Hablot K. Browne)
February 1857
12.3 x 10.5 cm vignetted
Dickens's Little Dorrit, Vol. 12 of the Authentic Edition, Book the Second, "Riches"; Chapter 18, "A Castle in the Air," facing p. 544.
The book was published in the customary twenty monthly parts, December 1855 through June 1857, by Bradbury and Evans with a blue wrapper and forty plates designed by Phiz. [Click on the image to enlarge it.]
Image scan and text by Philip V. Allingham.
[You may use this image without prior permission for any scholarly or educational purpose as long as you (1) credit the person who scanned the image and (2) link your document to this URL in a web document or cite the Victorian Web in a print one.]
Passage Illustrated
The aforesaid grandeur was yet full upon Mr Dorrit when he alighted at his hotel. Helped out by the Courier and some half-dozen of the hotel servants, he was passing through the hall with a serene magnificence, when lo! a sight presented itself that struck him dumb and motionless. John Chivery, in his best clothes, with his tall hat under his arm, his ivory-handled cane genteelly embarrassing his deportment, and a bundle of cigars in his hand!
"Now, young man," said the porter. "This is the gentleman. This young man has persisted in waiting, sir, saying you would be glad to see him."
Mr. Dorrit glared on the young man, choked, and said, in the mildest of tones, "Ah! Young John! It is Young John, I think; is it not?"
"Yes, sir," returned Young John.
"I — ha — thought it was Young john!" said Mr. Dorrit. "The young man may come up,' turning to the attendants, as he passed on: "oh yes, he may come up. Let Young John follow. I will speak to him above."
Young John followed, smiling and much gratified. Mr. Dorrit's rooms were reached. Candles were lighted. The attendants withdrew.
"Now, sir," said Mr. Dorrit, turning round upon him and seizing him by the collar when they were safely alone. "What do you mean by this?"
"The amazement and horror depicted in the unfortunate John's face — for he had rather expected to be embraced next — were of that powerfully expressive nature that Mr Dorrit withdrew his hand and merely glared at him.
"How dare you do this?" said Mr. Dorrit. "How do you presume to come here? How dare you insult me?"
"I insult you, sir?" cried Young John. "Oh!"
"Yes, sir," returned Mr Dorrit. "Insult me. Your coming here is an affront, an impertinence, an audacity. You are not wanted here. Who sent you here? What — ha — the Devil do you do here?"
"I thought, sir," said Young John, with as pale and shocked a face as ever had been turned to Mr Dorrit's in his life — even in his College life: "I thought, sir, you mightn't object to have the goodness to accept a bundle —" — Book the Second, "Riches," Chapter 18, "A Castle in the Air," page 543.
Commentary
The chapter title pertains to Mr. Dorrit's contemplation of marrying his daughters' governess, the aristocratic Mrs. General; however, this aspiration proves a mere "castle in the air" as he dies shortly after returning to Italy and before he can act upon the scheme. During his visit to London, William Dorrit finds it difficult to reconcile his former identity as "The Father of the Marshalsea," an incarcerated debtor, with his new persona, William Dorrit, "a gentleman of property." Indeed, he is terrified that his new society acquaintances should discover the truth about his past — hence, his shock at being confronted in the lobby of his London hotel but a figure from that suppressed past, young John Chivery, son of one of the turnkeys at the debtors' prison. Indeed, a psychologist might see the strain of this incident as a harbinger of Mr. Dorrit's physical and mental breakdown at the banquet in Rome and his subsequent death. In essence, Mr. Dorrit is leading a double life, and is constantly apprehensive that his past will collide catastrophically with his present. Already in 1857 Dickens must have been vaguely contemplating leading a double life as his marital affairs were reaching an impasse with Catherine, and in August 1857 he would meet Ellen Lawless Ternan on the set of The Frozen Depp at the Manchester Free-trade Hall leading to a secret affair with the seventeen-year-old actress that would last until his death in 1870. Dickens had unwittingly created a man with a dual identity that would tax its owner and contribute to his death; after writing Little Dorrit, Dickens created a number of characters whose pasts or alternate identities undermine their sense of security — from Pip, a former blacksmith's apprentice moving in the highest levels of upper-middle-class society, to Charles Darnay (last representative of an ancient aristocratic French house with blood on its hands) to John Jasper, the dutiful choir master of Cloisterham who leads a double life as an East End opium addict.
In short, the apparition of his past in the person of young John Chivery, formerly accustomed to bring the Father of the Marshalsea "testimonials" (bundles of cigars like the one he is holding in his right hand in this illustration), momentarily shocks Mr. Dorrit, who struggles to retain his composure until he can have a private interview with the well-meaning young man from his prison days. After accusing him of being part of some plot to unmask him, William Dorrit recognizes that no such duplicitous motives lie behind the visit, and he apologizes. But the damage, psychologically speaking, has been done. In the illustration, without even bothering to remove his hat, Mr. Dorrit collars John Chivery, who is surprised and dismayed at this violent reception by a man whom he regarded as a friend. The violence is quite at odds with the refined furnishings of the hotel-room, particularly the large, gilt-framed mirror over the mantelpiece with a clock beneath pointing to midnight. A refined oil-painting hanging on the wall between the pair (possibly a scene of the lakes in the north of Italy) points to Mr. Dorrit's new persona as "a gentleman from Italy," but the boy from the Marshalsea is a mirror wherein he should see his true self. In the midst of this serious dialogue Dickens injects a characteristically comic touch when, presented with the cigars, Mr. Dorrit rejects his former identity as an idle smoker in the College Yard:
"Damn your bundle, sir!" cried Mr. Dorrit, in irrepressible rage. "I — hum — don't smoke." [543]
References
Bentley, Nicolas, Michael Slater, and Nina Burgis. The Dickens Index. New York and Oxford: Oxford U. P., 1990.
Cohen, Jane Rabb. Charles Dickens and His Original Illustrators. Columbus: Ohio State U. P., 1980.
Davis, Paul. Charles Dickens A to Z: The Essential Reference to His Life and Work. New York: Checkmark and Facts On File, 1999.
Dickens, Charles. Little Dorrit. Illustrated by Phiz. The Authentic Edition. London:Chapman and Hall, 1901. (rpt. of the 1868 edition).
Dickens, Charles. Little Dorrit. Illustrated by Sol Eytinge, Jr. The Diamond Edition. Boston: Ticknor & Fields, 1867. 14 vols.
Dickens, Charles. Little Dorrit. Illustrated by James Mahoney. The Household Edition. 22 vols. London: Chapman and Hall, 1873. Vol. 5.
Dickens, Charles. Little Dorrit. Illustrated by Harry Furniss. The Charles Dickens Library Edition. 18 vols. London: Educational Book, 1910. Vol. 12.
Hammerton, J. A. "Chapter 19: Little Dorrit." The Dickens Picture-Book. The Charles Dickens Library Edition. Illustrated by Harry Furniss. 18 vols. London: Educational Book Co., 1910. Vol. 17. Pp. 398-427.
Kitton, Frederic George. Dickens and His Illustrators: Cruikshank, Seymour, Buss, "Phiz," Cattermole, Leech, Doyle, Stanfield, Maclise, Tenniel, Frank Stone, Landseer, Palmer, Topham, Marcus Stone, and Luke Fildes. Amsterdam: S. Emmering, 1972. Re-print of the London 1899 edition.
Lester, Valerie Browne. Phiz: The Man Who Drew Dickens. London: Chatto and Windus, 2004.
Schlicke, Paul, ed. The Oxford Reader's Companion to Dickens. Oxford and New York: Oxford U. P., 1999.
Steig, Michael. Dickens and Phiz. Bloomington: Indiana University Press, 1978.
Vann, J. Don. Victorian Novels in Serial. New York: The Modern Language Association, 1985.
---

Victorian
Web

Little
Dorrit

Illus-
tration

Phiz

Next
Last modified 22 May 2016