In the Old Room by Phiz (Hablot K. Browne) from Dickens's Little Dorrit, Book the Second, "Riches," Chapter 28, "An Appearance in the Marshalsea" (May 1857: Part Eighteen), facing p. 640. 10.2 cm high by 14 cm wide, vignetted. [Click on image to enlarge it.]
Image scan and text by Philip V. Allingham. [You may use this image without prior permission for any scholarly or educational purpose as long as you (1) credit the person who scanned the image and (2) link your document to this URL in a web document or cite the Victorian Web in a print one.]
Passage Illustrated
His door was immediately swung open by a thump, and in the doorway stood the missing Blandois, the cause of many anxieties.
"Salve, fellow jail-bird!" said he. "You want me, it seems. Here I am!"
Before Arthur could speak to him in his indignant wonder, Cavalletto followed him into the room. Mr. Pancks followed Cavalletto. Neither of the two had been there since its present occupant had had possession of it. Mr. Pancks, breathing hard, sidled near the window, put his hat on the ground, stirred his hair up with both hands, and folded his arms, like a man who had come to a pause in a hard day's work. Mr. Baptist, never taking his eyes from his dreaded chum of old, softly sat down on the floor with his back against the door and one of his ankles in each hand: resuming the attitude (except that it was now expressive of unwinking watchfulness) in which he had sat before the same man in the deeper shade of another prison, one hot morning at Marseilles.
"I have it on the witnessing of these two madmen," said Monsieur Blandois, otherwise Lagnier, otherwise Rigaud, "that you want me, brother-bird. Here I am!"
Glancing round contemptuously at the bedstead, which was turned up by day, he leaned his back against it as a resting-place, without removing his hat from his head, and stood defiantly lounging with his hands in his pockets. — Book the Second, "Riches," Chapter 28, "An Appearance in the Marshalsea," p. 639-640.
Commentary
Perhaps three months after Arthur's taking tea with John Chivery in the Marshalsea, "The Pupil of the the Marshalsea" receives four visitors from the outside world in his cramped quarters, formerly assigned to "The Patriarch," William Dorrit. The first is one of the Barnacles from the Circumlocution Office, who is just politely calling to see if the activities of the bureaucratic (and obstructionist) office have inadvertently ruined Clennam. The group of outside visitors that then appears consists of the previously missing Blandois (i., e., Rigaud), the Italian Cavaletto ("Mr. Baptist," as he is called in Bleeding Heart Yard), and that astute man of business (whose advice landed Arthur in the Marshalsea), Mr. Pancks. Blandois' visit is hardly disinterested, for he informs Arthur that he has something of value to Mrs. Clennam that he is prepared to part with for a price. He will give her one week to respond.
Pertinent illustrations in three other editions: 1867, 1873, and 1910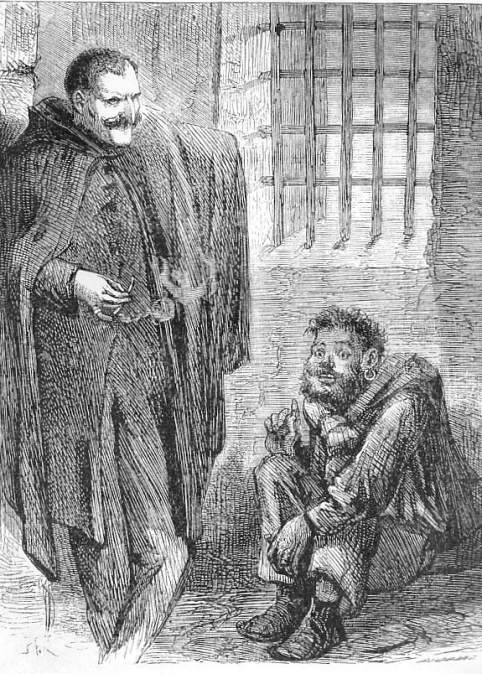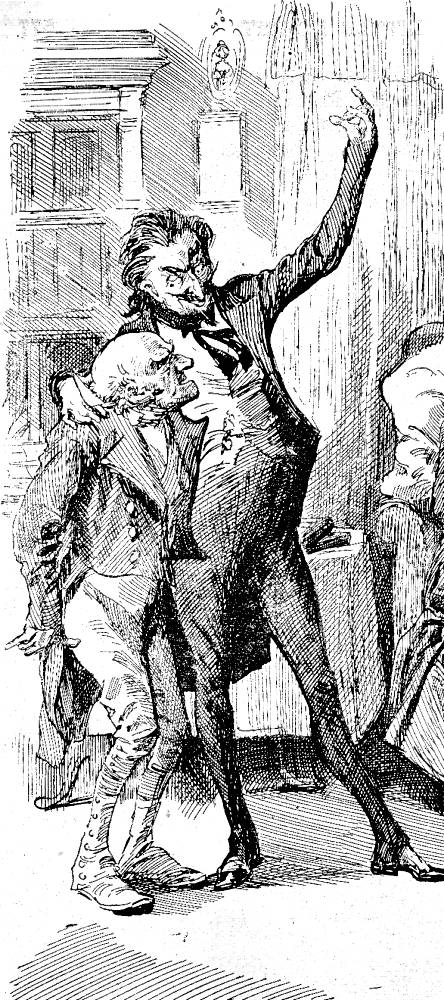 Left: Eytinge, Junior's dual study of the suave confidence man and jovial Italian smuggler in their cell in Marseilles, Rigaud and Cavaletto (1867). Right: a detail from Furniss's study of Flintwinch and Blandois, Mrs. Clennam and the Plotters (1910)[Click on the images to enlarge them.]
Above: James Mahoney's illustration of Ferdinand Barnacle's visit to Arthur Clennam in his room in the Marshalsea, It was the sprightly young Barnacle, Ferdinand (1873). [Click on the image to enlarge it.]
References
Bentley, Nicolas, Michael Slater, and Nina Burgis. The Dickens Index. New York and Oxford: Oxford U. P., 1990.
Cohen, Jane Rabb. Charles Dickens and His Original Illustrators. Columbus: Ohio State U. P., 1980.
Davis, Paul. Charles Dickens A to Z: The Essential Reference to His Life and Work. New York: Checkmark and Facts On File, 1999.
Dickens, Charles. Little Dorrit. Illustrated by Phiz. The Authentic Edition. London:Chapman and Hall, 1901. (rpt. of the 1868 edition).
Dickens, Charles. Little Dorrit. Illustrated by Sol Eytinge, Jr. The Diamond Edition. Boston: Ticknor & Fields, 1867. 14 vols.
Dickens, Charles. Little Dorrit. Illustrated by James Mahoney. The Household Edition. 22 vols. London: Chapman and Hall, 1873. Vol. 5.
Dickens, Charles. Little Dorrit. Illustrated by Harry Furniss. The Charles Dickens Library Edition. 18 vols. London: Educational Book, 1910. Vol. 12.
Hammerton, J. A. "Chapter 19: Little Dorrit." The Dickens Picture-Book. The Charles Dickens Library Edition. Illustrated by Harry Furniss. 18 vols. London: Educational Book Co., 1910. Vol. 17. Pp. 398-427.
Kitton, Frederic George. Dickens and His Illustrators: Cruikshank, Seymour, Buss, "Phiz," Cattermole, Leech, Doyle, Stanfield, Maclise, Tenniel, Frank Stone, Landseer, Palmer, Topham, Marcus Stone, and Luke Fildes. Amsterdam: S. Emmering, 1972. Re-print of the London 1899 edition.
Lester, Valerie Browne. Phiz: The Man Who Drew Dickens. London: Chatto and Windus, 2004.
Schlicke, Paul, ed. The Oxford Reader's Companion to Dickens. Oxford and New York: Oxford U. P., 1999.
Steig, Michael. "Chapter 6: Bleak House and Little Dorrit: Iconography of Darkness." Dickens and Phiz. Bloomington: Indiana University Press, 1978.
Vann, J. Don. Victorian Novels in Serial. New York: The Modern Language Association, 1985.
---
Last modified 22 May 2016