It was the sprightly young Barnacle, Ferdinand (See page 377), — Book II, chap. 28, Sixties' illustrator James Mahoney's fifty-second illustration in the Chapman and Hall Household Edition volume of Charles Dickens's Little Dorrit, Household Edition, 1873. Wood-engraving by the Dalziels, 10.6 cm high by 13.7 cm wide, framed. [Click on the image to enlarge it.]
Scanned image and text by Philip V. Allingham. [You may use this image without prior permission for any scholarly or educational purpose as long as you (1) credit the person who scanned the image and (2) link your document to this URL.]
Passage Illustrated
One day when he might have been some ten or twelve weeks in jail, and when he had been trying to read and had not been able to release even the imaginary people of the book from the Marshalsea, a footstep stopped at his door, and a hand tapped at it. He arose and opened it, and an agreeable voice accosted him with "How do you do, Mr. Clennam? I hope I am not unwelcome in calling to see you."
It was the sprightly young Barnacle, Ferdinand. He looked very good-natured and prepossessing, though overpoweringly gay and free, in contrast with the squalid prison.
"You are surprised to see me, Mr. Clennam," he said, taking the seat which Clennam offered him.
"I must confess to being much surprised."
"Not disagreeably, I hope?"
"By no means."
"Thank you. Frankly," said the engaging young Barnacle, "I have been excessively sorry to hear that you were under the necessity of a temporary retirement here, and I hope (of course as between two private gentlemen) that our place has had nothing to do with it?"
"Your office?"
"Our Circumlocution place."
"I cannot charge any part of my reverses upon that remarkable establishment." — Book the Second, Riches," Chapter 28, "An Appearance in the Marshalsea," p. 377-378.
Commentary
The title for this illustration as it appears in the New York edition of the same volume is much longer: He arose and opened it, and an agreeable voice accosted him with "How do you do, Mr. Clennam? I hope I am not unwelcome in calling to see you." — Book 2, chap. xxviii. The juxtaposition of the wood-engraving and passage illustrated and the lengthy passage serving as a caption makes it abundantly clear that the composite woodblock engraving serves as a headpiece in the Harper and Brothers printing. In contrast, in the Chapman and Hall volume, the plate appears eight pages ahead of the passage realised, forcing a proleptic reading that telegraphs to the reader the fact that Arthur Clennam's solitude will be interrupted by at least one visitor, one of the self-interested Barnacle clan that controls the government's Circumlocution Office, Dickens's satire on the British bureaucracy. This particular Ministry's charge, ably executed by cabinet minister and Merdle confederate Lord Decimus Tite Barnacle, "to fetter public spirit, to contract the enterprise, to damp the independent self-reliance" (Book I: Chapter 34, "A Shoal of Barnacles," p. 207) of the British. Consequently, the Circumlocution Office and the legion of Barnacles are anathema to Clennam's business partner, the engineer and inventor Daniel Doyce.
Whereas Dickens's original illustrator, Hablot Knight Browne had focussed on the dialogue between the mercenary Frenchman, Rigaud, and Arthur Clennam in Arthur's private room in the Marshalsea later in the chapter, James Mahoney has decided to focus on the first visitor that day, Lord Decimus's private secretary, Ferdinand, who concedes that occasionally the Circumlocution Office occasionally "floors" men of business and free enterprise in the Barnacles' attempts to protect the Public Service. The "pupil" of the debtors' prison is naturally a little critical of the Circumlocution Office's failure to detect Merdle's massive swindle and protect the public interest. Rugg, the provisioner, is Clennam's second visitor; he then receives a significant rio: Pancks, Cavaletto, and Rigaud. This is the visit that Phiz chose to realise since it, rather than the other two, advances the plot.
Pertinent illustrations in three other editions: 1867, 1873, and 1910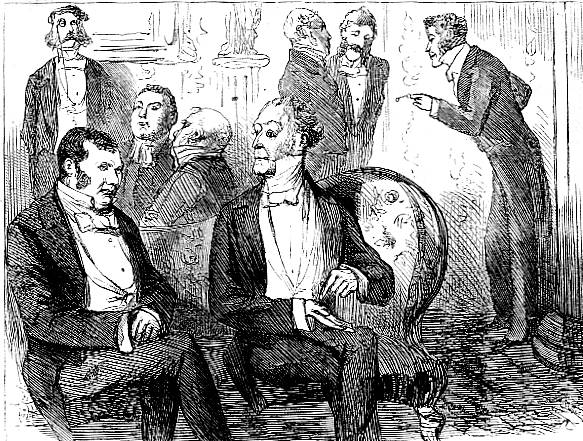 Left: Eytinge, Junior's study of the guardians of the public trust in league with Merdle, The Merdle Party (1867). Right: Phiz's realisation of the scene in which Blandois offers to sell Arthur's mother a document of some importance to her, In the Old Room (1910). [Click on the images to enlarge them.]
References
Bentley, Nicolas, Michael Slater, and Nina Burgis. The Dickens Index. New York and Oxford: Oxford U. P., 1990.
Cohen, Jane Rabb. Charles Dickens and His Original Illustrators. Columbus: Ohio State U. P., 1980.
Davis, Paul. Charles Dickens A to Z: The Essential Reference to His Life and Work. New York: Checkmark and Facts On File, 1999.
Dickens, Charles. Little Dorrit. Illustrated by Phiz. The Authentic Edition. London:Chapman and Hall, 1901. (rpt. of the 1868 edition).
Dickens, Charles. Little Dorrit. Illustrated by Sol Eytinge, Jr. The Diamond Edition. Boston: Ticknor & Fields, 1867. 14 vols.
Dickens, Charles. Little Dorrit. Illustrated by James Mahoney. The Household Edition. 22 vols. London: Chapman and Hall, 1873. Vol. 5.
Dickens, Charles. Little Dorrit. Illustrated by Harry Furniss. The Charles Dickens Library Edition. 18 vols. London: Educational Book, 1910. Vol. 12.
Hammerton, J. A. "Chapter 19: Little Dorrit." The Dickens Picture-Book. The Charles Dickens Library Edition. Illustrated by Harry Furniss. 18 vols. London: Educational Book Co., 1910. Vol. 17. Pp. 398-427.
Kitton, Frederic George. Dickens and His Illustrators: Cruikshank, Seymour, Buss, "Phiz," Cattermole, Leech, Doyle, Stanfield, Maclise, Tenniel, Frank Stone, Landseer, Palmer, Topham, Marcus Stone, and Luke Fildes. Amsterdam: S. Emmering, 1972. Re-print of the London 1899 edition.
Lester, Valerie Browne. Phiz: The Man Who Drew Dickens. London: Chatto and Windus, 2004.
"Little Dorrit — Fifty-eight Illustrations by James Mahoney." Scenes and Characters from the Works of Charles Dickens, Being Eight Hundred and Sixty-six Drawings by Fred Barnard, Gordon Thomson, Hablot Knight Browne (Phiz), J. McL. Ralston, J. Mahoney, H. French, Charles Green, E. G. Dalziel, A. B. Frost, F. A. Fraser, and Sir Luke Fildes. London: Chapman and Hall, 1907.
Schlicke, Paul, ed. The Oxford Reader's Companion to Dickens. Oxford and New York: Oxford U. P., 1999.
Steig, Michael. Dickens and Phiz. Bloomington: Indiana University Press, 1978.
Vann, J. Don. Victorian Novels in Serial. New York: Modern Language Association, 1985.
---
Last modified 22 May 2016