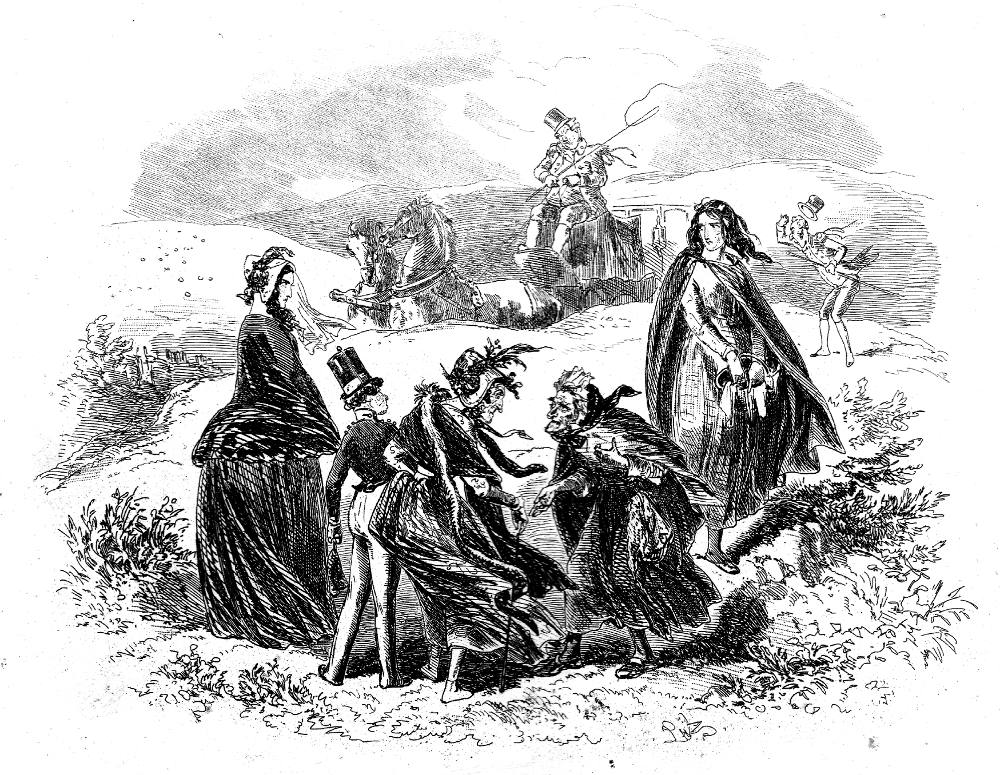 A Chance Meeting from the October 1847 instalment in Dombey and Son, Wholesale Retail & for Exportation (Part 14), and published by Bradbury and Evans in volume form on 12 April 1848. 4 ⅛ x 5 ½ inches (10.5 cm high by 13.6 cm wide), vignetted. Facing 167 in the second volume of the 1880 edition. For the colourized version of this scene, see next. The illustration is unusual in that it is Phiz's third attempt at a vertical orientation, which he realised would enable him to select for illustration group scenes that were cramped by the usual horizontal orientation in which he had worked in The Pickwick Papers ten years earlier. [Click on the image to enlarge it.]
Passage illustrated: Another Meeting on a Blasted Heath
It was a bleak, lowering, windy day, and they were out upon the Downs with nothing but a bare sweep of land between them and the sky. The mother, with a querulous satisfaction in the monotony of her complaint, was still repeating it in a low voice from time to time, and the proud form of her daughter moved beside her slowly, when there came advancing over a dark ridge before them, two other figures, which in the distance, were so like an exaggerated imitation of their own, that Edith stopped.
Almost as she stopped, the two figures stopped; and that one which to Edith's thinking was like a distorted shadow of her mother, spoke to the other, earnestly, and with a pointing hand towards them. That one seemed inclined to turn back, but the other, in which Edith recognised enough that was like herself to strike her with an unusual feeling, not quite free from fear, came on; and then they came on together.
The greater part of this observation, she made while walking towards them, for her stoppage had been momentary. Nearer observation showed her that they were poorly dressed, as wanderers about the country; that the younger woman carried knitted work or some such goods for sale; and that the old one toiled on empty-handed.
And yet, however far removed she was in dress, in dignity, in beauty, Edith could not but compare the younger woman with herself, still. It may have been that she saw upon her face some traces which she knew were lingering in her own soul, if not yet written on that index; but, as the woman came on, returning her gaze, fixing her shining eyes upon her, undoubtedly presenting something of her own air and stature, and appearing to reciprocate her own thoughts, she felt a chill creep over her, as if the day were darkening, and the wind were colder.
They had now come up. The old woman, holding out her hand importunately, stopped to beg of Mrs Skewton. The younger one stopped too, and she and Edith looked in one another's eyes.
"What is it that you have to sell?" said Edith.
"Only this," returned the woman, holding out her wares, without looking at them. "I sold myself long ago."
"My Lady, don't believe her," croaked the old woman to Mrs. Skewton; "don't believe what she says. She loves to talk like that. She's my handsome and undutiful daughter. She gives me nothing but reproaches, my Lady, for all I have done for her. Look at her now, my Lady, how she turns upon her poor old mother with her looks."
As Mrs. Skewton drew her purse out with a trembling hand, and eagerly fumbled for some money, which the other old woman greedily watched for — their heads all but touching, in their hurry and decrepitude — Edith interposed:
"I have seen you," addressing the old woman, "before." [Chapter 40, "Domestic Relations," p. 167-68, vol. 2 of the 1880 edition]
Comment: Combining Some of the Leading Women in a Single Scene
With the introduction of Edith Granger, the most fascinating of the story's unusual number of women, Dickens began to expand the psychological scope and depth of Dombey. Some, like Mesdames Skewton, Chick, Pipchin, and MacStinger, invited caricature — indeed the only caricature Dickens permitted in this book. Most, however — Polly Toodles, Susan Nipper, Alice Brown, Florence, and, especially, Edith — all beauties of various kinds, required and received varied treatments. [Cohen 96]
In the present illustration, Phiz presents Edith (left, smouldering with animosity) and Alice (right) as both opposites and complements. In the concluding numbers, Edith Granger, claims centre space as "the most fascinating of the story's unusual number of women" (Cohen 96) as expand Edith's and indeed the whole story's "psychological scope and depth" well beyond what had probably begun as a bildungsroman. Indeed, the title of the novel is since of a red herring since the eponymous character never engages the reader's emotions as Captain Cuttle, Florence, and Edith Dombey do. Ad Michael Steig observes, the males in the story are often ineffectual, whereas the women are powerful, and even "potentially destructive." Here and elsewhere Phiz moves beyond "witch-like" Mrs. Browne and Mrs. Pipchin to make the novel's females ogresses and giantesses, Amazons, divas, and sorceresses.
Michael Steig's Analysis of
A chance Meeting
The effect of such parallels between comic and serious plates is not so much to ridicule the more serious elements in the novel as to help unify the narrative structure by stressing the theme of sexual conflict. To view A chance Meeting (ch. 40) alongside its companion is to receive sudden enlightenment. Dickens has already been making great play with parallels in juxtaposing the stories of Edith and Alice. Browne's illustrations extend the parallels further, beyond the emphasis upon high-life and lowlife prostitution to a vision of the terrifying power of woman. To put the matter another way: through the parallel between Alice and Edith, Dickens expresses his social vision of the cash-nexus between human beings, but through the illustrations Browne stresses the underlying view of woman as a potentially destructive force. Edith and Alice in A chance Meeting are drawn with so little attention to scale that they appear to be giantesses; but this serves to emphasize the almost mythic power of women. And the parallel of Edith and Mrs. MacStinger, implied in their similar positions, further promotes this theme. One could argue that Phiz is equally justified in neglecting scale in Florence parts from a very old friend (ch. 44), making Mrs. Pipchin another giantess, for she too is one of the monstrously powerful women in the book, both child-queller and (it is implied) husband-queller, halfway between the serious and the purely comic figures in conception. [Ch. 4, p. 98-99]
The other four vertically oriented, full-width plates in
Dombey and Son

:
Related Material, including Other Illustrated Editions of
Dombey and Son
Scanned image and text by Philip V. Allingham. [You may use this image without prior permission for any scholarly or educational purpose as long as you (1) credit the person who scanned the image and (2) link your document to this URL in a web document or cite the Victorian Web in a print one.]
Bibliography
Dickens, Charles. Dombey and Son. With illustrations by  H. K. Browne. The illustrated library Edition. 2 vols. London: Chapman and Hall, c. 1880. Vol. II.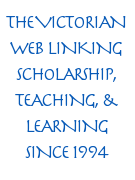 __________. Dombey and Son. Illustrated by Hablot Knight Browne ("Phiz"). The London Edition, Volume 4. London: Caxton & Ballantyne, 1901.
__________. Dombey and Son. Illustrated by Hablot K. Browne ("Phiz"). 8 coloured plates. London and Edinburgh: Caxton and Ballantyne, Hanson, 1910.
__________. Dombey and Son. Illustrated by Hablot K. Browne ("Phiz"). The Clarendon Edition, ed. Alan Horsman. Oxford: Clarendon, 1974.
__________. Dombey and Son. Illustrated by Sol Eytinge, Jr., and engraved by A. V. S. Anthony. 14 vols. Boston: Ticknor & Fields, 1867. III.
__________. Dombey and Son. Illustrated by Fred Barnard. 61 wood-engravings. The Household Edition. 22 vols. London: Chapman and Hall, 1877. XV.
_________. Dealings with the Firm of Dombey and Son: Wholesale, Retail, and for Exportation. Illustrated by Harry Furniss. The Charles Dickens Library Edition. London: Educational Book Company, 1910. IX.
Hammerton, J. A. "Chapter 16: Dombey and Son."The Dickens Picture-Book. The Charles Dickens Library Edition.Illustrated by Harry Furniss. 18 vols. London: Educational Book Co., 1910. Vol. 17, 294-337.
Kitton, Frederic George. Dickens and His Illustrators: Cruikshank, Seymour, Buss, "Phiz," Cattermole, Leech, Doyle, Stanfield, Maclise, Tenniel, Frank Stone, Landseer, Palmer, Topham, Marcus Stone, and Luke Fildes. Amsterdam: S. Emmering, 1972. Re-print of the London (1899) edition.
Lester, Valerie Browne. Ch. 12, "Work, Work, Work." Phiz: The Man Who Drew Dickens. London: Chatto and Windus, 2004, pp. 128-160.
Steig, Michael. Chapter 4. "Dombey and Son: Iconography of Social and Sexual Satire." Dickens and Phiz. Bloomington & London: Indiana U. P., 1978. 86-112.
Vann, J. Don. Chapter 4. "Dombey and Son, twenty parts in nineteen monthly installments, October 1846-April 1848." Victorian Novels in Serial. New York: Modern Language Association, 1985. 67-68.
---
Created 8 August 2015

Last modified 4 February 2021