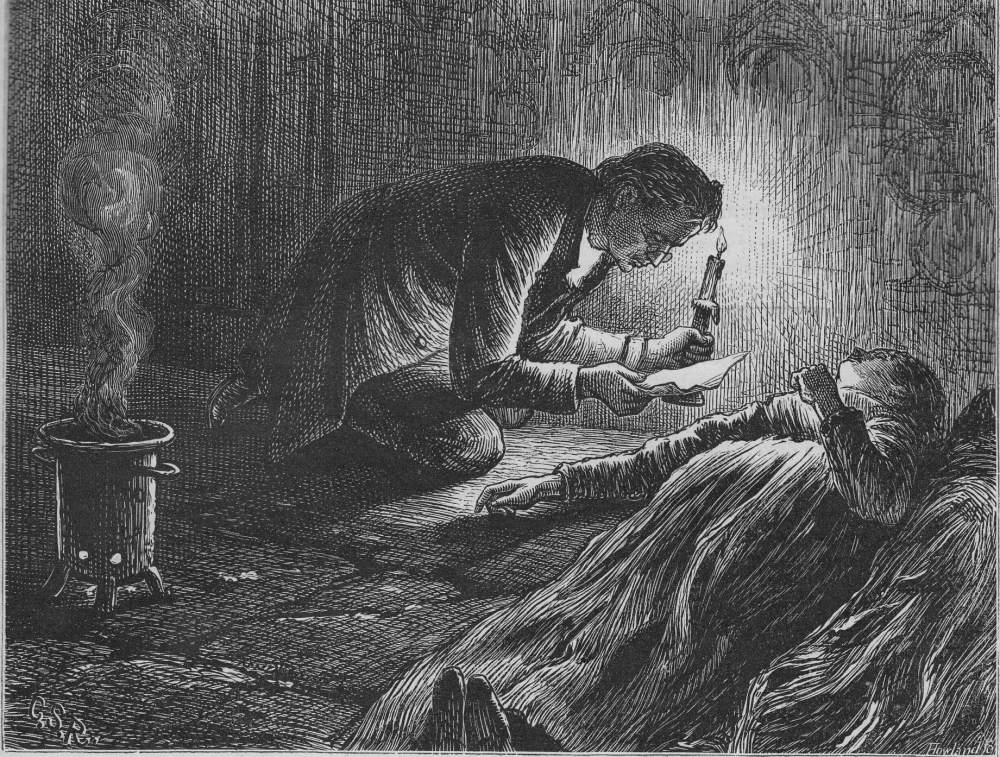 Uncaptioned [Scene from "The Wapping Work-House.] by Charles S. Reinhart. 1844-1896. 10 cm high by 13.3 cm wide (half-page, horizontally mounted, 9). [Click on image to enlarge it.]
The wood-engraving illustrates a scene on page 15 in "Wapping Work-House," in Charles Dickens's The Uncommercial Traveller, the first series of these essays and sketches having appeared in All the Year Round in 1860-61. The American Household Edition, also containing Reinhart's wood-engravings for Hard Times (1854) and Fildes' for The Mystery of Edwin Drood (1870), was published by Harper and Brothers in 1876. Accordingly, one might advance the proposition that Edward G. Dalziel had the opportunity to review Reinhart's illustrations before drafting his own for The British Household Edition of The Uncommercial Traveller.
Passage Illustrated
A-bed in these miserable rooms, here on bedsteads, there (for a change, as I understood it) on the floor, were women in every stage of distress and disease. None but those who have attentively observed such scenes, can conceive the extraordinary variety of expression still latent under the general monotony and uniformity of color, attitude, and condition. The form a little coiled up and turned away, as though it had turned its back on this world for ever; the uninterested face at once lead-colored and yellow, looking passively upward from the pillow; the haggard mouth a little dropped, the hand outside the coverlet, so dull and indifferent, so light, and yet so heavy; these were on every pallet; but when I stopped beside a bed, and said ever so slight a word to the figure lying there, the ghost of the old character came into the face, and made the Foul ward as various as the fair world. No one appeared to care to live, but no one complained; all who could speak, said that as much was done for them as could be done there, that the attendance was kind and patient, that their suffering was very heavy, but they had nothing to ask for. The wretched rooms were as clean and sweet as it is possible for such rooms to be; they would become a pest-house in a single week, if they were ill-kept. [15]
Commentary
The collected Uncommercial Traveller essays were preceded by individual periodical publication, beginning on 28 January 1860. The first part of the series, involving seventeen articles, was collected in volume form in 1861, unillustrated. In 1865, eleven additional pieces were published in volume form in the Cheap Edition; five years after Dickens's death, eight of the nine last essays in the series appeared in the Library Edition with four illustrations by G. J. Pinwell, and another four by "W. M."
The first illustration for the series of essays and sketches serves as an introduction to the personal observations and reflections of a London "flaneur" — in the sense that Charles Baudelaire used it — a masculine idler or stroller who, having time upon his hands and no definite object in view, wanders a city to achieve a fuller experience of it than might otherwise be obtained if he were walking in a more purposeful manner, such as keeping an appointment or going to work. Here in the third chapter, "Wapping Work-House," the Uncommercial Traveller visits a place few respectable middle-class readers would care to go, a "Union" refuge for indigent women, the infirm, aged, insane, and seriously ill. The traveller's chief interest in his East-end perambulations is the Foul Ward of a women's poor house in an area now known as "Docklands." C. S. Reinhart in depicting Dickens's persona as reading another's personal correspondence while the room's occupants sleep has apparently conflated two very different scenes: in "The Shipwreck," the traveller reads some of the letters addressed to a clergyman by the relatives of forty-four shipwreck victims awaiting burial; in the second scene, in "Wapping Work-House," the traveller sees diseased and distressed women lying on bedsteads and even on the floor. Reinhart has selected elements of the following passage to set the keynote as one of social realism.
Reinhart's illustration converts the narrative from first-person to third-person, giving the reader an interpretation of the Uncommercial Traveller's outward form and curious nature, an emblem, so to speak, of "His General Line of Business." By his frock-coat, the Uncommercial Traveller is gentleman, although he confesses later in the series to lower-middle-class origins in "Dullborough" — (that is, ) Dickens's pseudonym for the Medway towns of Rochester and Chatham, Kent. C. S. Reinhart further particularizes the narrator as thin and middle-aged as he reads a letter by candle-light, there being no windows in these garrets or lofts. It is not too much of a stretch, then, to interpret the reader/observer/recorder "Mr. Uncommercial" as a direct reflection of the Editor ("Conductor") of All the Year Round, Charles John Huffam Dickens.
Scanned image and text by Philip V. Allingham [You may use this image without prior permission for any scholarly or educational purpose as long as you (1) credit the photographer and (2) link your document to this URL in a web document or cite the Victorian Web in a print one.]
Bibliography
Bentley, Nicolas, Michael Slater, and Nina Burgis. The Dickens Index. New York and Oxford: Oxford U. P., 1990.
Dickens, Charles. The Uncommercial Traveller, Hard Times, and The Mystery of Edwin Drood. Il. Charles Stanley Reinhart and Luke Fildes. The Household Edition. New York: Harper and Brothers, 1876.
Dickens, Charles. The Uncommercial Traveller. Il. Edward Dalziel. The Household Edition. London: Chapman and Hall, 1877.
Scenes and Characters from the Works of Charles Dickens; being eight hundred and sixty-six drawings, by Fred Barnard, Hablot Knight Browne (Phiz); J. Mahoney; Charles Green; A. B. Frost; Gordon Thomson; J. McL. Ralston; H. French; E. G. Dalziel; F. A. Fraser, and Sir Luke Fildes; printed from the original woodblocks engraved for "The Household Edition." New York: Chapman and Hall, 1908. Copy in the Robarts Library, University of Toronto.
Slater, Michael, and John Drew, eds. Dickens' Journalism: 'The Uncommercial Traveller' and Other Papers 1859-70. The Dent Uniform Edition of Dickens' Journalism, vol. 4. London: J. M. Dent, 2000.
---
Last modified 14 March 2013