[Click on thumbnails for larger images. You may use these and the following images without prior permission for any scholarly or educational purpose as long as you (1) credit the photographer and (2) link your document to this URL in a web document or cite it in a print one.]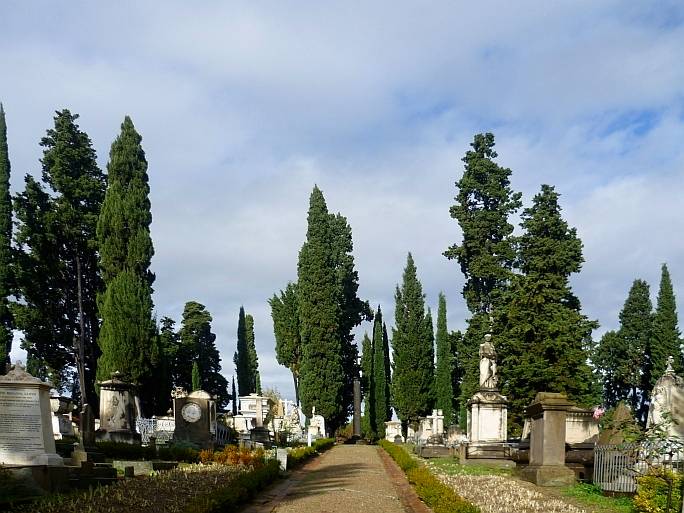 The Protestant Cemetery of Florence at Piazzale Donatello is situated on a small hill near Florence's Pinti Gate. First established in 1827, it only acquired its gatehouse in 1860 when more land was granted to it. Despite its connection with the Swiss Evangelical church, it came to be known as the English Cemetery because of "the prestige of Victorian England" and because of all the English people buried here (Santini 7). The cemetery was in use mainly from 1838-77, and although some important non-Catholics of other nationalities are buried here — including the American sculptor Hiram Powers (1805-1873) and the American Transcendentalist and abolitionist Theodore Parker (1810-1860) — over half the graves are occupied by members of the Anglo-Florentine community of that period.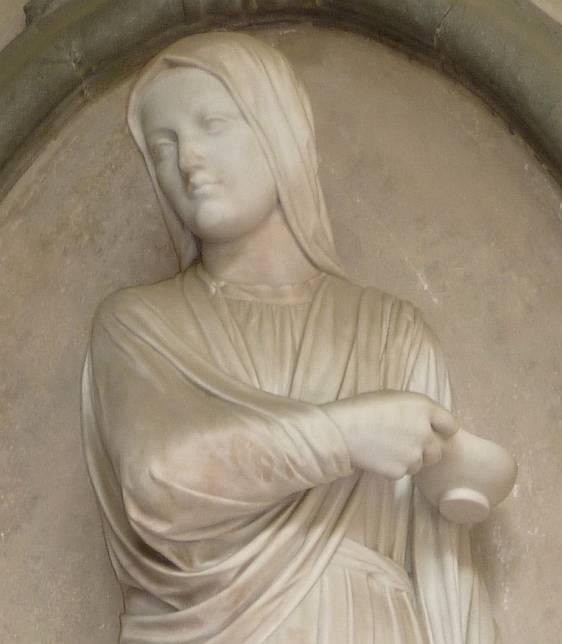 (a) The Florence Nightingale memorial in Santa Croce's cloisters, in central Florence and (b) a detail. [Click on thumbnails for larger images.]
The beautiful city Florence, with its various kinds of artistic riches, had always been a part of the Grand Tour. It had mutiple appeals: visiting in 1644, the diarist and keen landscape gardener John Evelyn thought the Boboli Gardens a perfect Paradise, enthusing over the fountains, topiary and so on, as well as responding to Michelangelo's David and the other great sights of Florence very much as visitors do today. Close on two centuries later, the Nightingale family stopped in Florence in 1820, on their own European odyssey. When their second daughter was born here, they commemorated their stay by calling her Florence. A memorial in the cloisters of Santa Croce pays tribute to this famous namesake. But Florence Nightingale was by no means the only famous Victorian to be connected with the city. Others were drawn there in the nineteenth century, partly to experience its artistic splendours, and partly, in some cases, to live in the highly cultured expatriate society which had grown up there. An added attraction was sympathy with the Italian Risorgimento, which was widely supported in England, with the revolutionary figures Mazzini and Garibaldi being seen here as heroes.
Elizabeth Barrett Browning
Left to right: (a) The Gatehouse: the Anglican custodian, Julia Bolton Holloway, talks with one of her Roma helpers. (b) Elizabeth Barrett Browning's sarcophagus, designed by Lord Leighton. (c) The sarcophagus from the other side, with Fanny Holman Hunt's tomb, sculpted by Holman Hunt himself in Fiesole, alongside it.
Many of those buried in the English Cemetery were pathetically young, but among the adults were people as well-known (or almost as well-known) as Florence Nightingale herself. Perhaps the most visited grave — or, rather, sarcophagus — is Elizabeth Barrett Browning's. Despite this poet's much celebrated and miraculous reprieve from years of invalidism, and through all her years of happiness as a wife and mother and friend, Elizabeth had remained very delicate. She had had several miscarriages as well as her one live birth, and had been plagued by chronic chest problems. She had known great happiness, but not even her love for and from her family could pull her through her final illness, and she died in June 1861 soon after returning from a winter stay in Rome. Her death was widely covered in the Italian papers. The shops along their street closed for the funeral, and permission was granted for the coffin, crowned with laurel and white flowers, to be carried along its way to this cemetery on the outskirts of the city — "a singular honor" (Markus 332).
Other English People Buried Here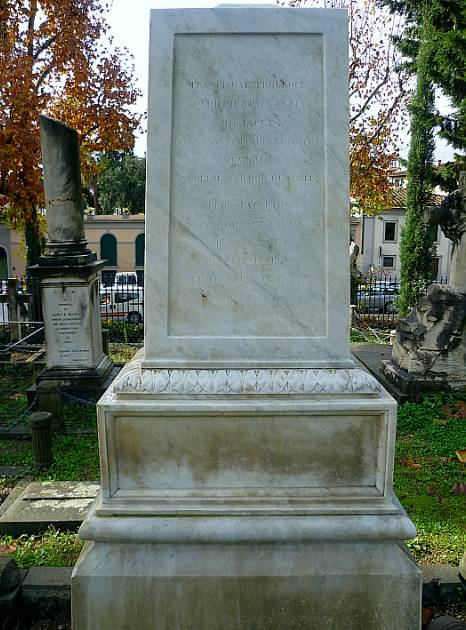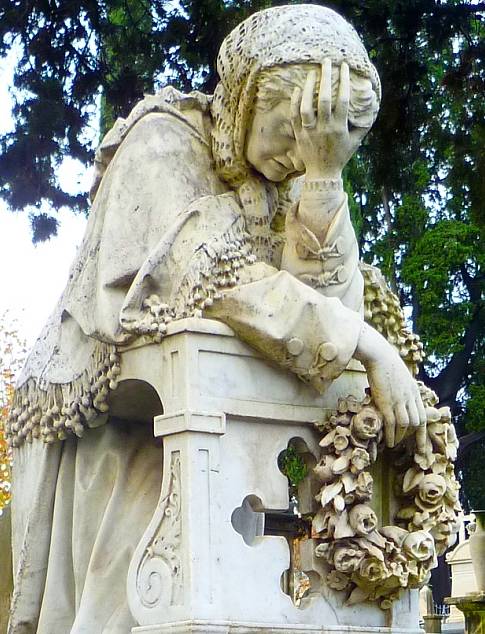 Left to right: (a) Clough's headstone. (b) Headstone of Fanny Trollope. (c) Walter Savage Landor's grave. (d) Tomb of Arnold Savage Landor, Walter Landor's son, with the figure of his grieving mother above it.
Elizabeth Barrett Browning was joined here a few years later by Fanny Holman Hunt (1833-66), who died after childbirth in Florence, and whose husband William Holman Hunt sculpted her tomb himself while still living there. These two much-mourned women lie in the company of many other English people who died in Florence, including the poet Arthur Hugh Clough (1812-1861), who died in the winter of the same year as Elizabeth after a brief stay in Florence, and after having spent much of his energy in helping Florence Nightingale with her untiring campaign for hospital and nursing reform. Others, like Elizabeth, had made their homes in Florence and given their hearts to the city. These included the widowed Fanny Trollope (1780-1863), who had bought land and built herself a house in Cumberland, but, finding the climate too harsh, had moved to Florence in 1844 and lived there for the rest of her life (see Trollope 29). In front of her lies her daughter-in-law Theodosia Trollope, and not far behind her lies Isa Blagden (1818-1873), a poet and novelist of Indian and English origins, one of those free spirits who flourished in this kind of environment away from the conventions of Victorian society. Isa was a close friend of the Brownings. Very near these and the Trollopes lies the once fiery and unmanageable Walter Savage Landor (1775-1864), whom both Isa Blagden and the Brownings had helped, and who died in lodgings near the Brownings' home, Casa Guidi. The lines from Swinburne inscribed on Landor's gravestone, asking "his Florence" to "keep safe his dedicated dust," would serve many of those laid to rest here who had espoused the Italian cause. A rawer grief, however, is expressed elsewhere. Although the Browning sarcophagus is more central, the most striking and certainly most elaborately detailed monumental sculpture is probably that of Landor's elderly wife, shown with her back to her estranged husband's grave, mourning instead the loss of their son Arnold Savage Landor (1819-71). So many stories lie behind these various markers of a vanished time.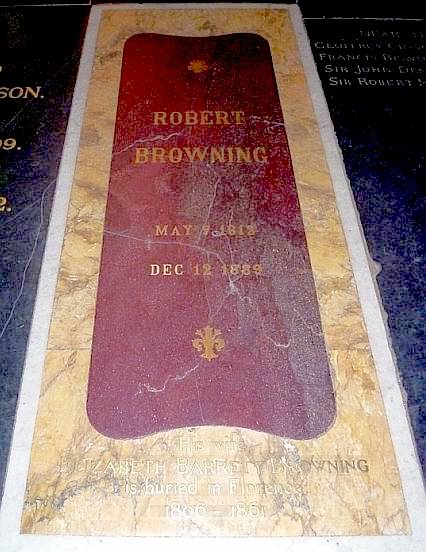 Browning's tombstone in the Abbey is next to Tennyson's. Inscribed at its foot are the words, "His wife Elizabeth Barrett Browing is buried in Florence, 1806-1861."
Browning left Florence about a month after his wife's death, never to return to the scenes of their happiness, or to remarry — although he lived another 28 years. Italy never lost its hold on him though. He died in Venice at his son's home. "Pen" Browning, who had become an artist, wanted his father to be buried in the English Cemetery, but in 1877 the cemetery had closed for new interments. Browning was buried instead in Poet's Corner at Westminster Abbey.
Related Material
Sources
Browning, Elizabeth Barrett. Aurora Leigh and Other Poems. Ed. John Robert Glorney Bolton and Julia Bolton Holloway. London: Penguin, 1995.
Markus, Julia. Dared and Done: The Marriage of Elizabeth Barrett and Robert Browning. London: Bloomsbury, 1995.
Santini, Pastore Luigi. The Protestant Cemetery of Florence, called "The English Cemetery", 1981. Booklet available at the cemetery gatehouse.
"'Thunders of White Silence': The Protestant Cemetery of Florence, called 'The English Cemetery'." Julia Bolton Holloway's thorough and fully sourced website about the cemetery. Web. 2 February 2011.
Trollope, Anthony. An Autobiography. London: Penguin, 1993.
---
Last modified 24 May 2011