[The following passage appears on pages 129-39 of the author's Fifty Years of Work without Wages and has been copied from the Internet Archive version of the print text. Emery Walker's photograph of Morris below faces page 129. — George P. Landow.]
After my friend Professor J. W. Mackail's classic Life of Morris there seems nothing to say except each of our personal recollections of the most all-round gifted man of the nineteenth century. As a personality he was bigger than all his work — that of course is what makes his work so engrossing. As a man, Morris leaves a unique impression; his robustness of mind and body, his sterling handsomeness, his dignified simplicity, the great trait of being no respecter of mere personages, his varied gifts and the pains he took to make the best of them, total up to an indescribable focus of energy and accomplishment.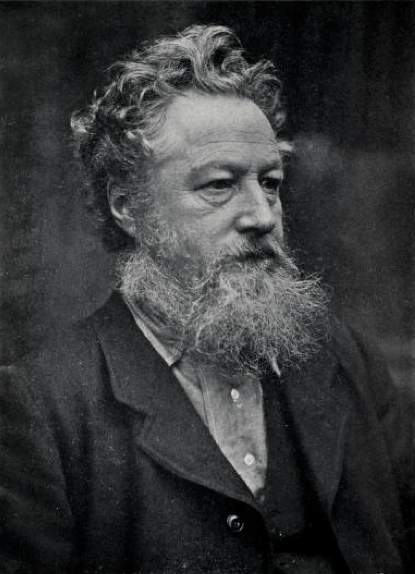 He lectured for us at Ancoats in his socialistic days to enthusiastic audiences of nearly a thousand, mostly men, and nearly all workfolk at that. I cannot say that they understood either his ideas or his way of putting them. Bluntly as he spoke, for the most part he was the great poet and artist all the time. We were always fascinated, but nobody understands the glowing poet and artist at the moment. What burned within him was the knowledge and sight of the appalling ugliness we all put up with. Those of us who are born in it, and come to be horrified with it, do not know how to rid us of it except by leaving it. That is obviously no remedy. As long as the coal at our feet lasts it seems that we are confronted with an insoluble problem which we must grin and bear, and try to palliate for the finer spirits amongst us, where and when we can. Morris would have none of this absurd toleration — sweep the beastly thing away and live like men, was his one and only policy. He had in those years the childlike notion that it could not last, that folk would surely soon get so sick of the injustice they were slaves to, and the ugly filth they lived in, that they would rise and smite it. Alas! he did not perceive that ugliness all round is as difficult to realise by the great mass as is the possibility of beauty and comfort and honest work for all under some sane conditions not yet formulated, let alone realised. There was something sublime in the glorious rages of the great man as he pounded away at us, to our delight and amazement. The first time I heard him in our city was at a joint meeting in Manchester of the Academy of Fine Arts and the Literary Club. His subject was "Wealth and Riches." Even with that audience of supposed superiors he could not get it into their heads that riches merely meant accumulation, and that wealth was surely well-being. How much less could he hope for success among inarticulate workfolk who knew more of the values of material they toiled among than of the glamour of mere words! But, like Lincoln, he kept "pegging away," and his influence is still vital in the few who have sparks to inflame.
Nothing was jollier than our informal meetings before or after lecture, when he coveted heckling and enjoyed the fray. It was delightful to watch his patience when the same old questions were asked by labouring men, or his vehemence when flooring some well-to-do jabberer, often a mere rentier, who assumed he was advocating robbery. All he urged was: Don't rob," or, "Do not be robbed of the results of your labour." None of us could see a way out, though we reckoned to see the propositions.
What hearty suppers we had after these encounters, and what splendid talks on subjects ranging from Homer to Huck Finn! That somewhat over-rated person "John Oliver Hobbes" [Pearl Craigie] in her journal put down Morris as one of the "vulgar" personages she had met. One can quite understand — he could not abide the namby-pamby, or the artificial, and never spared them. But that he was a gentleman to his very marrow is certain. All the same, he suffered fools badly whatever their rank in life. He said to me once: "It is no use arguing with Blank—" you would have to begin with his protoplasms." All shallow talk about art and workmanship at once got his rage up to rampaging point, for it is obvious on all such occasions that it is a matter, not of words, but of seeing or not perceiving. You either saw, say, a Gothic perfection or you didn't. On asking him which was his favourite cathedral, he wisely said: "Why, the one I happen to be in." But the marvels of Beauvais were, we were all certain, nearest to his heart and mind; and no wonder, for if there ever was a miracle wrought for the north folk, it is there. When a Bishop came in the early days of "the Firm" to make suggestions about some glass they were doing for the cathedral in his diocese, he made short work of his impudent interference in a matter which no bishop can be expected to appreciate. That must be left to the workman. He simply hated the Dons of his old loved Oxford because of their destruction of ancient workmanship, which they obviously could not see and understand, and their burdening the City with new and inferior but expensive structures. He would not compromise with them, knowing, as he did, what they had destroyed of historic significance and beauty even in his own day. He would do superb stained glass for Christ Church, but the new Gothic horrors he simply loathed. I got him in one of his sublime rages when I suggested he should meet my friend the late Mr. Thomas Worthington, who was the architect of Manchester College at Oxford. They wanted Morris Burne-Jones glass in the chapel: would he undertake it? I won't say where he would see them first before he would do it. Why didn't they erect their beastly things in Manchester? I got him to see the ever amiable Worthington, and the result is a chapel full of the most glorious works — surpassing as an ensemble anything I know ancient or modern, of their kind. His bark was worse than his bite. That was always so.
While Madox Brown was at work on his mural paintings in our Town Hall, I got Morris to meet him after an estrangement of years. As soon as they met they were at once quite as good chums as of old. Brown had been one of the founders of "the Firm," and being slightly older than the other members, was a sort of father confessor to the lot, as he was to the pre-Raphaelite brethren years before. The first house taken for "the Firm " in Queen's Square, Bloomsbury, was taken in Brown's name. The old quarrel has no interest for us — the reconciliation was more important, and gave comfort not only to each of them but to all their friends.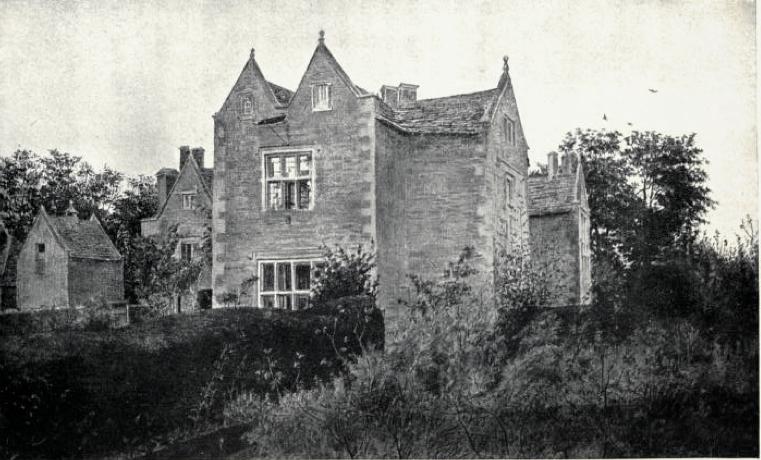 May Morris's photograph of Kelmscott Manor, which faces page 135 of Rowley's memoir.
The pleasant hours spent at the Hammersmith house, and at the works at Merton Abbey, were only surpassed by the visits to Kelmscott Manor, the old house on the upper Thames at the foot of the Cotswold Hills. It is indeed an earthly paradise, and it is still a joy to see Mrs. Morris and her two daughters there. He, of course, was radiantly happy when he worked, as he always did, or when we rambled round the fields, or went on a jaunt to see one of his beloved churches, or bridges, or ancient houses. Most of all was his gusto at the perennial loveliness of river, field, and foliage. How he deplored the growing shabbiness of the countryside, where everything that costs labour gets neglected, or cash when rent has to be raised, and when prices of produce are low! How he loved that calm countryside, with its ancient glamour of work, rest, and production, in the days rich to the exuberance of producing some of the loveliest towns and churches anywhere to be found, but now in a competitive struggle which is not only against Nature development, but prevents them keeping up the old state of country calm, beauty, and content. All that provoked Morris the more to hate our modernism of rush and ugliness and profit which saves no souls.
Both his prose and his poetry are suffused with this potent calm after labour, when the struggle with Nature was enough. His poetry is not for our age of hurry and ignoble snippets. His prose romances, along with some of his verse, seem to me to be the finest history of our race. The Icelandic and other northern stories are well known, but he carried it on. "The Wolfings " recounts the early struggles of Northmen and the Latins, and might be pitched at Innsbruck, while "The Roots of the Mountains" shows settlement, industries, clearings in forests as it might be in the Thwaites of Cumberland or Westmoreland. "Hopes and Fears for Art " brings all up to date.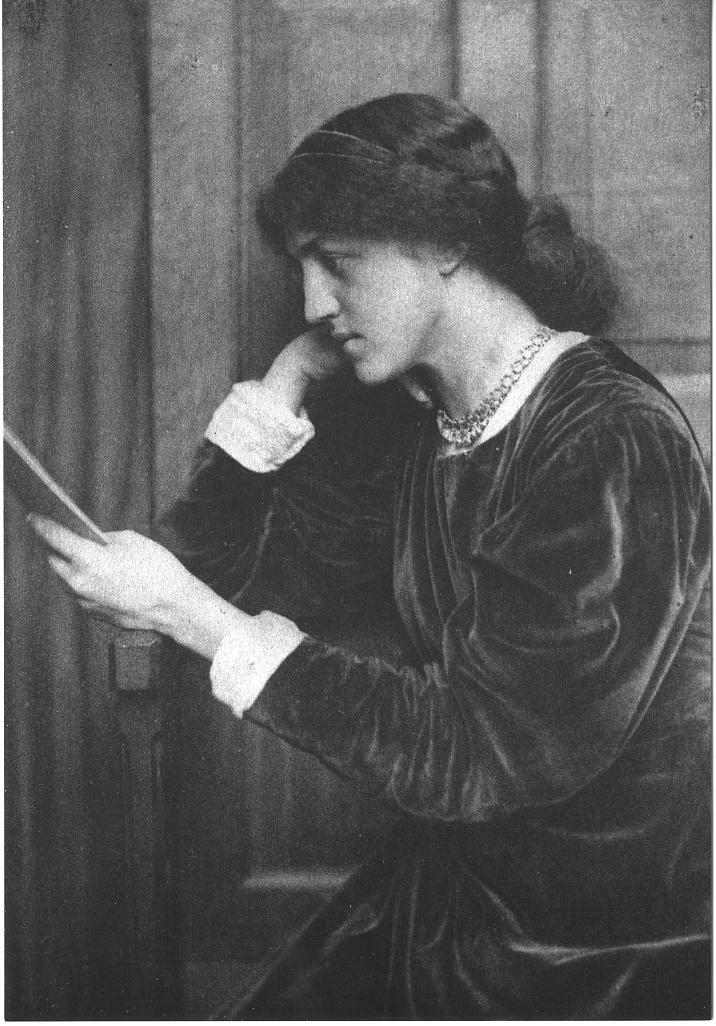 Hollyer's photograph of May Morris
His daughter, May Morris, is editing in most admirable style her father's works in twenty-five volumes, and I am honoured and delighted with the promise of a gift of the whole set when completed. Up to now, eight handsome volumes are issued, and to hand, with notes of life and family affairs, and many illustrations from pictures by Rossetti and others. Miss Morris in her notes speaks of her mother's attentions to them. Could there ever be a more enchanting head of a household? whether she carved the mutton or cut the hair of the family, tuned all the time to that delicious laugh which one never forgets.
Once at Kelmscott a number of us had been lounging and larking in the orchard. After a while Morris slipped off, and soon afterwards we saw him in a summer bower with his head bowed in his wife's lap, having his hair cropped. What a subject for a picture flashed upon one — such a man, and such a woman! But wherever either or both of them were it seemed to be supremely perfect and to leave an impress never to be effaced.
Of Morris's successful adventures in the crafts that matter much has been said. Here, again, the blight of fashion or the public's foolish desire for meretricious freshness blinds people to the perennial charm, or lasting quality, of this great man's work. There is no doubt, however, as to its fundamental rightness on the whole, just as one does not doubt, but always enjoys, a fine Persian carpet, a delicious Indian printed cotton, a Sicilian or Italian textile of the best periods, or a noble printed book. It is idle to say, we repeat, with Mr. Balfour in his Romanes Lecture, that there are no standards in aesthetic production; there are standards in everything, we insist, and we can point to them. Our museums and art galleries are full of such high reaches of man's craft and cunning, even showing, as they seem bound to do, archseologically, much poor stuff of poor periods. Morris was a masterful discriminator in all this. He used to say that the great show of textiles at South Kensington was got up for him. It may be so, for you always have it to yourself and the policeman on guard. Morris steeped himself in all the finest achievements of craftsmen, as well as of poets and painters. Then he started again, worked hard, and put his own wonderful personality into his work. The result is to be seen by those who have eyes, brains, and sound judgment. Before he produced a chintz he mastered the chemical side of dyeing, then worked for months at Wardle's fine old workshop at Leek; in his out-of-work hours he was producing the finest modern epic, "Sigurd the Volsung." Before he started on the Kelmscott Press a similar experience went on. With the aid of great experts like Mr. Emery Walker and Mr. Sydney Cockerell, he studied and analysed every great press, as well as the finest of illuminated books, and finally produced the noblest of printed works — the great "Kelmscott Chaucer." Such was Morris as a craftsman in a score of departments.
Mrs. Morris and her daughter, May Morris, have worked many pieces of the most enchanting embroidery.
When Morris died we gave him the loveliest funeral a poet could have, and he rests in the dear little Kelmscott churchyard near the manor-house which he and his friends loved so well.
He was not only offered the post of Professor of Poetry to the University of Oxford, but the Laureate's office after the death of Tennyson. No use to him, or he to them. He gets his revenges. The throne chairs for his beloved Abbey, for King George V. and Queen Mary, are covered with a damask of his design, for the simple reason that nothing finer can be found the world through. Mr. Balfour once complained to me that these things by Morris were only for the rich and mighty. He missed the point. Morris wanted everything fine and noble to be available for all, and especially for the worthy. The best in nature is open to us all ; what is the good of the fine arts if they are not to be enjoyed with the same freedom? No king or millionaire can beat our National Gallery, the British Museum, or the enchanting Museum at South Kensington, and they belong to all of us according to our capacity.
One cannot say that William Morris's influence has remained potent in the crafts he perfected. His value is that those who care for fine domestic things can now get them by careful search and by paying the price. The majority of middle-class homes are still hideous, but they are not so appalling as those of fifty years ago.
Related Material
References
Rowley, Charles. Fifty Years of Work without Wages. London: Hodder and Stoughton, 1911. University of California at Los Angeles copy made available online by Internet Archive. Web. 9 November 2012.
---
Last modified 15 November 2012