[Thanks to James Heffernan, founder and editor-in-chief of Review 19 for sharing this review with readers of the Victorian Web. — Katherine Miller Weber]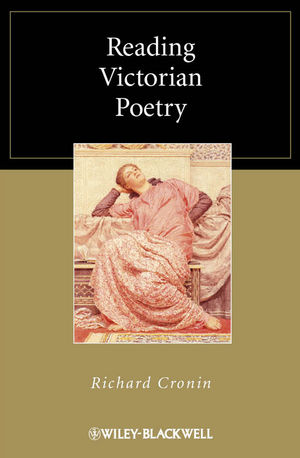 roviding an overview as well as close readings, this book is part of the Wiley-Blackwell "Reading Poetry" series designed to counter "an increasing reluctance to study poetry amongst undergraduate students" by drawing upon "the pedagogical expertise of the most esteemed critics in the field" (ii). Well-known as lead editor of Blackwell's Companion to Victorian Poetry (2002) and also as author of The Politics of Romantic Poetry (2000), Romantic Victorians (2002) and Paper Pellets: Literary Culture after Waterloo (2010), reviewed elsewhere on this site, Richard Cronin additionally brings almost forty years of teaching to the task. The result is an engaging, accessible, and often luminous account.
His opening chapter, "The Victorian Poetry Palace," should be read by specialists as well as the target audience of undergraduates. Cronin begins by positioning Victorian poetry relative to breadth of time, given Victorians' self-conscious awareness of a grand narrative of poetic tradition in which they formed the belated end point; and of space, given their experience of empire and new travel and communication technologies. He encapsulates the point through Alfred Tennyson's "Locksley Hall." Its meter, he suggests, most likely derived from Tennyson's friend Richard Chenevix Trench, who in turn found it via a German translation of a Persian poet contemporaneous with Omar Khayyam. Cronin then undertakes three close readings of poems from the early, middle, and late Victorian eras responding to museums, those storehouses of historical artifacts gathered from around the globe: "The Palace of Art" by Tennyson, "The Burden of Nineveh" by D. G. Rossetti, and "The Crystal Palace" by John Davidson. Performativity is central to "The Palace of Art," which enacts the poetry of sensation, and since part of the pleasure of the poem is seeing how deftly Tennyson fits his meter to poetic subject matter, the poem implicates the reader in aesthetic contemplation akin to that enjoyed by the self-indulgent soul. When Rossetti began "Nineveh" in 1850, Cronin reminds us, there was no Reading Room or even a completed forecourt at the British Museum, and its main staircase was "dominated by three stuffed giraffes" (13). These details help account for Rossetti's sensitivity to urban noise in a poem representing a collision between past and present: since the Assyrian winged bull god remains inassimilable, the poet is detached from what he contemplates. By the time of "The Crystal Palace" (published after Queen Victoria's death), the poet openly derides the crowds attending the museum even as his own poetic lexicon replicates the demotic slang common to poet and crowd alike.
This trajectory leads Cronin to identify key elements that make Victorian poetry a discrete body of work despite its immense diversity of styles: its variousness, global scope, troubled relation to its public, confrontations between past and present, and self-consciousness. Its variousness is aptly reflected in the inclusive range of poems Cronin discusses throughout his study. The older "big three" of Victorian poetry-- Tennyson, Browning, Arnold--are often mentioned, and Cronin considers Arnold's "Lines Written in Kensington Gardens" an exemplary Victorian poem in its ambiguous positioning within yet apart from the surrounding urban scene. But he also probes the work of lesser-known poets such as Toru Dutt, whose "Casuarina Tree" is read in relation to William Wordsworth's "Yew Trees," and Charlotte Mew, whose fine poem "The Farmer's Bride" Cronin selects as a culminating representative instance of Victorian poetry.
Though his book omits detailed footnotes or sustained dialogues with critics, Cronin suggests early on that his entire commentary "unpacks" Isobel Armstrong's concept of the "double poem" (in Victorian Poetry: Poetry, Poetics and Politics [Routledge, 1993]) by embracing poems that form "the medium through which the reader is invited to gaze at the world, and a[re] themselves the objects of that gaze" (Cronin 28). Cronin tends to underplay the "politics" of Armstrong's subtitle, her questions about who is represented or excluded in a given poem and the legitimacy of grounds on which this representation is predicated. Instead Cronin focuses on the fissuring of selves in Victorian poetry. For if inclusiveness and recent theoretical developments inform this book, so does the older narrative of Victorian poets' alienation and self-division (as in E. D. H. Johnson's The Alien Vision of Victorian Poetry [1952]), itself heavily influenced by Modernist poetics and the Victorians' departure from the Wordsworthian egotistical sublime or Romantic faith in the organic connectedness of self and universe. This emphasis is evident in the title of Cronin's second chapter, "The Divided Self and the Dramatic Monologue," and in his treatment of all subsequent topics: "Victorian Metrics"; "Short Poems, Long Poems and the Victorian Sonnet Sequence" (which asserts that the Victorian penchant for long sequences of short lyrics sprang from the poets' sense of belatedness, uncertainty about audience, and ambivalent beliefs); "Victorian Poetry and Translation" (at once pervasive and liminal, suspended between domestic and foreign); "Victorian Poetry and Life" (highlighting the rift between the observed world and inward feeling in poems bent on close observation); "Poetry and Religion" (which notes the characteristic self-division of an "I" uncertainly poised between the individual or voice of all); and "Conclusion: The 1890s" (when the ostensible divide between "Decadents" and "Hearties" revealed unexpected congruencies, as in W. B. Yeats's "Lake Isle of Innisfree" and Rudyard Kipling's "Chant-Pagan," and thus the doubleness and fissures that marked all of Victorian poetry). The chapters themselves offer much more than the arguments I have encapsulated, for they repeatedly feature deftly-stated aperçus, as when Cronin concludes discussion of Goblin Market in the chapter on "Victorian Metrics" by detecting a persisting whisper of "goblin trimeter" in "The wicked, quaint, fruit-merchant men" nestled within the final stanza (Cronin 75).
The topic of poetry and religion seems least congenial to Cronin. After offering an overview of Tractarian reserve in relation to John Keble's The Christian Year and Christina Rossetti's minimalist devotional verse (a mode taken further by Emily Dickinson), he turns away from theology, denominational differences, and Christian community to focus again on the alienated self. He is unpersuaded by Robert Browning's representation of commitment to Christian community in Christmas-Eve, finding the style and mode ill-suited to theology, nor does he linger to explore its relation to the companion poem Easter Day. Instead he prefers "An Epistle ... of Karshish," spoken by one outside the Christian faith but drawn toward it. Karshish, he ultimately argues, is yet another poet-figure who cannot square his observations of the physical world with feelings that contradict them. Moreover, Cronin asserts, "Browning is quietly intimating that the miracle of the incarnation that alone makes sense of human life is shadowed in the writing of each and every successful poem, because the incarnation and poetry both have the power to convert a world of contingency into a world of meaning" (190)--a statement that both Brownings might have found somewhat blasphemous. Cronin's is a robustly agnostic, post-Victorian reading of religion and poetry, and he ultimately contends that the best Evangelical poetry of the era is represented by the evangels of unbelief, whether Arthur Hugh Clough in Dipsychus or Swinburne in "Ave Atque Vale."
Some of Cronin's statements will prompt questions. Does Elizabeth Barrett Browning's "Runaway Slave at Pilgrim's Point" truly imply that the runaway has traversed the ground from a slave-holding state to Plymouth Rock in a single night? Ought Davidson's increasing immersion in the philosophy of Nietzsche after 1896 to be mentioned in relation to the poet's disdain for the crowd in "The Crystal Palace," which appeared in 1909, not 1908? But Cronin's work can certainly be recommended to undergraduates and to scholars familiar with Cronin's other work who will want to revisit his keen critical intelligence and mobile prose. The larger narrative he offers of Victorian poetry--a body of work notable for self-division and marginalization--remains, moreover, the dominant narrative today. Yet it is a rather than the narrative, as Josephine Guy and Ian Small indicate in The Textual Condition of Nineteenth-Century Literature (New York: Routledge, 2012), pp. 59-62. Those who direct our attention to poetry and periodicals provide an alternative account of the number of poetry readers after the early 1820s, when the market for volumes dramatically shrank. And this alternative narrative is already being supported by three websites, The Periodical Poetry Index, Database of Victorian Periodical Poetry, and Hidden Verses. If Cronin's new book will not be the final word on Victorian poetry, however, it remains a welcome addition that offers reading pleasures to students and specialists alike.
Bibliography
Richard Cronin Reading Victorian Poetry. Wiley-Blackwell, 2012. 248 pp.
---
Last modified 5 July 2014