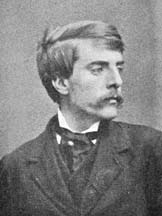 Frederick Walker, the son Marylebone jeweller William Walker, was born in London, on 26 May 1840, and died in St. Fillans, Perthshire, on 4 June 1875. After just a few years at the North London Collegiate School, Walker briefly served an apprenticeship to an architect. Pursuing his childhood interest in drawing, at seventeen he became a student at the Royal Academy school in London. Walker acquired most of his training in drawing and painting through studying in the British Museum, where he copied extensively from antique sculpture, especially the Elgin Marbles from the Parthenon. In the evenings he attended life classes at Leigh's Art School. At the end of 1858, he began a two-year apprenticeship with Josiah Wood Whymper (1813­1903), in whose workshop he met his life-long friends the painter J. W. North, A. R. A., and the noted illustrator George Pinwell, A. R. W. S.
Like John Everett Millais and Luke Fildes, Frederick Walker was a graduate of the Royal Academy of Art. However, Walker's academic preparation was rudimentary at best, and his surviving letters reveal little reading in the classics and no knowledge of a foreign language, although a fragmentary poem of his survives in the Witt Archive. Even if he did not attend the ateliers of the Continent as his great admirer George Du Maurier did, Walker is still a possible model for Du Maurier's "Little Billee" in Trilby (1894) because, through his association with him while an illustrator for Once a Week, Du Maurier would have experienced first-hand Walker's complex and often contradictory character: on the one hand, Walker was shy, reticent, and sensitive with strangers; on the other, high spirited and fun-loving with friends. According to Steve Milton's online biography of the artist, "during his time at Whymper's studio Walker became associated with "The Langham" a group of artists and amateurs. This group met regularly in the evening to complete artistic "challenges"— a subject being chosen and sketches completed within two hours. Many of the sketches made by Walker at the "Langham" survived to be reproduced in J. G. Mark's Life and Letters of Frederick Walker." Walker exhibited one of his most famous works, The Lost Path, which Milton considers his "first serious effort in oil," at the 1863 Royal Academy. This picture of a woman carrying a baby in a snowstorm anticipated Hubert von Herkomer's social realism, and he followed it in 1866 with The Wayfarers "with its exquisite landscape background. "The Wayfarers" was not well received when it first appeared, but this [response] was nothing compared to the critical furore that surrounded "The Bathers" which appeared at the Academy the following year" (Milton).
Walker's obituary in The Times described him as "a young painter of rare genius, cut off prematurely in the springtide of his powers. At little more than thirty Walker had already made his power felt in three fields of art — as a designer on wood and as a painter in water-colours and in oil — in a way possible only to genius. His later achievements as a painter have gone far to override the recollection of his earlier work as a designer on wood." The Times claimed that despite his youth, he "had the same wide and well-marked influence on his contemporaries and successors as he had already had on the younger generation of our water-colour painters" (quoted by Marks, 314) and had begun to have on those who painted in oils. — Philip V. Allingham
Graphic Works
Works in Other Media
Bibliography
Black, Clementina. Frederick Walker. New York: Dutton; London: Duckworth, 1902.
Hammerton, J. A. The Dickens Picture-Book. London: Educational Book [1910].
Marks, John George. Life and Letters of Frederick Walker, A. R. A. London and New York: Macmillan, 1896.
Milton, Steve. ""Fred Walker, ARA." Online version available from Southwilts.com.. Web. 8 July 2018.
---
Created 29 July 2018