THE ancient and famous metropolis of the North sits overlooking a windy estuary from the slope and summit of three hills. No situation could be more commanding for the head city of a kingdom ; none better chosen for noble prospects. From her tall precipice and terraced gardens she looks far and wide on the sea and broad champaigns. To the east you may catch at sunset the spark of the May lighthouse, where the Firth expands into the German Ocean; and away to the west, over all the carse of Stirling, you can see the first snows upon Ben Ledi. But Edinburgh pays cruelly for her high seat in one of the vilest climates under heaven. She is liable to be beaten upon by all the winds that blow, to be drenched with rain, to be buried in cold sea fogs out of the east, and powdered with the snow as it comes flying southward from the Highland hills. The weather is raw and boisterous in winter, shifty and ungenial in summer, and a downright meteorological purgatory in the spring. . . . And yet the place establishes an interest in people's hearts; go where they will, they find no city of the same distinction; go where they will, they take a pride in their old home. — Robert Louis Stevenson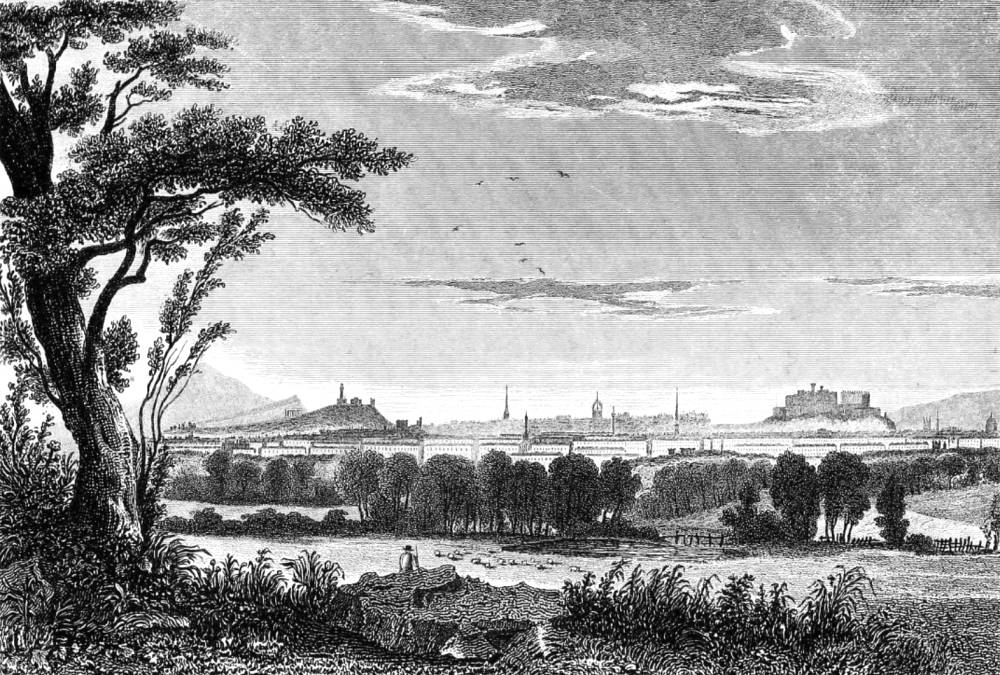 Left: Edinburgh from the North. Chambers 1838 Gazetteer of Scotland. Right: The View from Calton Hill. 1879. Etching by A. Brunet-Debaines from a drawing by W. E. Lockhart, R.S.A. Click on images to enlarge them.
General
Institutions
The Visual Arts and Architecture
Bibliography
Chambers, Robert. The Gazetterr of Scotland. Edinburgh: Blackie and Son, 1838. Internet Archive online version digitized with funding from National Library of Scotland. Web. 30 September 2018.
Stevenson, Robert Louis. Edinburgh: Picturesque Notes with Etchings by A. Brunet-Debaines from Drawings by S. Bough, R.S.A, and W, E, Lockhart, R.S.A. London: Seeley, Jackson, and Halliday, 1879. Internet Archive. Contributed by the National Library of Scotland . Web. 3 October 2018.
---
Last modified 10 October 2018w