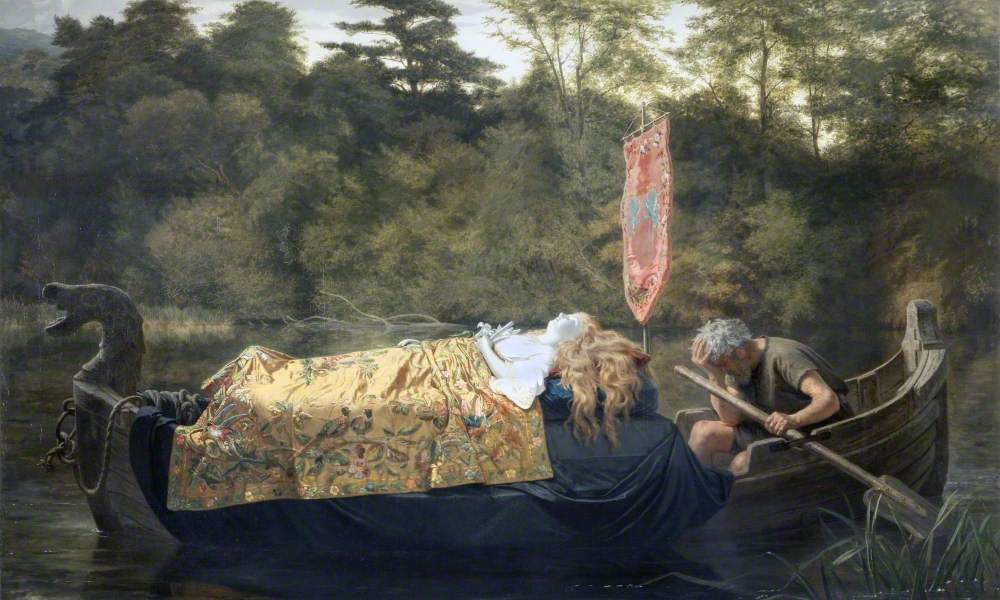 Elaine by Sophie Anderson (1823-1903). 1870. Oil on canvas. H 158.4 x W 240.7 cm. Collection: Walker Art Gallery, Liverpool. Accession no. WAG 110. Purchased, 1871. Photo credit: Walker Art Gallery. Image download Jacqueline Banerjee, and formatting by Banerjee and Gerrish Nunn. Image kindly made available under a Creative Commons Attribution-NonCommercial licence (CC BY-NC).
This painting made history when it was purchased in 1871 from the annual Autumn Exhibition in Liverpool: this was the first work by a living female artist bought for a public collection in the UK. It remains one of Anderson's principal works.
Elaine was a popular heroine with the Victorian gallery-goer, coming from the Arthurian world presented by the poet laureate, Alfred Lord Tennyson. Elaine is one of the four protagonists of his Idylls of the King (1859), the others being Enid, Vivien and Guinevere. Elaine's was a sad story, evoked here by her dead body: a motherless girl, she fell in love with the glamorous, debonair knight Lancelot, and was too young and unworldly to recognise her feelings as a crush on an inaccessible hero. In Debra Mancoff's words, "she could [not] differentiate between his courtly manner and romantic attraction. As her father's hostess, she showered him with attention, and when he rewarded her with a tender smile, her ignorance of etiquette led her to mistake his gratitude for love. A woman's passion ignited in her girlish heart...." Eventually accepting that she would never be loved in return, that she had embarrassed her family and humiliated herself in the eyes of her society, Elaine wills her own decline: "I loved you and my love had no return,/ And therefore my true love has been my death," she tells him; and she is shown by Anderson on her funeral barge, being rowed down to Camelot, Arthur's court, where all will reflect ruefully on her sad demise.
Elaine's story was a frequent subject for painters, her crowd-pleasing quality especially tempting for beginners, but consequently hard to present in any fresh way: the Art Journal's critic exclaimed with some impatience at the 1868 exhibitions, "Poor Elaine, is she yet, season after season, to suffer more at the hands of tyros? Female artists seem to have a weakness for this ready-made sentiment...." This dig at women artists obscures the fact that she was generally widely seen in exhibition and Anderson, although perhaps aware of, say, Emily Mary Osborn's now lost picture of Elaine shown in 1864 (Elaine dressing to go before Lancelot, French Gallery Winter Exhibition), was more likely to have had in mind Gustave Doré's illustrations to Idylls of the King, published in Britain in 1868.
Anderson's treatment of the theme, like many others before and after her, illustrates lines 1146-1154 which describe the family servant rowing the death barge down the river, clutching his head in sorrow, the dead girl's "bright hair streaming down", a lily in her hand. She has used an exquisitely embroidered coverlet to contrast dramatically with the tenebrous background that lends brooding shadow to the scene, pushing all the visual emphasis onto the unfortunate girl's prone form. Exhibited first at the Academy in 1870, the painting was greeted as "large and effective" although the subject was observed to have become "trite"; then shown in Birmingham, Glasgow and Liverpool, where it was secured for the lucky gallery-goers of Merseyside. Nowadays, it makes a fascinating comparison with Tate's ever-popular and near relation Lady of Shalott, by J.W. Waterhouse.
Links to related material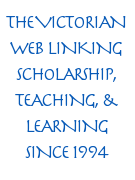 Bibliography
Elaine. Art UK. Web. 22 Apri 2022.
Mancoff, Debra. The Return of King Arthur. New York: Harry N. Abrams, 1995.
"Society of Female Artists." Art Journal 1 March 1868: 46.
---
Created 22 April 2022

Last modified 9 May 2022