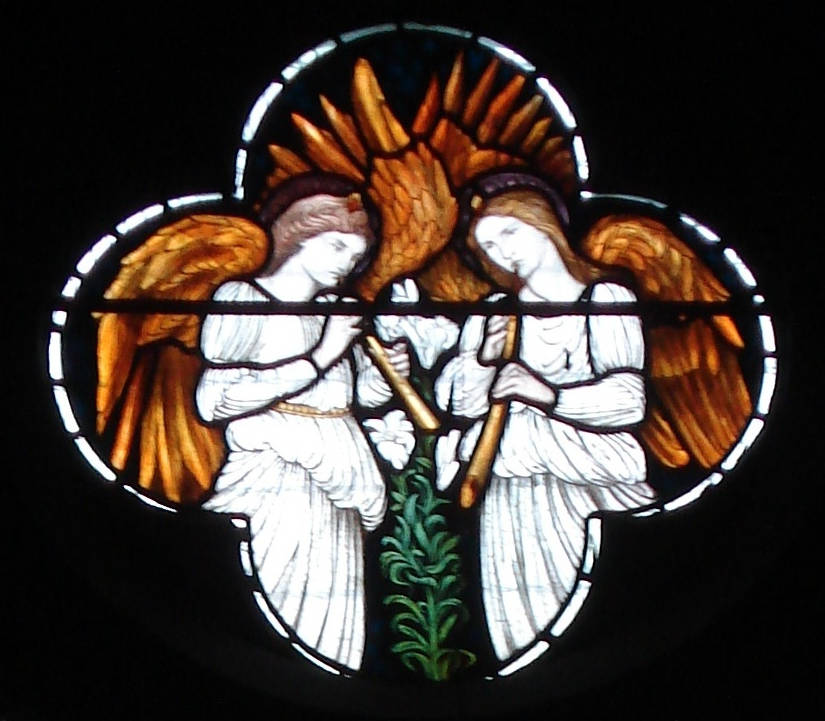 Trumpeting Angels above Mary Magdalene and the Risen Christ. 1878. Church of St Mary Magdalene and St Michael, Easthampstead. Click on image to enlarge it.
Angels blowing straight trumpets is a favourite motif of Burne-Jones and one which echoes The Last Judgment window in this church. The left light below shows Mary Magdalene, clutching her robe in an attempt to find comfort, and an angel seated on the slabs pointing to the empty tomb. In the right-hand light, Mary Magdalene kneels, holds her hands with her palms upwards and gazes at the risen Christ standing before her. The story is told in St John 20:11-18. The white and pale yellow robes of the six figures predominate against a background of shades of green in the rocks and foliage. These windows were commissioned as a memorial to W. J. Scott of Wick Hill House, Bracknell, who died in 1875.
Related Material
Photograph and text by Cynthia Gamble. Reproduced by kind permission of The Rev. Guy Cole.
Bibliography
Gamble, Cynthia. John Ruskin and his Oxford Tutor, Osborne Gordon. Victorian Web. 10 March 2020. [Return to Gamble].
---
Created 12 March 2020