Libby Horner has kindly shared her brief biography of Brangwyn with readers of the Victorian Web. Readers might wish to consult her more detailed chhronology on her Brangwyn site.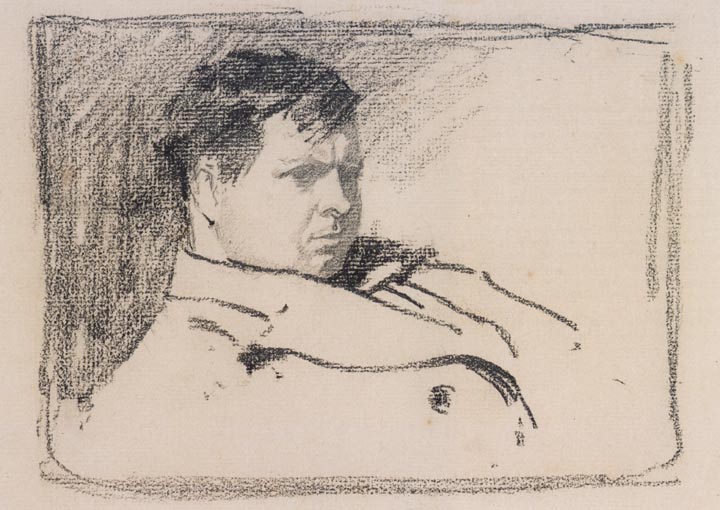 Frank Brangwyn by Phil May (left), Joseph Simpson (middle), and J. F. Farrar" (right). [Click on thumbnails for larger images.]
Frank Brangwyn was born in Bruges, Belgium, the son of an English father and Welsh mother. The family returned to London in 1874, Brangwyn's father gaining work as a designer of buildings, embroideries and furniture. although Brangwyn appears to have had little formal education, either academic or artistic, his earliest mentors were three of the most influential men in design at the turn of the century: Arthur Heygate Mackmurdo, William Morris and Siegfried Bing. Between 1884 and 1887 Brangwyn travelled to Kent, Cornwall and Devon, before venturing further afield, with trips to Turkey in 1888, South Africa in 1891, Spain in 1892 and Morocco in 1893.
Brangwyn was an independent artist, an experimenter and innovator, capable of working on both large and small scale projects, ranging from murals, oil paintings, watercolours, etchings, woodcuts and lithographs to designs for architecture, interiors, stained glass, furniture, carpets, ceramics and jewellery as well as book illustrations, bookplates and commercial posters. It is estimated that he produced over 12,000 works during his lifetime. Mural commissions included the Worshipful Company of Skinners, London (1902-09), St Aidan's church, Leeds (1908-16), Manitoba Legislative Building, Winnipeg, Canada (1918-21), Christ's Hospital, Horsham (1912-23), State Capitol, Jefferson City, USA (1915-25), the British Empire panels, Swansea (1925-32) and Rockefeller Center, New York (1930-34).
Brangwyn married Lucy Ray in 1896 and took on the lease of Temple Lodge, Hammersmith in 1900. In 1918 the artist purchased The Jointure, Ditchling where he spent most of his time following his wife's death in 1924. Elected RA in 1919, knighted in 1941, holder of countless artistic awards, Brangwyn was modest about his singular achievements, regarding art as an occupation and describing himself as a designer.
Bibliography and Web Resources
---
Last modified 29 December 2012