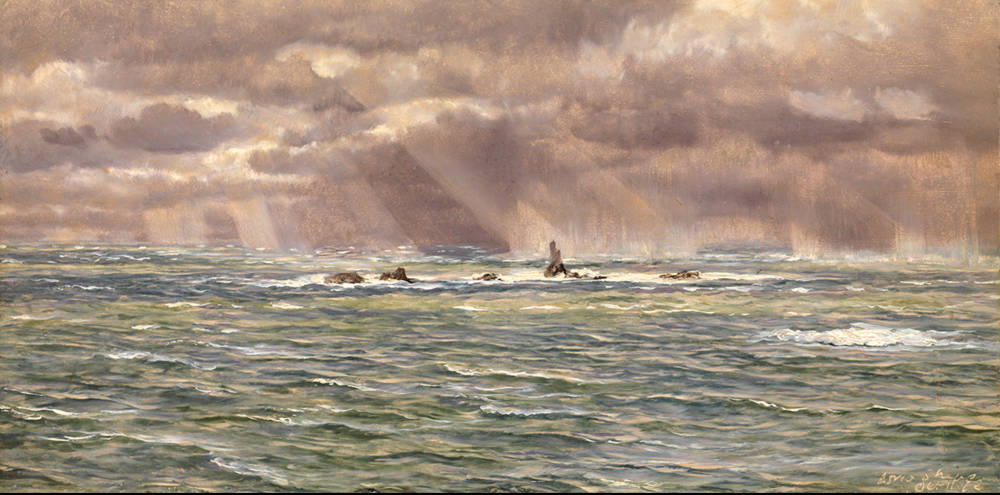 Longships, by John Brett (1831-1902). 1890. Oil on card, 7.5 x 14.5 inches. Signed and dated "Oct 1872." Provenance: Acquired from the artist by James Hinton; Foster's 3 May 1876 (lot 81); bought by Tooth 12 1/2 guineas; Robinson and Fisher 24 November 1904 (lot 161); bought by Mme Heros; Christie's 26 Jan 1907 (lot 144); bought by Lister 7 gs; Edward Atkinson;Christie's 9 Mar 1912 (lot 99); bought by Shepherd 10 gs; Miles; Foster's 12 Oct 1932 (lot 174); bought by Collings £1; Phillips, Son & Neale, 17 June 1963 (lot 464);Agnew; W. G. Constable 19 Aug 1963. Courtesy of the Maas Gallery. Click on image to enlarge it.
"This is a study for A North West Gale off the Longships Lighthouse of 1873, painted in the autumn of 1872 when Brett was staying near Land's End in Cornwall. FG Stephens admired the finished picture exhibited at the Royal Academy, praising Brett for expressing 'the character of the sea... with consummate learning... The sky is full of the results of study and knowledge of the nature of vapours in motion' (The Athenaeum, 17 May 1873). Brett's oil sketches were painted in single sittings of two or three hours, each an unadulterated observation painted straight from nature. As he said: 'Sentiment in landscape is chiefly dependent on meteorology'. The sketches were usually in a 'double square' format, suited to Brett as much for ease of use (he had special racks in his boat that held them as they dried) as for the aptness of shape to the coastal landscapes that he painted." — Maas Gallery site.
The Maas Gallery, 15a Clifford Street, London W1S 4JZ has most generously given its permission to use in the Victorian Web information, images, and text from its catalogues, and this generosity has led to the creation of many valuable documents on painting and drawing. The copyright on text and images from their catalogues remains, of course, with the Gallery. Readers should consult their website to obtain information about recent exhibitions and to order their catalogues. [GPL]
Bibliography
Payne, Christina, and Charles Brett. John Brett: Pre-Raphaelite Landscape Painter. London: Yale University Press, 2010; no. 662.
---
Created 26 February 2018