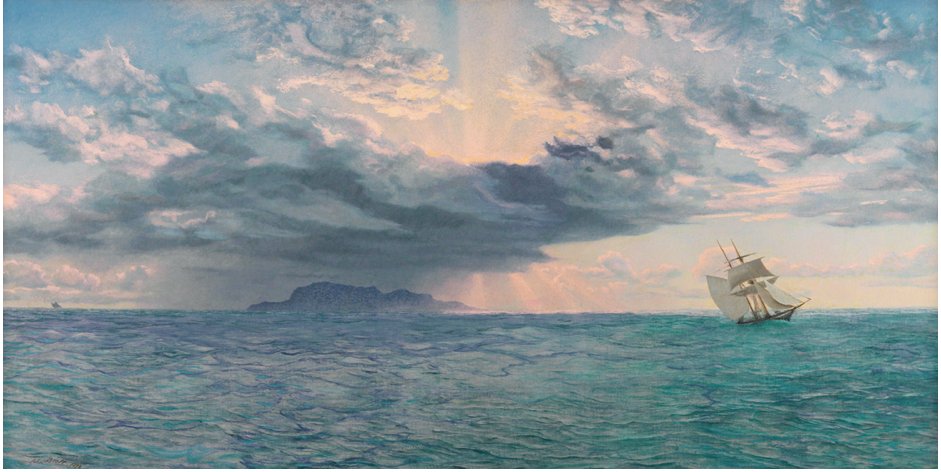 The South Bishop Rock, Anticipations of a Wild Night by John Brett. Oil on canvas, 24 x 48 inches. Signed and dated 1872. 10 x 14 inches. Collection: The Maas Gallery.
Commentary from the Maas Gallery catalogue
Brett spent much of September and October 1871 with his wife and baby son at Whitesand Bay, near St David's, where he painted a number of oil sketches in his newly-adopted 7" x 14" format. These all feature one or other of the distant rocky outcrops known as the North Bishop and the South Bishop which are visible looking west from the beach. In his studio the following winter he developed two larger works from these sketches - A Summer Day, Whitesand Bay (private collection) and this picture. Both were sent in to the 1872 Royal Academy, and although ...Whitesand Bay was apparently 'skied', The South Bishop... was allocated a place on the line, where, according to Tom Taylor in The Times, it 'can be fairly appreciated. It shows the sea beginning to roughen, and the clouds to gather threateningly under rising wind'. The Illustrated London News printed a very detailed description of the work: it 'gives a view over the sea towards the distant rock that is united into one mass of reddish purple behind the haze illumined by the declining sun, the rays of which, striking upwards, also redden a file of purple clouds, which, stretching overhead, herald a sudden squall. The surfaces of the waves are fretted by the freshening wind into ten thousand wavelets, and these myriad surfaces are chequered by the reddish and bluish purples reflected from the sky, the cast shadows of the waves themselves, and the emerald "local colour" revealed by reflected light'.
Neither The South Bishop... nor ...Whitesand Bay was sold until 1874, when, through the agency of a mutual friend, the Birmingham architect William Martin, both were acquired from the artist by the prominent industrialist, art collector and MP William Kenrick.
The Maas Gallery, London has most generously given its permission to use in the Victorian Web information, images, and text from its catalogues. The copyright on text and images from their catalogues remains, of course, with the Maas Gallery. Readers should consult the gallery website to obtain information about recent exhibitions and to order their catalogues. [GPL]
Bibliography
Pre-Raphaelitism. Exhibition catalogue. London: Maas Gallery, 2013. No. 26.
---
Last modified 27 April 2013