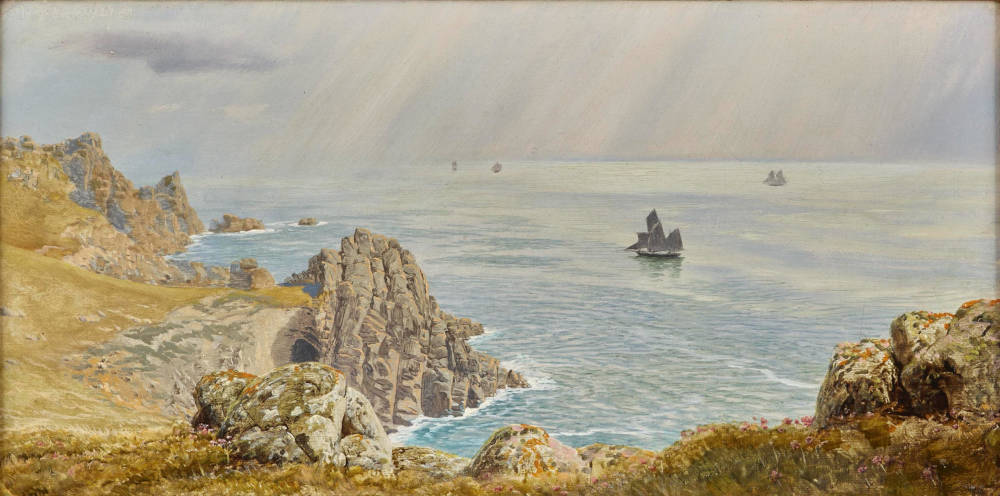 Summer Mists off Tol Pedn, Cornwall by John Brett. Oil on canvas, 7 x 14 inches. Courtesy the Maas Gallery, London. Provenance: Albert Michael, April 11 1881; A W Bennett; R N Kingzett 18 July 1958; J E Dayton; Royal Exchange Gallery. [Framed painting] Click on image to enlarge it.
Maas Gallery Commentary
'This masterly sketch was the first Brett painted after his arrival at Porth Gwarra near Land's End on 24 August 1880. The vantage point is Tol-Pedn-Penwith ('the holed headland in Penwith'), looking eastwards towards Polostoc Zawn ('the fisherman's cap'). The headland gets its name from a thirty-foot-wide chasm, known as 'The Funnel', that drops from the top of the cliff down to the sea. Brett's position was precarious, as this chasm lay immediately behind him as he painted. Working from such an exposed position would have been possible only on a calm day with little wind; August 27 must have been just such a day, with a sea mist adding to the feeling of repose. The rocks are painted with scientific precision, and in the foreground Brett has introduced a lyrical note by his emphasis on the colourful sea pinks and the gorgeous orange lichen which decorates the granite. In the centre of the picture a Mousehole lugger provides a focal point for a work in which a perfect balance between geological, botanical and meteorological elements has been achieved. The artist is shown here at the height of his powers' (Charles Brett, Michael Hickox and Christiana Payne, John Brett - A Pre-Raphaelite in Cornwall, exhibition catalogue, 2006, p 100). 'At this time he [Brett] thought of buying land on the promontory of Tol-Pedn-Penwith in order to build a permanent summer home. ... Charles Brett has pointed out that Brett often had to make steep climbs or perch in precarious positions in order to sketch from his chosen viewpoint, and in this case he was just in front of a thirty-foot-wide chasm. In this sketch, the distance, where the silky, pallid sea melts almost imperceptibly into the sky, is handled with great delicacy' (Christiana Payne, John Brett: Pre-Raphaelite Landscape Painter, p 134).
The Maas Gallery, 6 Duke Street St James's, London SW1Y 6BN, has most generously given its permission to use in the Victorian Web information, images, and text from its catalogues. The copyright on text and images from their catalogues remains, of course, with the Gallery. Readers should consult their website to obtain information about recent exhibitions and to order their catalogues. —  George P. Landow
---
Created 13 June 2022