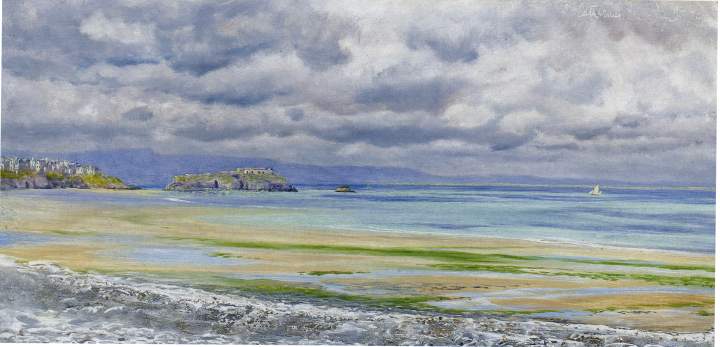 St Catherine's Isle by John Brett ARA (1831-1902). Oil on canvas; titled and dated 'July 25 '79'. 6 1/2x 13 3/4 inches. Provenance: F. B. Greenstreet; Christie's 24 June 1912 (123 part lot); M. Joseph; with the Royal Exchange Gallery; private collection Exhibited: The Royal Exchange Gallery, Oct-Nov 1999.
According to the Maas Gallery catalogue entry (which thanks "Charles Brett for his assistance"),
Brett and his family spent the summer of 1879 near Tenby in Penally where this was painted. It is a view of Castle Hill, Tenby, with St Catherine's Isle to the right, from the South Sands close to Penally, and is the sketch on which Brett based Sandy Shallows of the Sea Shore, exhibited at the Royal Academy in 1880.
Brett's oil sketches were painted from nature in single sittings of two or three hours, and each was supposed to be an unadulterated single observation, straight from nature. As he said: 'Sentiment in landscape is chiefly dependent on meteorology'. The sketches were usually in a 'double square' format, suited to Brett as much for ease of use (he had special racks in his boat that held them as they dried) as for the aptness of shape to the coastal landscapes that he painted. [p. 44]
References
The Maas Gallery. Exhibition catalogue. London, 2008. No. 41.
The Maas Gallery, London has most generously given its permission to use in the Victorian Web information, images, and text from its catalogues. The copyright on text and images from their catalogues remains, of course, with the Maas Gallery. Readers should consult the gallery website to obtain information about recent exhibitions and to order their catalogues. [GPL]
---
Last modified 19 June 2007