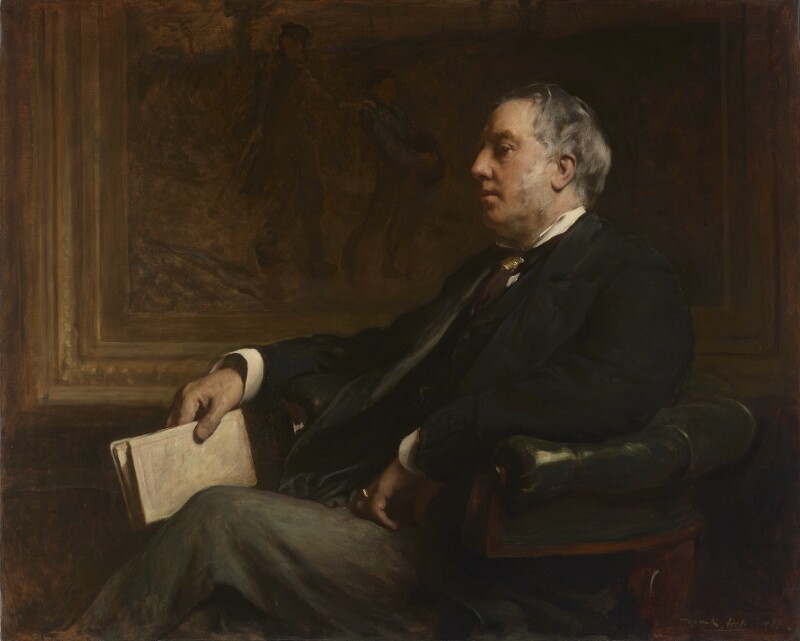 Sir William Agnew, 1st Bt.. Frank Holl. 1883. Oil on canvas, 40 in. x 50 in. (1016 mm x 1270 mm). © The National Portrait Gallery, London. Purchased with help from The Geoffrey and Julian Agnew Charitable Trust, 2015. Primary Collection. NPG 6991. Reproduced with permission. [Click on image to enlarge it.]
"Art dealing often runs in families," as Lionel Lambourne observes (40), using the Agnew family as a prime example. Sir William Agnew (1825-1910) was an art dealer whose family firm had been established in Manchester in 1817 by his father Thomas and Vittore Zanetti, to whom Thomas had been apprenticed. Zanetti retired in 1828, and in due course Agnew's son William and his younger brother Thomas were apprenticed to their father, and became his partners. A Liverpool branch was opened in 1859, and in 1860 — not long before their father's retirement — a London branch was opened at 5 Waterloo Place. With William at the helm, the firm now operated on an international level.
Although William Agnew looks perfectly relaxed in this portrait, he was evidently a man of exceptional energy and presence, even for those times:
Sir Geoffrey Agnew described his great-grandfather's exuberant vitality, immense ambition, strong will, occasional ruthlessness, and highest probity. An imposing man, William Agnew was a born actor (he always bid at auction in a top hat) and a most persuasive salesman; he was decisive and often bought ahead of the taste of his day. His business acumen was tempered by a personal charm and simplicity that endeared him to many, including the artists, musicians, politicians, and clients whom he frequently entertained either at Summer Hill, Salford, or at Great Stanhope Street, London. [qtd. in Farr]
Holl was one of those who knew Agnew well, and had cause to be grateful to him: as a result the portrait is one of his most sympathetic. Agnew himself must have been pleased with it, because he was instrumental in arranging one of Holl's "important late commissions" — his portrait of Earl Spencer (1888; see the National Portrait Gallery's own discussion of the painting). The painting in the background, also identified in the gallery's description, is The Wayfarers, by Fred Walker, one of Agnew's "particular protégés."
According to Giles Waterfield, Agnew was "regarded as the prince of art dealers by his contemporaries. He conferred respectability on an activity which had been regarded as socially, at best, peripheral" (164). He acquired and sold many major paintings, and Farr notes his "avuncular" relationships with such artists as John Everett Millais, Frederic Leighton, and Edward Burne-Jones; Farr also tells us that it was Agnew who encouraged one of his clients, Henry Tate, to found the Tate Gallery. Over sixty of his many sales to Lord Iveagh would also form the superb collection at Kenwood House in Hampstead. Vitally important too were Agnew's dealings with the wealthy industrialists who became patrons of the Birmingham Art Gallery (see Lambourne 40-41). Another great Victorian enterprise in which he and two of his brothers were involved was the publication of Punch by Bradbury and Agnew, of which he became chairman in 1890.
In yet another side of his career, William Agnew was a Whig politician of some standing — a friend of Gladstone and, for a number of years in the 1880s, an MP first for South-East Lancashire, then for the Stretford division of Lancashire. As mentioned by Dennis Farr, he was also a patron of music, and of a variety of philanthropic ventures, particularly in Manchester. — Jacqueline Banerjee
Related Material
Bibliography
Farr, Dennis. "Agnew family (per. 1817–1986), art dealers." Oxford Dictionary of National Biography. Online ed. Web. 27 March 2018.
Lambourne, Lionel. Victorian Painting. London and New York, 1999.
"Sir William Agnew, 1st Bt." National Portrait Gallery. Web. 31 March 2018.
Waterfield, Giles, ed. Palaces of Art: Art Galleries in Britain, 1890-1890. London: Dulwich Picture Gallery / Lund Humphries, 1991.
---
Created 31 March 2018