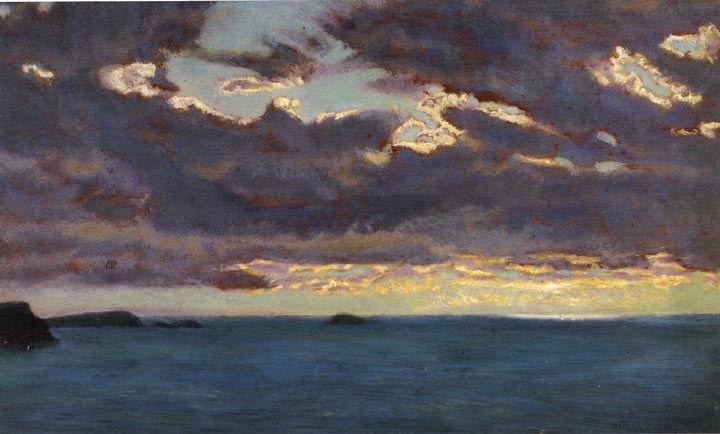 Arthur Hughes (1832-1915). From Pentire Point. c. 1909. Oil on panel, inscribed verso with title and studio sale no. 42, 8 3/4 x 15 inches. The Maas Gallery, London. "Pentire Point is a headland on the north coast of Cornwall, on the estuiary of the river Camel." — Rupert Maas, p. 82.
Bibliography
The Maas Gallery. Exhibition catalogue. London, 2007. No. 83.
The Maas Gallery, London has most generously given its permission to use in the Victorian Web information, images, and text from its catalogues. The copyright on text and images from their catalogues remains, of course, with the Maas Gallery. Readers should consult the gallery website to obtain information about recent exhibitions and to order their catalogues. [GPL]
Roberts, L. Arthur Hughes: His Life and Works. Woodbridge: Antique Collector's Club, 1997.
---
Last modified 19 June 2007