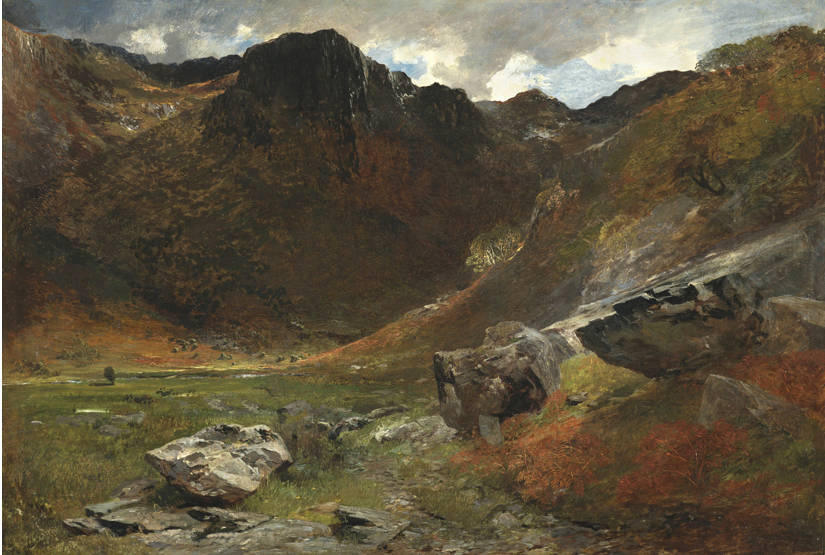 Marshy Glen — from Nature by Alfred William Hunt (1830-96). Oil on canvas, 14 3/4 x 21 1/2 inches; labelled with title and artist's name, and dated 1855. Collection: The Maas Gallery.
Commentary from the Maas Gallery site
This rare and early oil study was a Glasgow Art Union Prize in 1855 (you paid an annual subscription - with other benefits, you were issued with a raffle ticket that might win you a modern painting; the artists were paid out of the pool). Hunt greatly admired Turner, whose influence on Hunt 'went far beyond the externals of style and composition. Hunt saw his hero as an artist whose work was a series of experiments, which would be more or less unintelligible to anyone for whom the strength, Variety and infinite subtlety of landscape painting... was not a means of representing distinct moods of thought and feeling. He saw his own work in similar terms, with a result that is not only incredibly varied but has a detached, analytical quality that can make it demanding. Uneven in achievement, it nonetheless represents a level of intellectual sophistication that we encounter in no other [painter] of his generation' (Christopher Newall).
The Maas Gallery, London has most generously given its permission to use in the Victorian Web information, images, and text from its catalogues. The copyright on text and images from their catalogues remains, of course, with the Maas Gallery. Readers should consult the gallery website to obtain information about recent exhibitions and to order their catalogues. [GPL]
---
Created 10 February 2015