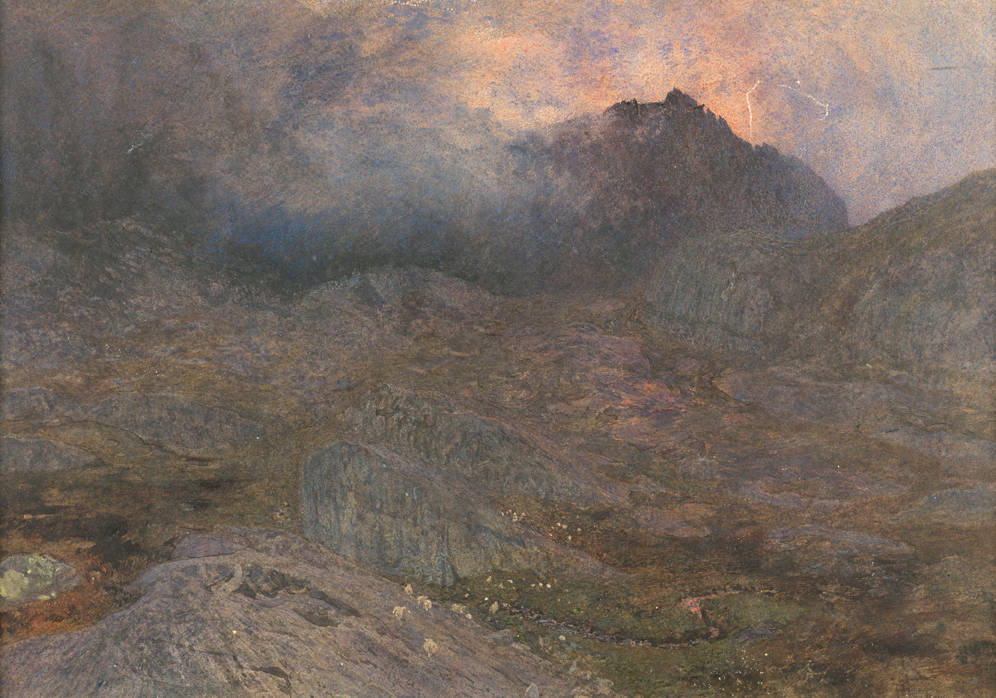 Cwm Trifaen by Alfred William Hunt (1830-96). Watercolour with body colour and scratching out; inscribed verso with title, artist's name and 'painted about 1857/Exhibited 1864-5' 10 x 14 inches. Collection: The Maas Gallery.
Commentary from the Maas Gallery catalogue
Combining Turnerian vision and Pre-Raphaelite intensity of observation, Hunt was an artist whom The Art Journal described as the 'most sensitive and rapturous of our colourists.' Scholarly, precocious and serious, Hunt laboured incredibly hard to eliminate all signs of labour. Working on this watercolour on the spot, he complained of abominable weather making his work 'unendurable.' The spiky outcrop of Glyder Fach (Castle of the Wind) at the head of the valley, silhouetted by a baleful sky, looms above the mist and rain beneath, whilst lightning plays about the crags.
The Maas Gallery, London has most generously given its permission to use in the Victorian Web information, images, and text from its catalogues. The copyright on text and images from their catalogues remains, of course, with the Maas Gallery. Readers should consult the gallery website to obtain information about recent exhibitions and to order their catalogues. [GPL]
Bibliography
Pre-Raphaelitism. Exhibition catalogue. London: Maas Gallery, 2013. No. 26.
---
Last modified 27 April 2013