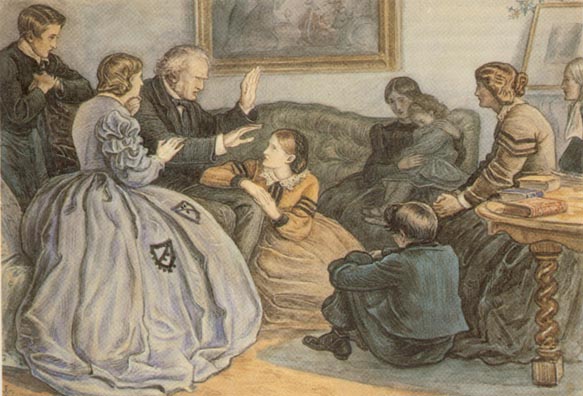 Christmas Story-telling by Sir John Everett Millais Bt PRA (1829-96). 1862. Signed with monogram in blue watercolour at lower left; Watercolour over pencil: 9 1/2 x 13 1/2 inches
Provenance: Ernest Gambart;Gambart's sale, Christie's, 31 March 1871, lot 41 (bought by Virtue, £56/14/0); James Virtue's sale, Christie's, 1 March, 1879, lot 25 (bought Lawrie, £27/6/0); Rembrandt Gallery, Liverpool, from whom bought in the 1920s by Charles Cottle; The Rev. James Cottle; Cottle's sale, Sotheby's, 19 March 1979, lot 23.
Illustrated: Illustrated London News, Christmas Supplement, 20 December 1862, p. 672 (full page woodblock plate made by Dalziel Brothers)
This water colour is probably a worked up version of the drawing made for Dalziel's and the Illustrated London News done at the same time. It is listed in Effie Millais's Account Book under the year 1862 as sold for £42 with the title Telling a Ghost Story (information from Malcolm Warner).
Various of the figures in the subject are familiar from other paintings by Millais. The young boy at the top left of the painting and the one in the foreground similarly seated but turned around appear in The Boyhood of Raleigh (Tate). The narrator of the story has close physical similarity, except for being clean-shaven, to the figure in Millais's painting The North-west Passage (Tate).
In English Influences on Vincent Van Gogh, an exhibition organised by the Arts Council, 1974-3, the print version was exhibited (no. 53), and Van Gogh quoted as referring to the illustrations as: "By Millais himself, a beautiful sheet, 'Christmas Stories.'"
Bibliography
Newall, Christopher. A Celebration of British and European Painting of the 19th and 20th Centuries. London: Peter Nahum, nd.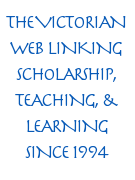 Peter Nahum Ltd, London has most generously given its permission to use in the Victorian Web information, images, and text from its catalogues, and this generosity has led to the creation of hundreds of the site's most valuable documents on painting, drawing, and sculpture. The copyright on text and images from their catalogues remains, of course, with Peter Nahum Ltd. Readers should consult the website of Peter Nahum at the Leicester Galleries to obtain information about recent exhibitions and to order their catalogues. [GPL]