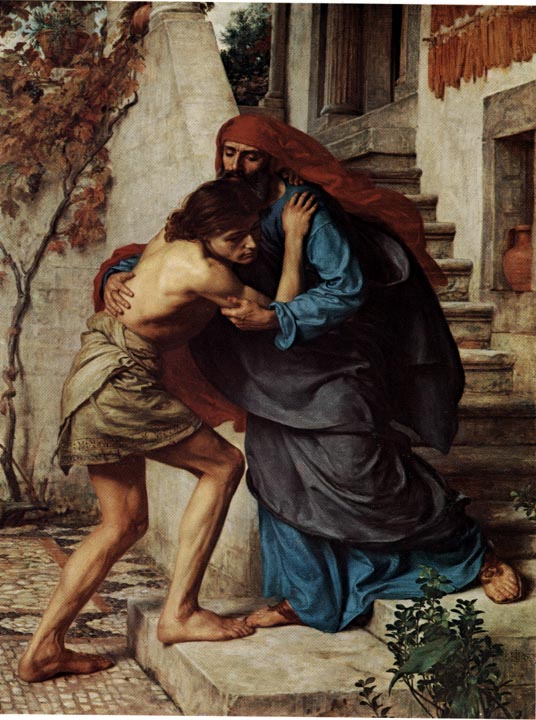 The Prodigal's Return
Sir Edward John Poynter, PRA RWS
Signed with monogram and dated 1869
Oil on canvas
Courtesy of the Forbes Magazine Collection
The Art Journal first praised the picture and then used it to attack Ruskin and his followers. The reviewer thus drew particular attention the way Poynter depicted the Prodigal "turning aside" his head and thus presenting "so much shame and contrition, so many recollections of truest affection abused and betrayed." He then complaiend that audiences
are very likely, by plausible theories and partisan propagandists, brought to believe that neither this promising young painter nor any master, ancient or modern, has any right whatever to deal with the often-painted episode before us, without having previously informed himself of the precise shape, measurement, pattern, and material, if not also the market price of the textile fabrics made up into abbah, the under garments, and the potah, or continuation, if any, worn by the excellent parent of the Gospel narrative, on the particular day of his hopeful son's return. [54 (1869): 484]
The reviewer here is attacking not only Hunt (whose key-plate to The Finding of the Saviour in the Temple he effectively parodies) but also such critics as F. T. Palgrave and W. M. Rossetti, who had praised Hunt's approach to religious art. The writer's major objection is that "one may read this and every other great lesson of love and mercy without being informed of such particulars, and still, perhaps, forget to feel that the lessons lose any of their weight." Hunt would probably have agreed with this writer, since Poynter was illustrating a parable, not a historical event, and he would have taken for granted that different principles obtained. — George P. Landow
References
Forbes, Christopher. The Royal Academy Revisited, 1837-1901.. Exhibition catalogue. Ed. and Intro. by Allen Staley. New York: Forbes Magazine, 1975. No. 56.
Landow, George P. "There Began to Be a Great Talking about the Fine Arts" in The Mind and Art of Victorian England. Ed. Josef P. Altholz. Minneapolis: University of Minnesota Press, 1976), 124-45, 188-92.
Landow, George P. "William Holman Hunt's "Oriental Mania" and His Uffizi Self-portrait" Art Bulletin. 64 (1982), 646-55.
---

Victorian
Web

Visual
Arts

Edward J.
Poynter

Paintings

Next
Last modified 22 June 2007